An additional 800 military personnel are to be sent to Kent on Christmas Day to help clear a backlog of lorries waiting to cross to France.
About 4,000 lorries are still waiting to cross the English Channel after the French closed their border with the UK.
Drivers must test negative for Covid-19 before boarding a train or ferry.
The extra support will take the number of military personnel delivering testing to drivers in Kent to about 1,100.
French firefighters have been supporting the testing effort, while the Polish defence minister said in a tweet that a team of territorial army soldiers would be sent to Kent.
A group of Polish medics was deployed to the UK on Thursday to help test drivers. the Polish news website TVN24 has reported.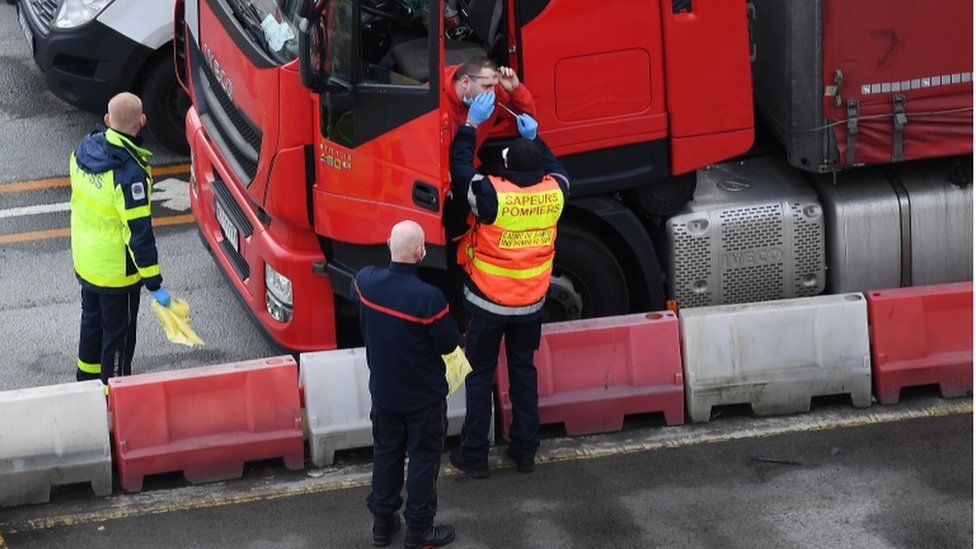 Transport Secretary Grant Shapps said that of the 2,367 drivers tested by 12:00 GMT on Christmas Eve, three have tested positive.
Ferries will continue to operate from Dover over Christmas, but Mr Shapps said it could take several days to clear the backlog.
The military will organise welfare facilities and the distribution of food and water.
"Our aim is to get foreign hauliers home with their families as quickly as we can," Mr Shapps said.
"I know it's been hard for many drivers cooped up in their cabs at this precious time of year, but I assure them that we are doing our utmost to get them home," he added.
Volunteers have delivered thousands of meals and food parcels to drivers parked up at Manston Airport and along the M20 as many spend Christmas Day in their vehicles.
The Department for Transport says: "Free food, water and hot drinks are being provided to all."
Sussex Police said dozens of lorry drivers who had been caught in disruption at Newhaven had arrived back in mainland Europe.