A fire that killed nine students and injured several others at a girls' school in Kenya at the weekend was started deliberately, officials say.
The incident at Moi Girls School in the capital, Nairobi, "was not an accident, it was arson", Kenya's Education Minister Fred Matiang'i said on Monday.
There has been a spate of similar attacks on schools in different parts of Kenya, Mr Matiang'i said.
The attacks were linked to disputes over senior appointments in schools.
"Most of the investigations are done and I can tell you unequivocally – I have been briefed by the police – that it was not an accident," Mr Matiang'i told a press conference in Nairobi.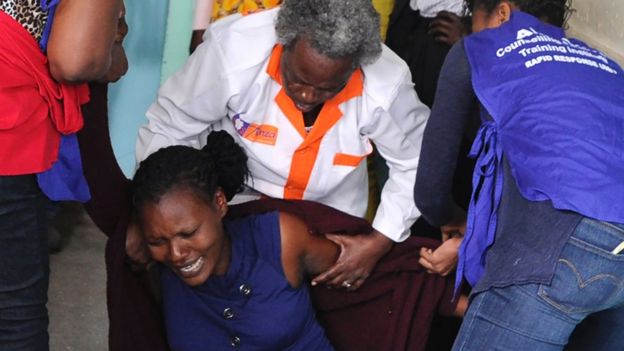 Medical staff tried to comfort relatives of those who died
Similar fires, said to be related to staff positions that can often bring financial rewards, were reported at schools in the coastal city of Mombasa and the western city of Kisumu.
Mr Matiang'i said the "politicisation of school headship and responsibility in the education sector" were "not right", adding that he was "saddened that we have lost our children".
The fire at Moi Girls School broke out at a dormitory at about 02:00 local time on Saturday (23:00 GMT on Friday).
Police investigating the fatal blaze are following "very useful leads in the direction of specific suspects", Mr Matiang'i said.
Arson attacks on schools in Kenya are not uncommon.
In 2016, more than 100 schools across the country were targeted by arsonists. Teachers threatened a national strike if the government failed to tackle the crisis.