Former Director, Public and Vested Land Management Division at the Lands Commission has disclosed that the Commission has begun digitising land title documents
Kofi Owusu-Poku said this step is part of the land reform initiatives by the Commission as part of the Land Administration Project (LAP) in reducing indiscipline in the Lands Commission.
"All over the country, especially in the Greater Accra Region, we have total indiscipline in the Lands sector. People get away with a lot of lawlessness. And it has continued for a very long time, fortunately, these reforms have become very necessary."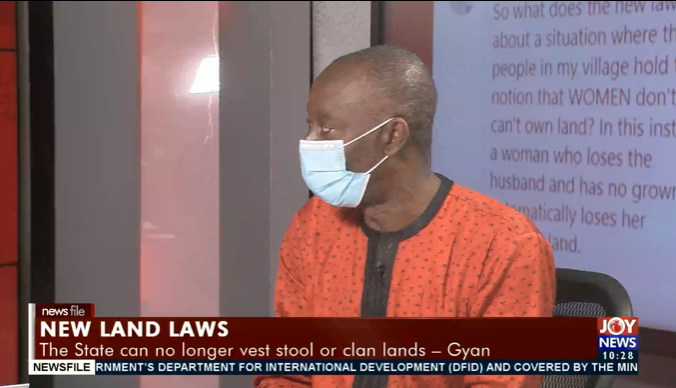 Speaking on JoyNews' NewsFile Saturday, Mr Owusu-Poku told host Samson Lardy Anyenini that another reason why the Commission is going digital is that they want to function and deliver to people's expectations.
"The data goes on the records. Under LAP 2, we try to computerize the data. But unfortunately, the computerisation aspect came too late and we couldn't complete it before the LAP came to an end.
He said that with Commission computerising its records, will make processes much faster for people.
"If you don't computerise your records, and with four divisions, each inputting into the system, if you're not careful, you're going to create multiple records for different kinds of people which we're trying to avoid. We're making a lot of progress in that area."
He added that before leaving office at the Lands Commission last year, the Commission discovered that people have managed to forge plottings in government land areas such as; Cantonment, and Airport Residential.
"They managed to forge things. They got some public officers, fraudulent people in there to plot transactions and produce documents," he reiterated.
He said to his knowledge, there are some places in Accra, where any official stamp, as well as any signature, can be produced for any land title document.
"So they produce documents and these things. And with that document, they are able to get you to buy land. These are these sophisticated tricksters who are working."
On the issue of documentation and recording, he said that under the provision of the new law, the "Customary Land Secretariat has been mandated to record oral customary grounds".
"So if one is set up in your area and you buy land, and you take a customary tenancy, any form of grant in your rural area, wherever you are, you can go and get it recorded."
He also advised lawyer and persons to consult the Lands Commission, and the Customary Land Secretariat before making any transactions in relation to lands.