The West African Centre for Cell Biology of Infectious Pathogens (WACCBIP) has held the sixth in the series of its annual WACCBIP Research Conference (WRC) at the Centre's Conference Hall at the University of Ghana.
The conference was under the theme, "Building Forward: Elevating African Research Innovation and Output."
Professor Gordon Awandare, Founding Director of WACCBIP, and Pro Vice-Chancellor of the University of Ghana with responsibility for Academic and Student Affairs (ASA), in his welcome remarks, highlighted the mandate and vision of the Centre as well as the purpose of the conference.
He explained that the vision of WACCBIP is to provide cutting-edge research and training excellence to the next generation of African scientists.
He indicated that the WACCBIP Research Conference is an annual showcase of world-class research conducted by WACCBIP fellows and members of the Centre's international faculty drawn from prestigious institutions worldwide.
He further explained that despite the challenges posed by the COVID-19 pandemic, WACCBIP has maintained its focus on providing education and career advancement opportunities for young, talented African scientists and has enrolled over 300 young scientists from 15 African countries in various long-term training programmes, including master's, doctoral, and postdoctoral fellowships, since its inception in 2014.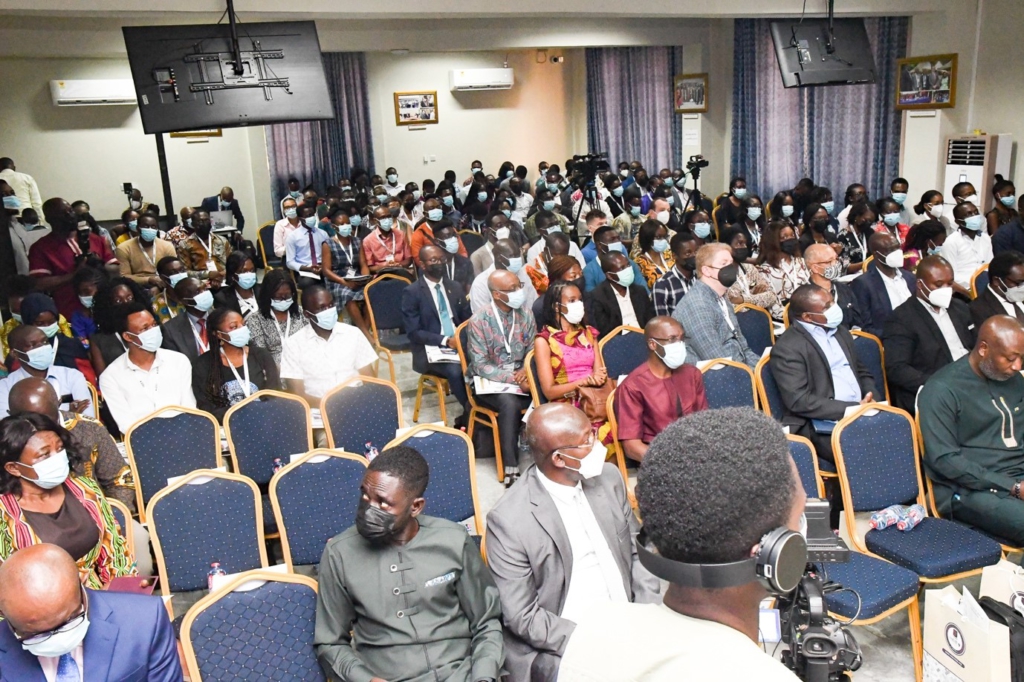 He emphasised the need for African scientists to "tell our own story amidst challenging times".
Speaking on how the story of the effects of the pandemic truly unfolded in Africa, Professor Awandare said that though some opinions of the devastation were put forward by outsiders based on model work, we saw that the events here were largely different and even while other opinions claiming that Africans had not been largely infected, diligent work by scientists here prove otherwise.
"What we know as truth is that the impact of the virus has not been as severe here as elsewhere because we have developed immune systems that were appropriately conditioned to minimize the damage caused by the virus and as scientists, it is our responsibility to understand how; as that knowledge would be key to the development of vaccines as well as better therapies, and this represents the advantage that we possess," he stressed.
Reiterating also the need to build capacity for self-reliant science in Africa Professor Awandare stated that "we have to make the investments to build the capacity so that we would not sit here and wait for vaccines to be left over, or about to expire before they donate them to us, -as a critical lesson to take with us from this pandemic experience," he added.
Thus far, he expressed his deep appreciation to all of WACCBIP's collaborators globally, and pride in the fact that WACCBIP is one of the most successful indigenous institutions started and led by Africans with the priorities of the continent as its priorities.
Delivering the opening address, Professor Nana Aba Appiah Amfo, Vice-Chancellor of the University of Ghana and Chairperson of the event, mentioned that the University of Ghana is very proud of the achievements of WACCBIP and the tremendous impact it has made in the University, across Ghana and in Africa at large.
She also commended WACCBIP for its exceptional role in the national response to COVID-19. Stating that the Centre's effort towards the sequencing of SARS-CoV-2 genomes from confirmed cases within Ghanaian populations was key to obtaining important information about the genetic composition of the virus which was instrumental in testing, treatment, and tracing of the disease.
She expressed her joy that the Centre has positioned itself as an exemplary institution, investing resources for the growth and development of the University, and also with its funders for their continued confidence in WACCBIP's ability to deliver.
The special guest of honour for the conference, Dr Anarfi Asamoa-Baah, Presidential Coordinator for Ghana's COVID-19 Response Programme, spoke on Changing the Narrative of Science in Africa.
He said that "although the situation is quite dire with immense difficulty in securing domestic funding for science, along with a lack of advanced training facilities, forcing young scientists to travel abroad many of which don't return, and a lack of incentive for those who do, we must focus on what, we as researchers, can do to change the narrative."
He addressed the need to do more than excellence in research, teaching and training which is to deepen the engagement with policymakers as well as with the public from the beginning of any project.
The three-day conference, which included in-person and virtual presentations, attracted more than 350 participants from top research institutions and industries in Africa, Europe, and the United States of America. It also featured keynote addresses from world-renown researchers.
Professor Nadia Sam-Agudu, Senior Technical Advisor for Pediatric and Adolescent HIV at the Institute of Human Virology Nigeria (IHVN), and an Associate Professor of Pediatrics at the Institute of Human Virology, University of Maryland School of Medicine, USA, delivered a keynote address on the first day of the conference on the topic: "Building Sustainable Research Partnership and Productivity in West and Central Africa."
The lecture highlighted her collaborative work with colleagues to expand the critical mass of research and research mentors needed to boost and sustain research aptitude and productivity in West and Central Africa. Her lecture also leveraged examples from clinical research and implementation science in pediatric and adolescent HIV and SARS-CoV-2 and discussed the role those equitable partnerships play in advancing health and research outcomes in Africa.
The second and third days of the conference saw keynote presentations from Dr Peter Quashie, the Deputy Director in charge of Research at WACCBIP, and Dr Bismarck Dinko, a Senior Lecturer from the Department of Biomedical Sciences of the University of Health and Allied Sciences.
They spoke on the topics "Insights and Opportunities from SARS-CoV-2 Research at WACCBIP", and "Biology and Immunology of Plasmodium Falciparum Gametocytes: Opportunities for Transmission-Reducing Interventions.", respectively.
Other speakers took turns to present research on a diverse range of biomedical science fields, including diagnostics, host genetics and pathogen genomics, molecular epidemiology, drug response mechanisms and resistance, SARS-CoV-2 pathogen genomics and host responses, immune responses and disease pathogenesis, pathogen vector biology and vaccine discovery.
This year's conference received sponsorship support from private sector companies such as DCL Laboratory Products Ltd, Carramore International Limited, Yemaachi Biotechnology, Excelsior Global Limited, Inqaba Biotec West Africa Limited, and Bethel Logistics Company Limited.
DISCLAIMER: The Views, Comments, Opinions, Contributions and Statements made by Readers and Contributors on this platform do not necessarily represent the views or policy of Multimedia Group Limited.