So we are here at St. Martin De Porres school in Accra for the 'one-week' celebration of music prodigy, Ebony who died in a car crash last week Thursday.
Her music career was only a two-year warm-up at the top of the industry.
It cannot be remembered in recent history when the life of a 20-year old 'girl' ever became a subject of national interest.
The nation was hooked to an addiction to Ebony in the last two years of her life with her hits songs topping the charts and toppling established stars.
But death also took a morbid interest in her songs as much as the living and while we bought her songs, death bought her life in a selfish desire to keep the hit-singer as an exclusive performer in his dreary, gloomy chamber.
Chairs and canopies are being arranged. While some ladies arrange their faces delicately with make-up.
Traffic on the thin stretch of road in a densely populated Dansoman suburb will test mourners desire to reach the location.
It is expected to become unmanageable after church services close and fans move in to cover the grounds here as grass covers a pitch.
Follow myjoyonline.com for comprehensive coverage.
===================================================
4:19pm
The manager of late dancehall artiste Ebony Reigns has announced his readiness to keep the memory of the musician alive by releasing the many songs she did before her death.
In an emotionally packed tribute, Bullet of the Ruff n Smooth fame said his record label Ruff Town Records will release Ebony's next album in the coming days.
3:40pm
Dancehall artiste Shatta Wale has taken a dead aim at Ghanaians who "uncharitably" criticised late Ebony Reigns when she was alive, describing them as hypocrites.
"When will you support musicians?" he said.
3:23pm
Speech time as Tourism and Creative Arts Catherine Afeku is promising 'never again' following the tragic motor accident.
She throws support for MUSIGA campaign urging government to construct proper highways in all regional capitals.
Abeiku Santana is now Master of Ceremony and he is having a hard time directing people not to obstruct the view of those seated.
Well, for some people, the 'one week' has already made them weak.
Rex Omar, Becca, 'Waakye' have also arrived. The manager of the late dancehal artiste, Bullet, has also joined the family.
The event is fast becoming a fanfare. Once the name of a big star is mentioned, chaos erupts, police sweats, reporters scramble, fans scream until some sense of fragile temporary order is restored.
It happened when popular TV presenter 'Countryman Songo' came – his bodyguards struggling to keep out fans.
Shatta Wale and his Shatta Movement are expected to be next and the prospects of his coming is headache to the security here.
Dr. Lawrence Tetteh who is deemed Ebony's 'Spiritual Father' is giving some remarks ahead of the opening prayer. He urges artiste to 'add God' to their talent. He mentions Shatta Wale and says his aggression will make him a good evangelist.
Dr. Tetteh wants people to refrain from allocating eternal places for the dead and leave that to God.
A steady stream of dignitaries grateful to have escaped the traffic, pay respects to Ebony Reigns. Dr. Lwarence Tetteh, an international televangelist whose picture with the late star went viral on social media is among them.
Communications minister Ursula Owusu-Ekuful is here. Ebony lived in Dansoman which is part of her constituency. Tourism and Creative Arts minister Catherine Afeku came together with Ursula as the foremost government delegation here.
Big names and legends in the Entertainment industry are here. Kofi Adjorlolo, Legend Grace Omaboe ' Maame Dokono' have also paid their respects.
But it is controversial sports presenter Countryman Songo whose presence threatens to throw the program in disarray.
Remember that 'match' Songo threw to the dancehall artiste? Yes.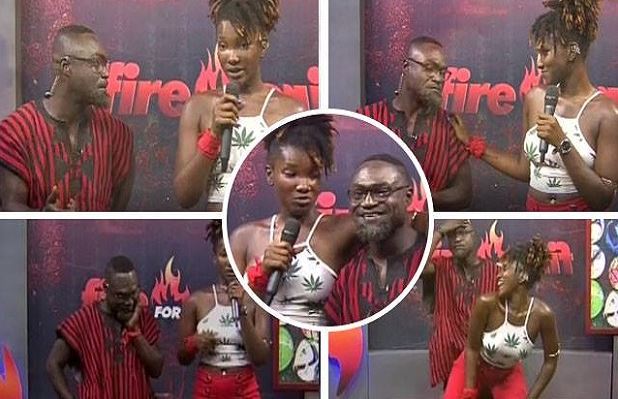 Conductor testifies to monstrous traffic on the stretch of road leading to St. Martin De Porres school.
'I have been in traffic for two hours…I had to get off the car and walk to this place'
Huge traditional drums beat culture into the air, lined up in front of one of the 16 canopies here.
But fans are paying no small attention to the center court where a small canopy sits with paintings of the late star.
For details check a facebook wall near you. It will be full of short, amateur videos, selfies and photos posing with picture frames of Ebony.
Slight showers threaten to participate in the mourning.
Ebony's father, in white and black cloth, walks into the ground. A beehive of paparazzi, fans, and reporters buzz around him.