The love for Chelsea all round the world, is no surprise. Particularly in Ghana, one might hypothesize the admiration for "The Blues" originated when our own Michael Essien signed up as a midfielder for the English professional football club. That is about sixteen years ago.
Since then, the blood of many Ghanaians have turned blue, figuratively.
Fast forward to the present, 2021, about 7.9 billion people all around the world were on Saturday, May 29, waiting for the epic face-off to determine who is the top-division European club in the UEFA Champions League.
The Blues from Chelsea against what may appear to be a sky blue from Manchester City. Who was to emerge victorious? Thomas Tuchel or Pep Guardiola?
We do away with the suspense and head straight for the kill. Thomas Tuchel whipped the manly buttom of Guardiola's Man City. It was a goal to nil in favour of Chelsea.
The world was finally in harmony. Just like the Avatar, a new bending was formed – the Blue bending.
Just like an Ebo White's stage play, three Odadie Chelsea fans who hail from Presbyterian Boys Senior High School make way to the stage. They move center stage – the spot light is on unveiling the characters, George Addo Junior, Owuraku Ampofo and Lexis Bill.
While many across the globe decided to celebrate Chelsea's victory in a subtle manner, these football fanatics decided to serenade, give a solo dance performance and toast with a roar.
For these three joyful journalists with The MultiMedia Group, this victory means so much more than saying "Yes, I do" at the altar.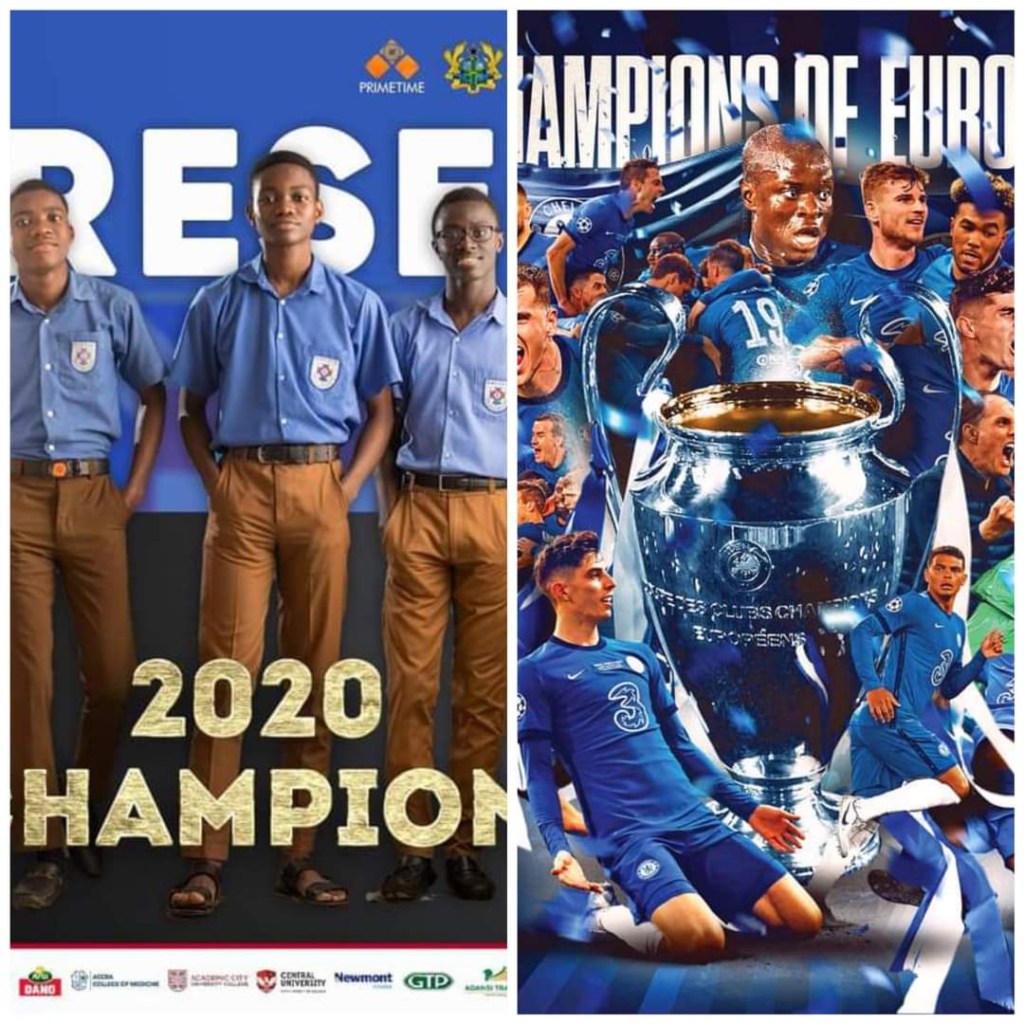 This trophy, to them, signifies dominance by The Blues wherever they find themselves. Be it the National Science and Maths Quiz that has seen the Boys in blue, Presec Legon, carry the trophy for six times or Chelsea winning the EUFA Champions League trophy for a second time.
George Addo Junior on the bass guitar served a rendition of the Chelsea anthem. For one who is known to rattle the commentary on football sessions, what was he doing with such a powerful musical instrument?
The Kayatic pioneer has proven that whatever inspired Ghana's Ephraim Amu visited him that day.
The serenade went like this (doom, doom, doom, doom) – Something close to it. But deep down, those strings in its soul carried the words:

Blue is the colour, football is the game
We're all together, and winning is our aim
So cheer us on through the sun and rain
'cause Chelsea, Chelsea is our name. (A part of Chelsea's anthem)
It is no news that this sports journalist is a fan of The Blues. But at this point, Chelsea cannot be considered a bachelor because his love for the London club is unfathomable.
Not moving far, here comes Chelsea's new family member Owuraku Ampofo.
Owuraku Ampofo after seeing the light last year September 11, willingly provided himself to be adopted by Chelsea. With the help of Nathaniel Attoh and George Addo Junior, this was possible.
September 11, 2020.

The turning point 💙 pic.twitter.com/et04ofA75T

— Owuraku Ampofo (@_owurakuampofo) May 29, 2021
Unfortunately, while doing what he loves best on the field, this lad got injured and was admitted at home early this year to recover.
Where there is a will, there is a way. No, where there is Blue, there is a way.
Divine intervention or the spirit of the Blues, the young Owuraku who was supposed to be recovering became a gentle hulk screaming his lungs out on his feet. Not forgetting he was holding a bottle of champagne.
He popped it and as usual, drank it all alone. The excitement in his eyes, the ecstasy in his voice and the composure was true joy and happiness. It is no surprise he affiliates with Joy's sports team.
May 29, 2021
From Chelsea fans out there, Owuraku, you are definitely on the winning side.
Last but not least is Ghana's favourite Drive Time host, Lexis Bill, who many had no idea, has delved into the dancing industry.
The now acclaimed Michael Jackson, due to his out of the world dancing skills, I must put it, could not hold his legs -this time literally all because the Blue English team had replicated the story of the reigning champions of the 2020 NSMQ contest here in Ghana.
I am simply in awe to provide a vivid narration of his 'alien' moves, but with all those moves all that can be said is, the Blues have done it again.
Moooooooood 🔵🔵 pic.twitter.com/FfwRbaDETT

— Lexis Bill (@lexisbill) May 29, 2021
To Pep Guardiola, these Odadie's say better luck next time and find someone your size.
The UEFA Champions League is an annual club football competition organised by the Union of European Football Associations and contested by top-division European clubs. Winners for the competition is decided through a round robin group stage to qualify for a double-legged knockout format and a single-leg final.
DISCLAIMER: The Views, Comments, Opinions, Contributions and Statements made by Readers and Contributors on this platform do not necessarily represent the views or policy of Multimedia Group Limited.