Even if your heart remains stonily unmoved by moments of sporting triumph, it was hard not to be stirred by scenes at Luzhniki Stadium in Moscow last weekend. Who couldn't have been thrilled by the sight of the exultant French president Emmanuel Macron wrapped in the arms of the Croatian president Kolinda Grabar-Kitarovic as they congratulated the French triumph and commiserated in the Croatian defeat? The euphoria in their faces; the nonchalant confidence with which Grabar-Kitarovic draped her hand on top of Macron's head; the shared realisation and amusement that both were soaking wet while President Vladimir Putin was serving up his dry congratulations from beneath the first available umbrella. It all made for one of the most delightful spectacles I've seen since the actress Andie MacDowell failed to "notice" the torrential rain while smooching Hugh Grant in Four Weddings and a Funeral more than 20 years ago.
Such a public display of fruity European over-familiarity might make some balk — although, given the opportunity, I would defy anyone not to rush towards Grabar-Kitarovic's embrace. Even her name suggests a frisson of electrical excitement. To watch Macron land a smacker on young Kylian Mbappé's forehead might seem an especially bold move in an era when our physical interactions are trip-wired with hazard. In the age of #MeToo, when company managers are advised to keep a door-open policy and avoid any physical contact whatsoever with their peers, so much hugging and kissing — and in the locker room, too! — might seem a touch counterintuitive.
But how delicious it all was. The easy openness, the disdain for ceremony, the basic warmth made for an especially poignant footnote to a week in which Donald Trump had barged ahead of the Queen at Windsor Castle (which showed his near total disrespect of age if not royal protocol) and shared a ghastly finger grab with Theresa May on the steps of Blenheim Palace. Where the World Cup intimacies looked totally unforced, that gesture looked about as comfortable as grasping broken glass.
While grabbing and being handsy are most certainly not acceptable any more, there is much to commend a comradely hug. Oprah Winfrey has built a multibillion-dollar empire on the strength of hers: according to actor Reese Witherspoon, who presented the 64-year-old media mogul with the Cecil B DeMille award at the Golden Globe Awards earlier this year, Oprah's hugs are "the greatest thing ever". Others describe her hugs as having metaphysical healing powers, which may or mayn't be tosh.
Photo: Reese Witherspoon hugs Oprah Winfrey at the London premiere of 'A Wrinkle in Time' in March © Wiktor Szymanowicz
No one could deny the political advantages of being hugged by the right person, however. If one were to identify the exact moment at which George W Bush's political legacy was rescued from sad ignominy, they might point to September 24 2016, when an image emerged of the former president wrapped in the arms of Michelle Obama at the opening of the Smithsonian National Museum of African American History and Culture in Washington DC, looking for all the world like a beloved old uncle. In the right hands, a public display of affection can squeeze the toxicity out of any situation. See also, the late Princess Diana's willingness to hug out the stigmas surrounding Aids, disability and illness.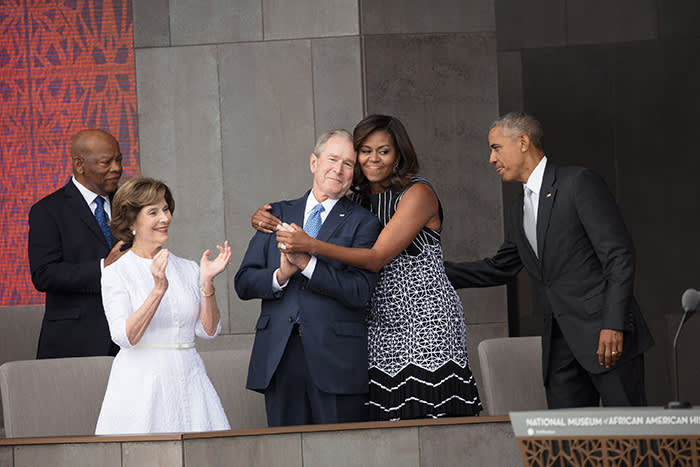 Michelle Obama with George W Bush at the opening of the National Museum of African American History and Culture, Washington DC in 2016 © Getty
But hugging doesn't always come naturally, especially among repressed Anglo-Saxon types such as myself. I get overwhelmed by the particulars; the politics of duration, body yield and reciprocity represent a minefield of potential humiliations. If a hug must be undertaken, I tend to adopt the guise of an ironing board or a corpse in the state of advanced rigor mortis — even my husband tells me off for holding my breath. (My daughter, on the other hand, was once presented with a school certificate for giving "award-winning hugs", an accomplishment of which I remain inordinately proud.)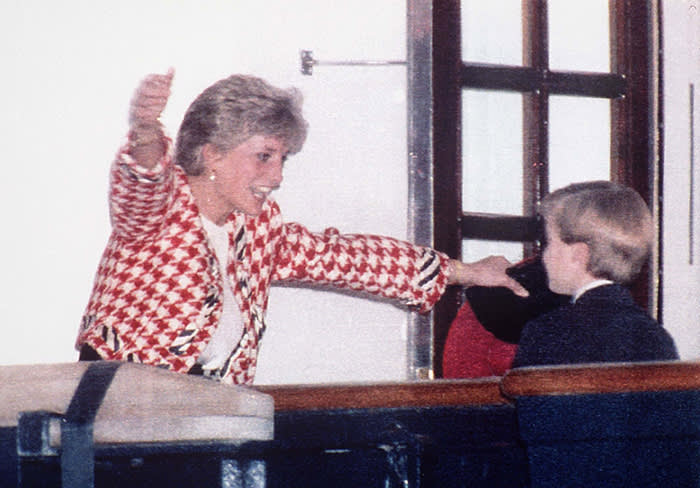 Princess Diana with Prince William in 1991 © REX/Shutterstock
Working in fashion has knocked the edges off my fear. When I first started attending the shows, I would flinch from the mandatory double-kiss greeting that would inflict every front-row interaction — taking my cue from Anna Wintour, who offers a weak little handshake by way of introduction and wears huge sunglasses to glance intimacy away. Four years later, and I've done away with inhibition: I now greet everyone, from chief executives to the FedEx delivery guy, with a peck on each cheek, and air-kissing has become an occupational tic. One day I hope to deliver the full Grabar-Kitarovic, a double-arm headlock of a hug.
If a hug must be undertaken, I tend to adopt the guise of an ironing board or a corpse in advanced rigor mortis.
There is powerful evidence to suggest that we all need more hugging. In an interview earlier this year, the Belgian psychotherapist and relationship counsellor Esther Perel pointed out that even the most evolved parents are less likely to hug their sons than daughters from around the age of three. And psychologists have identified a host of behavioural problems in young adults resulting from a lack of physical warmth and nurturing in infancy. The former British prime minister David Cameron's "hug a hoodie" strategy may have sounded impossibly naive but it contained some truth. Sadly, he then manifestly failed to do so, and then got rid of many of the holistic social services that might have provided them on his behalf. But it's the thought that counts, right?
Not everyone can be so open. For every Oprah there's a Putin, stiff with protocol and spiky with unease. But maybe we could rekindle that romcom magic and learn to hug it out together? It's easy, really. Just open your arms — and don't forget to breathe.