Mr. John Dramanin Mahama has congratulated Liberian President-elect, George Tawlon Manneh Oppong Ousman Weah, for winning the Boxing Day presidential run-off.
With nearly all ballots from Tuesday's run-off vote counted, Mr Weah is well ahead of the opponent, Vice president Joseph Boakai, with more than 60% of the vote.
He will succeed Ellen Johnson Sirleaf, Africa's first elected female president, in Liberia's first democratic handover in decades.
In a Facebook post Friday, December 29, 2017, ahead of the official declaration, the former Ghanaian leader who also headed the ECOWAS Observer Mission to the county, further congratulated losing candidate, Joseph Boakai, as well as the people of Liberia, for making the polls a success.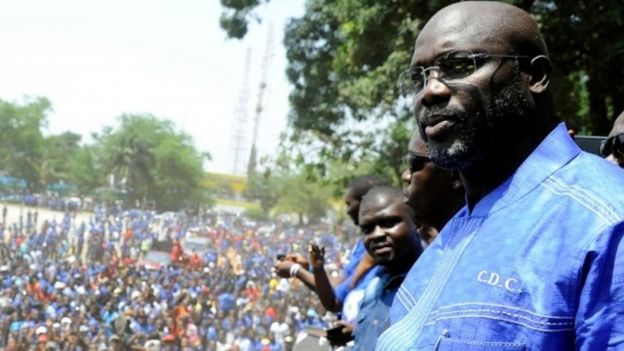 Mr. Mahama however, called on Liberians to put the elections behind them and rally behind the new regime led by the former football superstar George Weah, in his quest to rebuilding the country.
Read former President Mahama's post:
Liberians have made themselves and the ECOWAS region proud and with the election fever now over, every Liberian should see the task of nation-building and development as a collective patriotic responsibility.
Congratulations to the CDC and George Weah and the Unity Party's Joseph Boakai for the great sportsmanship exhibited. We are continuing to prove especially in the West African Subregion that we have embraced democracy and will play by its rules.
The work done by ECOWAS and the technical team assembled to assist the Liberian National Elections Commission is a testament to my strong belief when I was Chair of the ECOWAS Authority that we can make our regional organization a strong and vibrant one in the affairs of our countries.
Thank you to the ECOWAS Commission, thank you Dr. Kwadwo Afari Gyan and the Technical Support Team, thank you to the Observers, NEC and LNP, thank you the people of Liberia. The heroes of the election are the Liberian people themselves.
JM.