The Military, with the support of the Accra Metropolitan Assembly (AMA), is set to demolish the three-storey building gutted by fire at Okaishie last month.
The building, located close to the Makola market, will be reconstructed.
This move follows a recommendation by the seven-member Committee of Enquiry set up by the Accra Metropolitan Assembly (AMA) to probe the fire outbreak that occurred on July 5, this year.
After its assessment, the Committee, chaired by Metro NADMO Director, Henry Plange, recommended the demolishing of the three-storey building for reconstruction.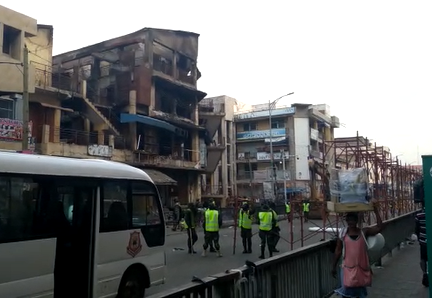 According to the 39-paged report, the three-storey building, "in its current state, is a risk to those who would like to occupy it and to the general public who may have to do business there."
Although the Committee reported no injuries or deaths, it stated that out of the 122 shops in the building, 84 shops had their wares completely burnt.
About 84 shop owners, seven container owners and 16 table top traders had their businesses destroyed.
Again, the cost of damages on the wares amounted to GH₵97,213,600.00 while the cost of damage on the building was estimated at millions of Ghana cedis.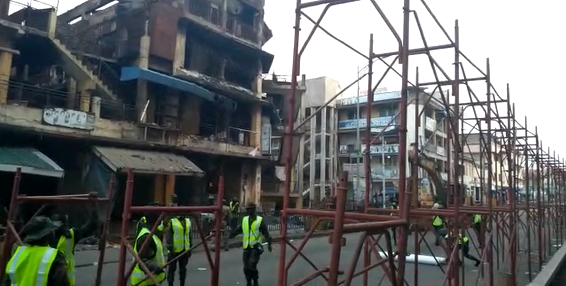 As to what caused the fire, the Committee noted that the engineers of the Electricity Company of Ghana who partook in the investigations found many possible causes.
The report listed a faulty generator, a fuel leakage from the generator, a faulty or sub-standard change-over switch as possible causes of the fire outbreak.
Adding that, "human error, this meant that the operator had forgotten to engage the change-over to match the incoming supply" and "the use of manual or an improvised change-over switch, which sometimes involve the removal of fuses to prevent ECG's mains from feeding back to the generator set was not operated properly" could have triggered the fire outbreak.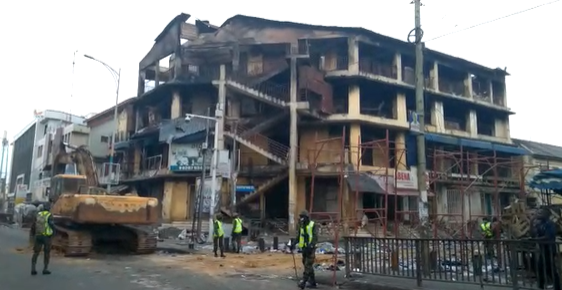 The committee comprised, Henry Plange as its Chairman, Assistant Director, Administration of AMA; Julius Azumah, District Commercial Officer of GWCL; Collins Owusu, ECG District Engineer at Makola; Enoch A. Sowah, District Fire Commander and Ag. Assistant Director of Operations of GNFS, D.O.I Lily A. Robertson and D.O.I Ofori- Adjei respectively and Rapid Deployment Force Commander of the Ghana Police Service, Supt. Freeman Kumashie.
DISCLAIMER: The Views, Comments, Opinions, Contributions and Statements made by Readers and Contributors on this platform do not necessarily represent the views or policy of Multimedia Group Limited.