Opposition leader Maia Sandu secured a surprise lead against Moldova's current President Igor Dodon. A second round between the pro-European challenger and the pro-Russia incumbent is set to take place later this month.
Moldova's presidential election is heading for a runoff between President Igor Dodon and Maia Sandu, with the pro-European challenger coming from behind to pull ahead of the incumbent after the first round of voting on Sunday.
The electoral commission's data showed Dodon's main challenger, former Prime Minister Sandu, securing a narrow lead with 36.1% of the vote.
Dodon won 32.66% of the vote with over 99% of the ballots counted.
Moldova's 3.2 million eligible voters had a choice between eight candidates. An outright win would require at least half of the votes, otherwise the race would continue to a run-off in two weeks.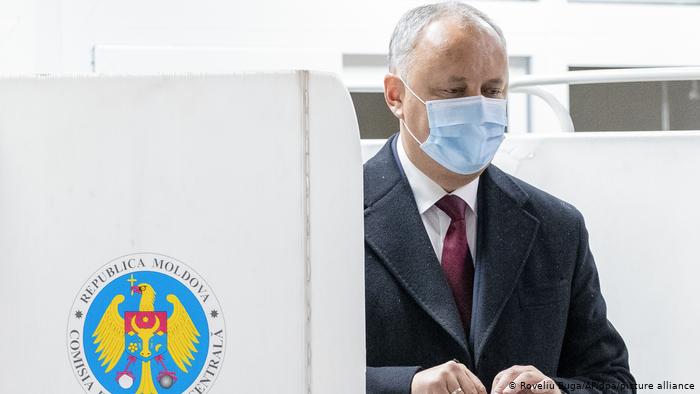 Moldovans divided — East or West?
The impoverished country of 3.5 million has long been divided between those favoring closer ties with the European Union while many are still clinging to Soviet-era relations with Moscow.
The pair vying for victory in the nationwide election have very different views on where they see Moldova's future.
President Dodon, who is seeking a second term, is keen on maintaining a close relationship with the Kremlin while his main rival Sandu is in favor of improving relations with the West, and in particular the EU.
Possible electoral violations
Sandu said she had "voted for a state that fights corruption" and called on Moldovans to "believe in the power of voting" after casting her vote on Sunday. Sandu also called on voters to report violations in the electoral process, following reports of inconsistencies.
Moldova's election commission said in a statement it was investigating a number of complaints.
However, the Organization for Security and Cooperation in Europe (OSCE), which observed the process, said in a run-up to the election that Moldova's diverse landscape had provided equitable conditions for the candidates.
DISCLAIMER: The Views, Comments, Opinions, Contributions and Statements made by Readers and Contributors on this platform do not necessarily represent the views or policy of Multimedia Group Limited.