The National Council for Curriculum and Assessment (NaCCA) has ordered the withdrawal of all unapproved textbooks from both public and private schools in the country.
"NaCCA is also warning all publishing houses who have published unapproved offensive books to withdraw all stock from the market immediately or face the full rigours of the law," it said.
The directive follows a public uproar on social media from members of the Ewe ethnic group after portions of some textbooks went viral over the weekend.
Taking to Twitter and Facebook, many had argued that the History of Ghana, Text Book 3 by Badu Nkansah Publications and Golden English Basic 4 and History of Ghana Basic 6 published by Golden Publications contain inappropriate references to personalities and ethnic groups especially the Ewe tribe.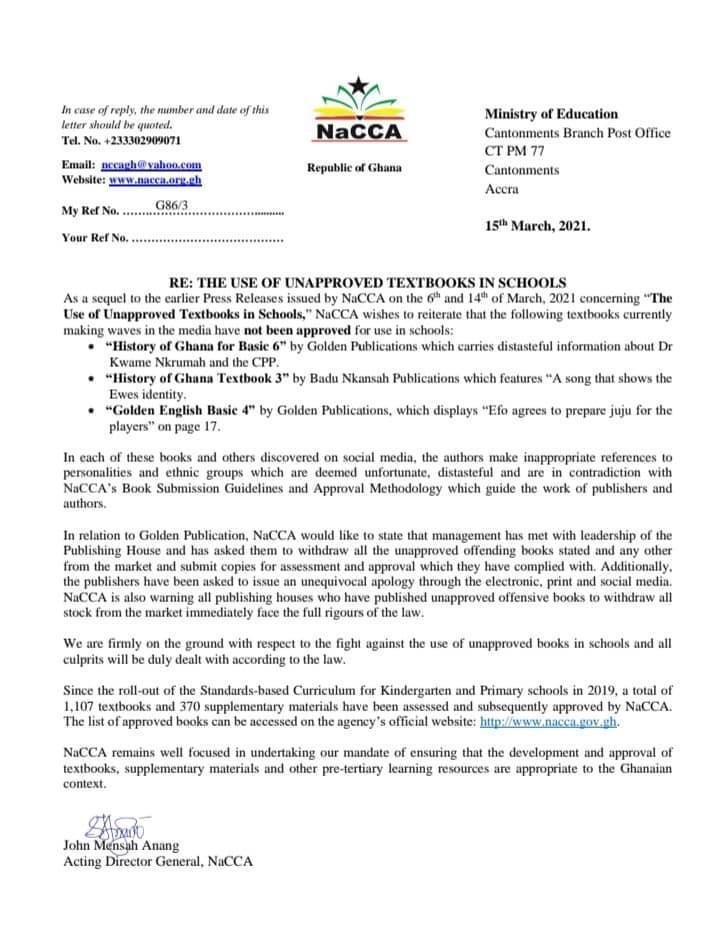 Backing this stance the Council said all textbooks in contention have not been approved for use in schools.
"In relation to Golden Publication, NaCCA would like to state that management has met with leadership of the publishing house and has asked them to withdraw all the unapproved offending books stated and any other from the market and submit copies for assessment and approval which they have complied with."
Additionally, the statement signed by the Acting Director General of NaCCA, John Mensa Anang said the publishers have been asked to issue an unequivocal apology through the electronic, print and social media.
NaCCA further assured the public that the Council is "firmly on the ground with respect to the fight against the use of unapproved books in schools."
"Since the roll-out of the standards-based cirriculum for kindergarten and primary schools in 2019, a total of 1,107 textbooks anbd 370 supplementary materials have been assessed and subsequently approved by NaCCA.
"The list of approved books can be accessed on the agency's official website: https://nacca.gov.gh" the statement clarified.
Meanwhile, the Education Ministry has also dismissed the controversial textbooks in circulations.
Commenting on the development, Education Minister, Dr. Yaw Osei Adutwum said the books have not been approved for use in any school.