A real estate agency, Waterstone Realty Limited says it has been unable to occupy a 1.26 acre of land used to compensate it by the government after its land was acquired for the building of the national cathedral.
The company explained that this is because the land, which was duly allocated to it, is being occupied by the National Security.
In a statement on Monday, July 4, the company said since the land was allocated to it in August 2020, it has been unable to use or access the land.
"We wish to state that, in August 2020, the Land Commission allocated a 1.26 acre of land located at Ridge Residential Area in Accra. However, the allocated land is currently occupied by National Security and Waterstone Realty has not been able to take vacant possession of this duly allocated land," it said.
The company lamented that "Efforts to seek redress through government agencies have proved futile."
In May 2018, the government approached Waterstone Realty and notified the company of its intention to build a national cathedral on its legally acquired site located at Ridge in Accra.
The company, subsequently vacated the site in July 2018 to pave way for the construction of the National Cathedral after the government promised to duly relocate affected companies and pay the necessary compensation.
However, according to the company, all efforts through the Ministry of Land and Natural Resources, Ministry of Works and Housing and the Attorney-General's Department to get access to the land have proved futile.
"It is important to note the adverse impact on our business operations over these four (4) years, which has included the use of assets demolished providing rental income and at the time of demolition, collateral for loans to assist our operations.
"We are optimistic that just like other affected institutions of the National Cathedral project, Waterstone Realty will be duly compensated as soon as possible to avert any further negative impact on our business and employees," the company said in its press release.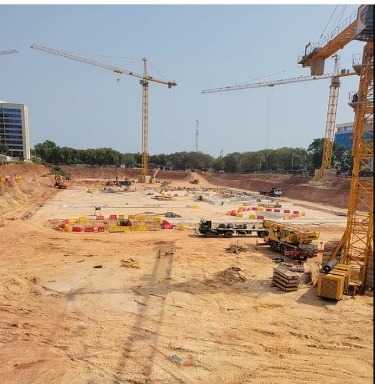 Meanwhile, the North Tongu MP, Samuel Okudzeto Ablakwa, has alleged that government has failed to compensate property owners whose structures were demolished to make way for the National Cathedral.
"The private developers whose properties were demolished have not been compensated."
"So I was thinking as many Ghanaians would have thought, that if the money withdrawn has not gone into the project, and contractors have suspended work for non-payment perhaps it has gone into compensating …it is shocking to realise that all these sums of money withdrawn are unconstitutional .. you have these private developers who have not received any compensation," he said.