President of Groupe Nduom, Dr. Papa Kwesi Nduom and other concerned indigenes of Elmina, have joined the fight against the coronavirus in the area.
The group provided an ambulance to be used by the Polyclinic at Elmina and other health facilities in the Komenda-Edina-Eguafo-Abbrem (KEEA), a truck with public address systems to help educate and sensitise residents and the provision of other medical items valued at GH¢70,000.
According to the group, the fight against the virus is not to be left alone to individuals to decide but has become a collective one hence their desire to support the community.
Fish markets at Elmina are still overcrowded and the beaches of Elmina are no exception. As a result of an ongoing sea defense project, some residents have besieged the beaches ignoring all Covid-19 protocols and winning sand.
The issue of education and the sensitisation of the people at Elmina, has been a major challenge for authorities to handle but the group believes they could complement the efforts of traditional and state authorities.
At the presentation of the items by the Concerned indigenes of Elmina, Spokesperson of the group, Godwin K Anani explained, their gesture was borne out of their desire to ensure that the pandemic does not wreak havoc in the community they come from and other communities in the KEEA.
"Whatever affect any of the residents here, affect us and as a group, we found it expedient to support them to keep things under control and protect our people as well," he explained.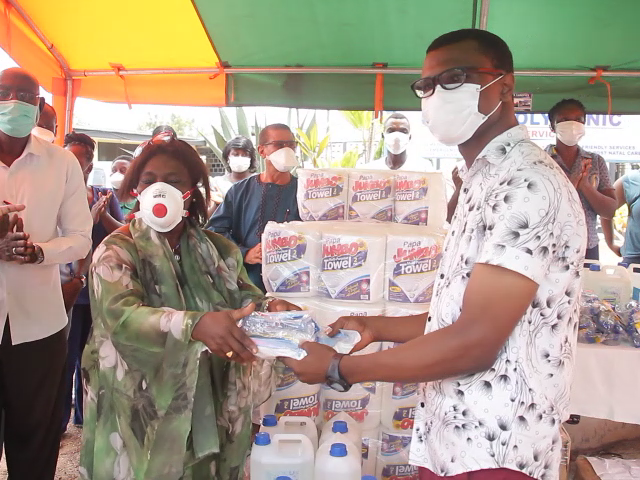 Godwin Anani indicated, the group is going to get actively involved in the education and the sensitisation of the people on a daily basis using the resources available to them.
"That's why we have the truck with the public address system. We are hitting the road and we hope to make a great impact," he assured.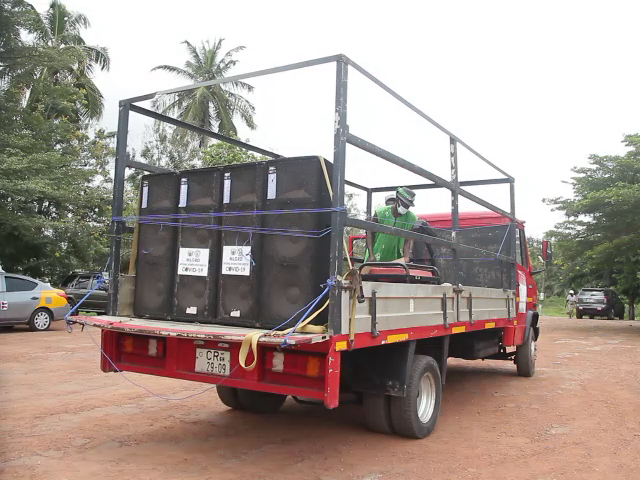 The Medical Director of the Elmina Polyclinic, Dr. Felix Darbbey, who received the items on behalf of the facility expressed his appreciation. He assured them that the medical items were going to be used to help fight the virus.
The items donated include, 25 infrared thermometers, 4 pieces of canopies, 30 gallons of hand sanitisers, 600 N95 mask, 500 pieces of surgical masks, 100 boxes of examination gloves, 20 pieces of goggles, 10 disposal gowns and other sanitary items.
In addition to these items, the group is embarking on the distribution of over 1000 pieces of hand sanitisers, 500 pieces of local masks to the Mpoben Market (The fish market).
The items are to be distributed to the Elmina Polyclinic, and the health facilities at Komenda, Agona, Kissi and the Municipal police headquarters