A non-governmental organisation, Women in Need (WIN), has trained women in two districts of the Central Region on alternative livelihood as a way of empowering them under its Equal Rights and Opportunities Project (EROP).
The EROP Project is being funded by the Netherlands Embassy in Ghana.
The participants who are mostly unskilled women with no incomes, and representatives from Associations of Hairdressers, Dressmakers, Traders, Palm oil and Fishmongers have been trained in soap-making, baking and basic Financial Literacy skills they could rely on to boost their economic power.
She stressed the organization would ensure the women were empowered to make them self-reliant and economically independent.
She further emphasized: "As we know, Central Region is one of the poorest regions in Ghana and that's why we are focusing on two districts: Gomoa West and Ajumako Enyan Essiam".
The project forms part of Women in Need's EROP, being implemented in two districts of the Central region, in partnership with GH-Alliance and Africa Centre for Human Rights and Sustainable Development-AfCHuRSD, implementing in the Northern part of Ghana.
The project seeks to empower women and girls through livelihood and entrepreneurial skills development in the 10 beneficiary communities.
Speaking at the training session at Ajumako in the Central Region, Policy Advisor with the Embassy of the Kingdom of the Netherlands, Theophilus Ayugane, explained the project was part of their human rights development which aims at empowering women to increase their equal rights as far as human rights are concerned.
He was convinced one of the best ways of empowering women and girls is to equip them with skills that would be part of them for life.
The training, he added, was not only focusing on soap-making, baking and others but also to satisfy the component that looks at ensuring that women's human rights are not violated.
He stated: "We want to ensure that we boost the economic power of the women and so we also link them to Financial schemes to assist them access seed capital in order to lessen the burden on them.
The Netherlands Embassy has been working with CSOs in the Central Region, Ashanti Region and parts of the Northern parts of Ghana.
Mr. Ayugane explains there's a monitoring team that does follow-ups on the women that have been trained to ensure that they stayed focused and lived the skills they have been trained in.
"There's a regular monitoring team that follows up the women," he indicated.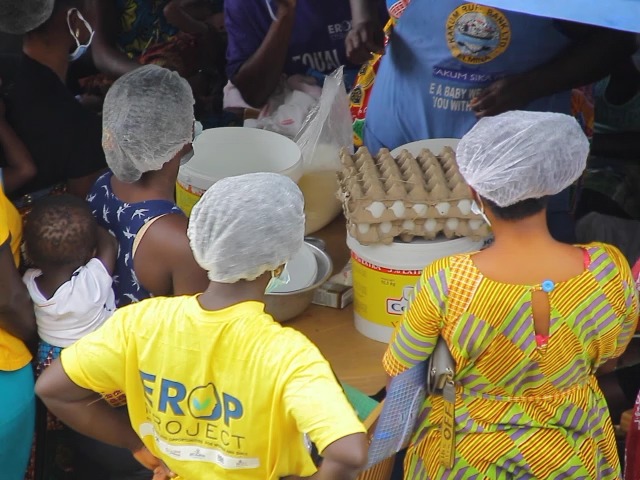 Programmes Officer of Women In Need, Abigail Addo-Quaye was convinced that the absence of skills in the lives of the women makes them vulnerable and that gives rise to sexual and gender-based violence in many communities in the region.
She indicated, most of these women don't have any skills and those with skills can have add-on skills, so helping them acquire some skills as alternative employment to what they do would be a major economic boost for them and enhance their income earning capacity. She was emphatic that by the end of the project, they would have reduced sexual and gender-based violence in these communities.
Business Development Officer with the Ghana Enterprises Agency, Christiana Boatemaa, talks about the sustainability of the project.
She states her outfit would continue to hold the fort when the EROP project ends. For her, that is where the Ghana Enterprises Agency would activate all their charges to ensure that the program is sustained.
"We, the BACs, would do our best to monitor them and ensure that whatever they came to learn would benefit them and benefit other dependents of theirs.
She revealed the agency would provide a major role to support them technically and financially. "Whatever we would do to encourage them, is what we would do," she stressed.
The women who were trained to bake, make soap and other detergents expressed their happiness and promised to use the skills they have acquired to support their households.
DISCLAIMER: The Views, Comments, Opinions, Contributions and Statements made by Readers and Contributors on this platform do not necessarily represent the views or policy of Multimedia Group Limited.