Nigeria's police chief has ordered the nationwide deployment of anti-riot officers to quell violence following protests against police brutality.
Mohammed Adamu's announcement came as an indefinite 24-hour curfew was imposed in the commercial hub of Lagos.
Lagos state Governor Babajide Sanwo-Olu said that criminals had hijacked protests "to unleash mayhem".
The protests began with calls for a hated police unit to be disbanded, but morphed into demands for wider reforms.
President Muhammadu Buhari dissolved the Special Anti-Robbery Squad (Sars), accused of illegal detentions, assaults and shootings, on 11 October.
But the demonstrators have called for more changes in the security forces as well as reforms to the way the country is run.
Mr Adamu said in a statement that he ordered the deployment of the Police Mobile Force (PMF) "to protect lives and property of all Nigerians and secure critical national infrastructure across the country".
He has also ordered the massive deployment of police operatives to strengthen security around prisons.
Mr Sanwo-Olu announced the curfew for Lagos, which has a population of about 20 million people, on Tuesday after saying the protests had "degenerated" into violence.
In a series of tweets, Mr Sanwo-Olu said that he had "watched with shock how what began as a peaceful #EndSARS protest has degenerated into a monster that is threatening the well-being of our society".
"Lives and limbs have been lost as criminals and miscreants are now hiding under the umbrella of these protests to unleash mayhem on our state… we will not watch and allow anarchy in our dear state."
Dear Lagosians,

I have watched with shock how what began as a peaceful #EndSARS protest has degenerated into a monster that is threatening the well-being of our society. Lives and limbs have been lost as criminals and miscreants are now hiding under the umbrella
…

— Babajide Sanwo-Olu (@jidesanwoolu) October 20, 2020
The curfew came into force at 16:00 local time but protesters in the Lekki and Alausa parts of Lagos had not dispersed, 15 minutes after a curfew kicked in.
Instead, they were singing the national anthem at Lekki toll gate – one of the main roads into Lagos's business district.
The curfew will affect millions of people. Only essential workers will be allowed out.
The announcement of the curfew comes after reports that people set fire to a police station in the Orile part of Lagos state.
Videos posted on social media show the police station burning, with people standing outside cheering.
It is not clear if there were officers inside the building at the time or how the perpetrators managed to set the building aflame.
Both sides could do with a break
Some would say it was inevitable that as the protests continued the authorities would turn to an old trick – looking away when the first sparks of violence appeared, only to use it as an excuse to quash peaceful protests.
Security operatives have been largely indifferent as thugs attacked peaceful protesters across the state from last Thursday. To be fair to the police, they too have not been spared, getting attacked on Monday and having a police station burnt on Tuesday.
Many will feel the decision to deploy anti-riot police is a hasty one. But things were beginning to spiral out of control with full-blown riots in some parts of the country.
This will be a test for the young, peaceful demonstrators. Many of them have defied a 16:00 curfew in Lagos but it is hard to see how they can go on.
Though no side will admit it, the "break" that will ensue from deploying anti-riot police might be useful for the government to show some sincerity by implementing some of the demands of the protesters, while demonstrators can re-strategise for a comeback, if the government doesn't meet their expectations.
The police in Lagos has said that "all security agencies have deployed adequate personnel to take charge and enforce the curfew across the state".
A statement added that the protests have been taken over "by hoodlums who want to run down the state and the police command will resist such state of anarchy, unrest and brouhaha with all powers within the ambit of the law".
On Monday, people attacked police in the Yaba area of Lagos, destroying police vehicles and chasing officers away.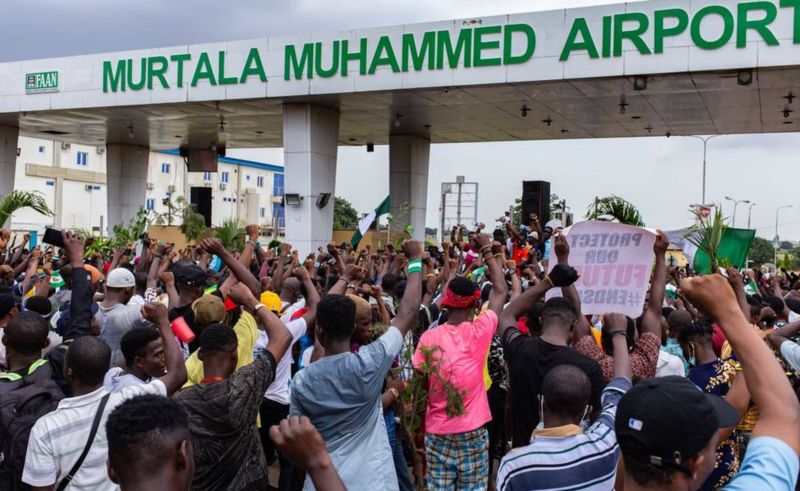 In some other areas, people have been seen erecting roadblocks and charging motorists a fee.
Violence has also been reported in other parts of the country.
In southern Edo state on Monday, officials said two police stations were targeted with attackers burning cars and stealing police equipment.
There were also jailbreaks at two prisons in Edo, leading the state government to declare a curfew there.
On Monday, rights group Amnesty International said that police violence against protesters had continued and that at least 15 people had been killed since the protests began a fortnight ago.
DISCLAIMER: The Views, Comments, Opinions, Contributions and Statements made by Readers and Contributors on this platform do not necessarily represent the views or policy of Multimedia Group Limited.