The people of Nogokpo do not appear ready to back down in what they claim to be a denigration of their reputation.
A spokesperson for the traditional authorities has hinted at potential consequences if the founder of Perez Chapel, Charles Agyinasare, does not honor the invitation.
The traditional leaders took offense at comments made by Charles Agyinasare, in which he described the Volta Regional town as a demonic headquarters.
Following the ensuing uproar, the clergyman sought to clarify that he had no malicious intent in his sermon that day.
He stated that he did not mean to disparage any specific groups of people or their communities, and regarded any subsequent misrepresentation or misinformation as unfortunate.
However, the chief and people of Nogokpo remained firm in calling him out. During a press conference on June 2, they emphasised that Archbishop Agyinasare must take appropriate action after tarnishing the town's image.
In response to the controversy, Perez Chapel International declared a one-week fast with prayers for all its members worldwide. With only 10 days remaining until the ultimatum expires, a spokesperson for the traditional authorities in Nogokpo has been providing updates on the development.
Kobla Nornyigbey stated that if Bishop Agyinasare fails to honor the invitation, "then the energies of the land will act." He added, "It is as simple as that. We are not interested in going to any court seeking redress. I don't want to delve deeper into that, but we also have our courts in the temples," he told JoyNews on Tuesday.
Nornyigbey perceives Archbishop Agyinasare as an influential figure, and believes that his presence for peace talks would be the most honorable way to restore the town's image which he says was dented through his initial utterances.
"Bishop Agyinasare is no lightweight in this country. He commands a lot of followers. So for him to come to make such a statement, it carries weight."
Meanwhile, the National Peace Council (NPC) has asked the founder of Perez Chapel International, Archbishop Charles Agyinasare and the Chiefs and people of Nogokpo to remain calm over the feud raging between them.
In a press statement issued on Tuesday, June 6, the Peace Council said the issue if not addressed properly could negatively impact the "peaceful coexistence and religious tolerance in the country."
The Council has thus advised the feuding parties to desist from further commentaries on the issue and submit themselves for an amicable redress.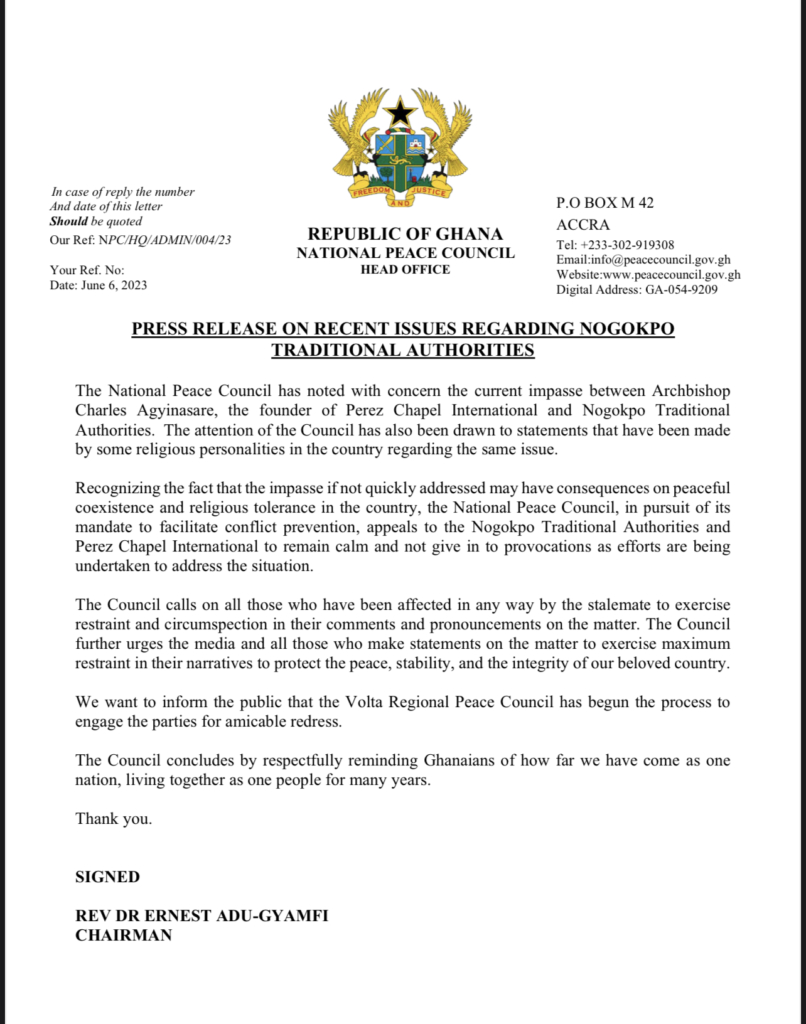 DISCLAIMER: The Views, Comments, Opinions, Contributions and Statements made by Readers and Contributors on this platform do not necessarily represent the views or policy of Multimedia Group Limited.