Novak Djokovic says it was "not pleasant" to deal with the controversy surrounding his father Srdjan before his Australian Open semi-final victory.
Srdjan Djokovic watched his son's 7-5 6-1 6-2 win over American Tommy Paul at home to avoid causing "disruption".
On Wednesday he was pictured at the tournament with supporters of Russian president Vladimir Putin.
"He [my dad] had no intention to support any kind of war initiative," said Djokovic.
"It's unfortunate the misinterpretation of what happened escalated."
Djokovic's father was photographed with the Putin supporters after his son's quarter-final win over Russia's Andrey Rublev.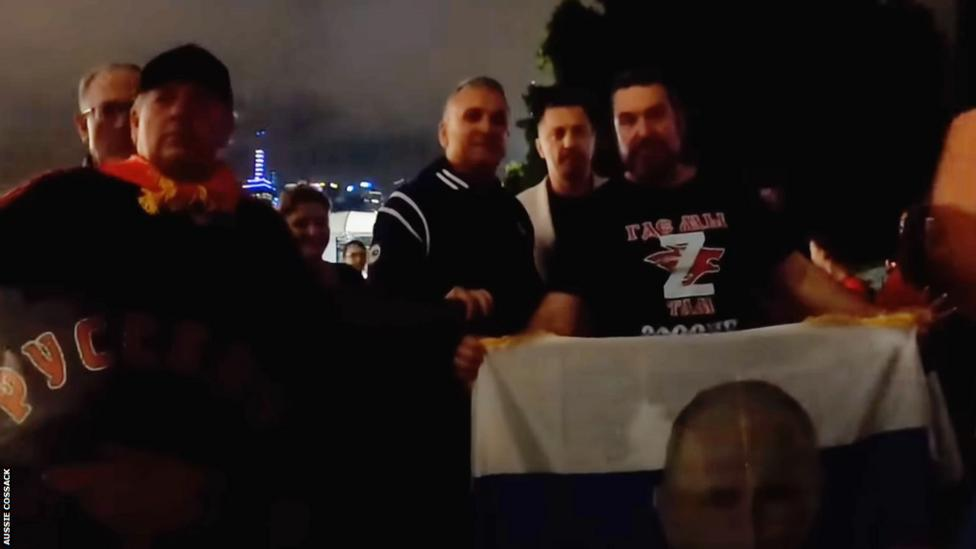 The images also featured a man wearing a T-shirt printed with the letter ' Z' – a pro-war symbol of President Putin's invasion of Ukraine.
Speaking after his win over Paul, and for the first time since the incident, Djokovic said he "could not be angry" with his father.
Djokovic said his father was walking through a gathering of the player's fans outside Rod Laver Arena and had been "misused" by the Russian fans before quickly continuing past.
"There was a lot of Serbian flags around. That's what he thought. He thought he was making a photo with somebody from Serbia. That's it. He moved on," said Djokovic.
However, the nine-time Australian Open champion conceded the row had "got to" him in the lead-up to his semi-final at Melbourne Park.
Djokovic also courted controversy last year when he was stopped from defending his title after being deported following a row over his coronavirus vaccination status.
"I was not pleased to see that," said Djokovic, who will earn a record-equalling 22nd major men's title if he beat Greece's Stefanos Tsitsipas on Sunday.
"Of course, it's not pleasant for me to go through this with all the things that I had to deal with last year and this year in Australia. It's not something that I want or need.
"I hope that people will let it be, and we can focus on tennis."
What happened to get to this point?
Russian and Belarusian flags and symbols have been banned at the Australian Open since a Russian flag was displayed during a match between Ukraine's Kateryna Baindl and Russia's Kamilla Rakhimova on the opening day.
But Russian flags – including one with Putin's face on it – were seen at Melbourne Park on Wednesday.
Four spectators were later questioned by police after the flags were waved and security guards were allegedly threatened.
The video of Srdjan Djokovic with the fans emerged on Thursday.
"I was outside with Novak's fans as I have done after all of my son's matches to celebrate his wins and take pictures with them," he said.
"I had no intention of being caught up in this.
"My family has lived through the horror of war, and we wish only for peace."
Before Srdjan Djokovic confirmed he would not be attending the semi-final, Australia's Prime Minister Anthony Albanese reiterated the country's stance on pro-Russian protests.
"I will make this point, that Australia stands with the people of Ukraine. That is Australia's position and Australia is unequivocal in our support for the rule of international law," Albanese said at a news conference on Friday.
"We do not want to see any support given to the Russian invasion of Ukraine."
Tennis Australia said in a statement it "stands with the call for peace and an end to war and violent conflict in Ukraine".
Ukraine's Kostyuk upset by seeing Russia flags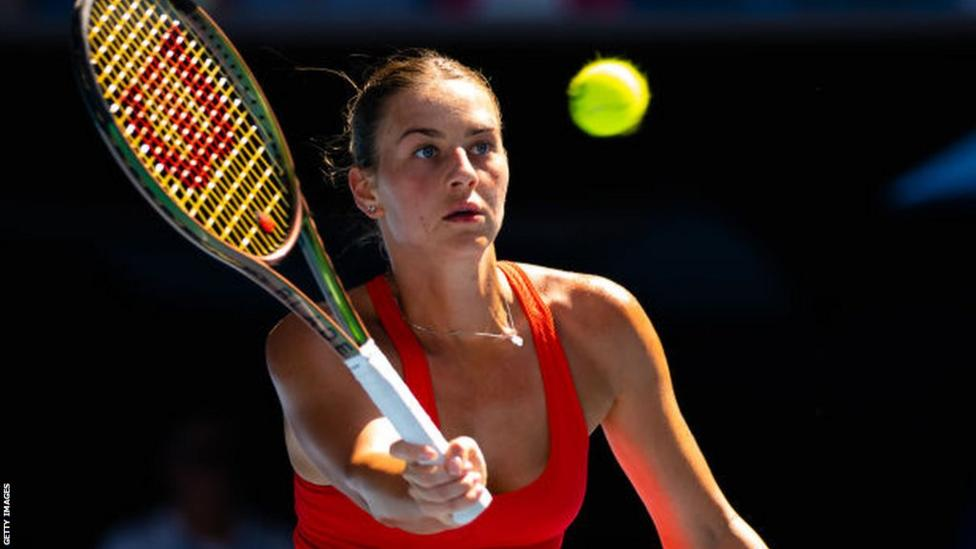 Ukrainian player Marta Kostyuk has been one of the most vocal in speaking out about the war and she said seeing Russian flags being waved by supporters of Putin at Melbourne Park "hurts a lot".
"I don't understand how this can be possible," added the 20-year-old, who was beaten in the women's doubles semi-finals on Friday.
Kostyuk was born in Ukrainian capital Kyiv, which has been a focal point of Russian attacks since the country invaded its neighbour in February 2022.
The world number 61 has regularly highlighted the devastating impact on Ukrainians caused by Russia's actions.
"It hurts a lot because there were specific rules; you're not allowed to bring in the flags," said Kostyuk, who also reached the third round of the singles.
"It really hurts that they were there for quite some time. These kind of things should not be seen. It's very upsetting."
Kostyuk also wants the ban imposed by Wimbledon last year on Russian and Belarusian players to remain in place this year.
The All England Club has yet to announce a decision for the Championships, which begin on 3 July.
Asked if Russian and Belarusian players should be stopped from competing again, she said: "I think yes. Because I cannot imagine if someone Russian or Belarusian wins the tournament and then royal family has to hold the trophies with them.
"I hardly imagine this. This is one of the big reasons they actually banned them. So I think yes."
DISCLAIMER: The Views, Comments, Opinions, Contributions and Statements made by Readers and Contributors on this platform do not necessarily represent the views or policy of Multimedia Group Limited.