The Police say they have arrested 49 people who showed up within the vicinity of the Jubilee House and the 37 Military Hospital on Thursday to participate in the #OccupyJulorBiHouse demonstration.
In a press statement, the police indicated that these suspects were taken into custody for unlawful assembly and violation of the Public Order Act.
The police noted that the arrested persons disregarded court documents served on the organisers, Democracy Hub, to refrain from embarking on the planned demonstration.
"We would like to state that the Police do not take delight in preventing any group from demonstrating as the Service has a track record of providing security for demonstrations in the past. The exception, in this case, is the Police disagreement with the organisers on the venue, the Jubilee House, being a security zone," parts of the statement read.
The police urged the general public to disregard any invitation to take part in any "unlawful" demonstration until the determination of the matter by the court on the 26th September 2023.
Background
On Thursday morning protestors who showed up within the vicinity of the Jubilee House for the #OccupyJulorBiHouse demonstration have been arrested.
The Accra-based civil society group organising the protest, Democracy Hub, had earlier notified the Ghana Police Service of their planned demonstration on Nkrumah Memorial Day to call on "the President and members of the Economic Management Team to #FixTheCountry in light of the level of economic mismanagement and theft that has engulfed our government from the highest levels."
"The picketing will also allow citizens to express their opposition to the proposed military intervention in Niger as well as any other government policy decisions or initiatives," it added.
But on the eve of the event, the police secured an injunction from the court barring the protest from moving forth.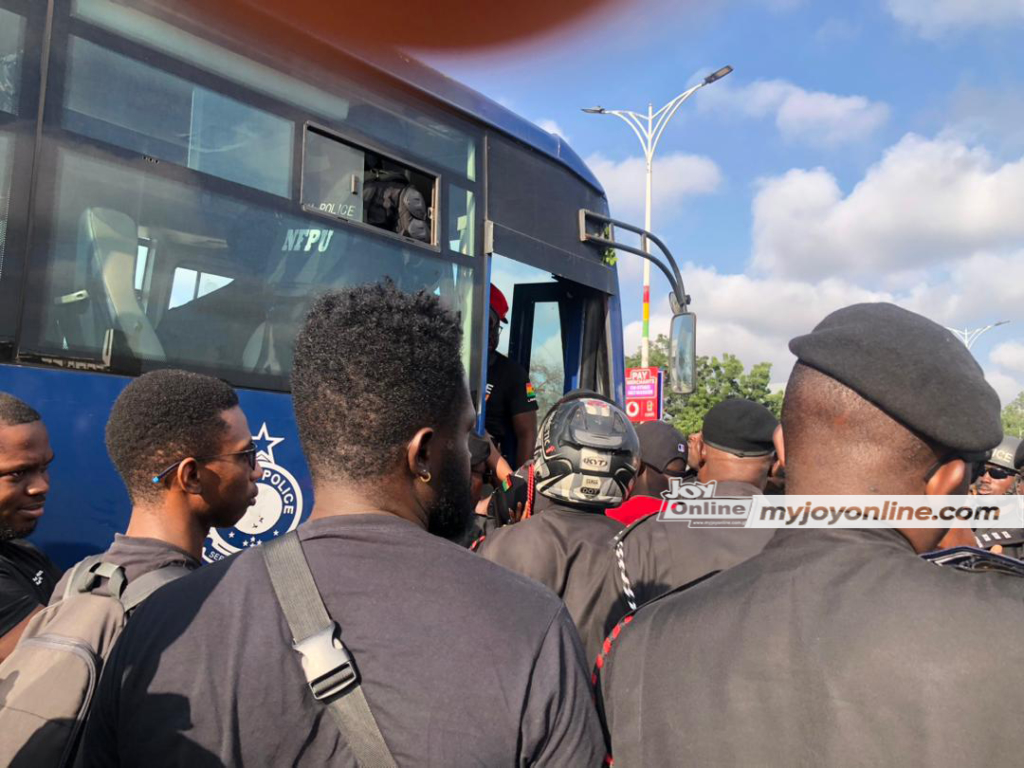 According to the group, the selection of Nkrumah Memorial Day is vital to the message they want to put across as it commemorates "the spirit of resilience and resistance that led the struggle against oppression and dispossession."
In response, the organisers revealed that they had not been served the court documents and as such had the right to stage the demonstration.
However, the police insisted it had served the lawyers of the organisers and urged members of the public to avoid participating in an "unlawful" demonstration.
On Thursday, the demonstration came off but was short-lived.
DISCLAIMER: The Views, Comments, Opinions, Contributions and Statements made by Readers and Contributors on this platform do not necessarily represent the views or policy of Multimedia Group Limited.