The Minority in Parliament has criticised the Ghana Police Service over the arrest and brutalities it meted out to the #OccupyJulorbiHouse demonstrators on Thursday, September 21.
The NDC MPs insist the action by the police is condemnable and shameful and must not be countenanced.
The caucus in a press release issued on Friday, September 22, signed by their leader, Dr Cassiel Ato Forson, said the method of policing deployed by the Ghana Police Service was archaic and backward.
"The Minority in Parliament is outraged at and disappointed in the Ghana Police Service for unleashing a terror squad of police officers who on Thursday shamefully brutalised and arrested peaceful demonstrators in Accra."
"It is shocking and unacceptable that in 2023 officers of the Ghana Police Service would resort to backward and archaic policing methods to counter peaceful protestors who were only manifesting their lawful and constitutionally guaranteed right," excerpts of the release said.
They thus condemned the conduct of the police and asked them to learn modern ways of policing.
According to them, the issue will leave a blot on the reputation of the police.
"We condemn in no uncertain terms the police officers' ruthless and barbaric crackdown on the unarmed peaceful protestors. For a service that has been badly and widely criticised for its partisan policing methods in recent years and for which a parliamentary probe is currently ongoing, the 16th-century style of crackdown and terror unleashed by them on the peaceful protesters in Accra yesterday further dims the reputation of the Ghana Police Service."
"Even more shocking is the fact the heinous and highhandedness of the police is inconsistent with its motto of service with integrity."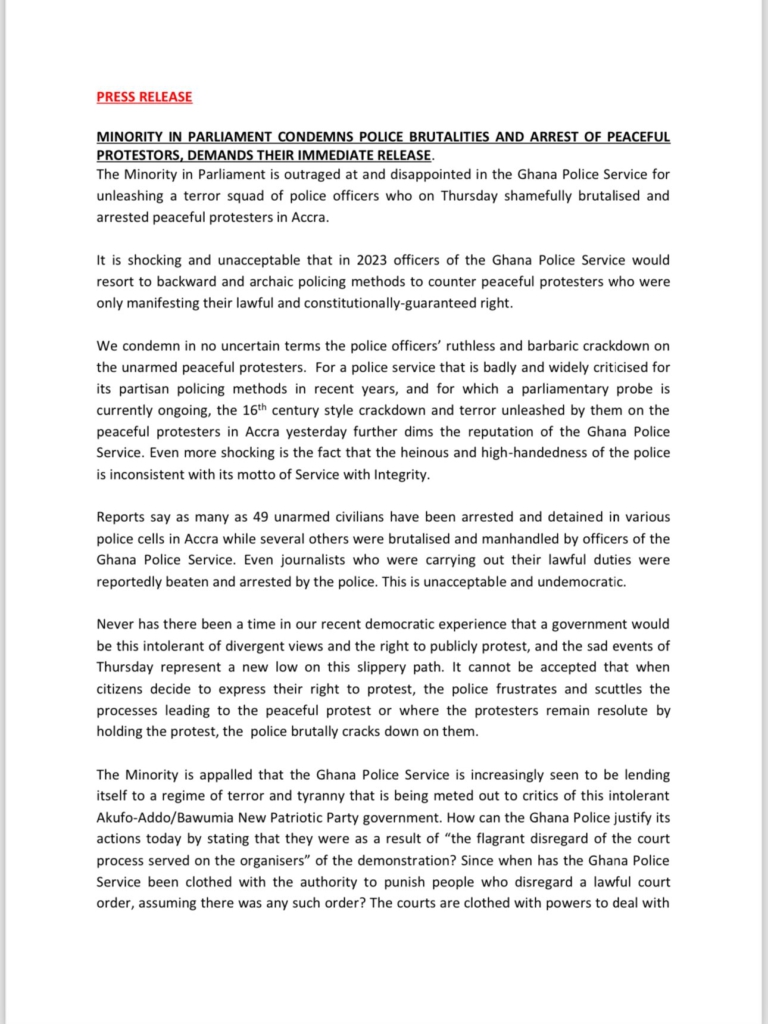 DISCLAIMER: The Views, Comments, Opinions, Contributions and Statements made by Readers and Contributors on this platform do not necessarily represent the views or policy of Multimedia Group Limited.