Observations on 25 years of an evolving relationship
Thank you, Madam Chair, Emma Morrison for those kind words, and for being such a great example of media excellence.
I also wish to thank the Prof Gyimah Boadi- , Board of CDD-Ghana and the Executive Director Prof H. Kwasi Prempeh, and the team at CDD for this opportunity.
I wish to commend you for your seamless leadership transition, which is a great source of pride for us in the civil society community, that in managing your affairs so ably, you certainly practice what you preach.
I also wish to thank the chairman of Citi FM, Nik Amarteifio and the CEO, Samuel Attah-Mensah (Sammens) for the vision and leadership.
Introduction
We are living in extraordinary times. Some say times like these occur once a century.
Two days ago, on US election day, during an interview with the US Ambassador to Ghana, I found myself asking questions that would typically be asked of an ambassador of a developing country, by a western journalist.
It is not often that you get to ask an American Ambassador how long it would take for us to know the outcome of an election and whether or not a sitting president will accept the outcome or whether they would still be at post if governments changed.
Until recently these situations were almost unfathomable to contemplate about America's democracy, but here we are!
In line with the novelty of the occasion, I notice that the past 15 editions of this annual lecture have been held in March. This appears to be the first time its being held in November- A situation I suspect Covid-19 has something to do with.
I was wondering which of my sins God was punishing me for, by giving CDD the idea that I should deliver this lecture in a highly polarized political environment, exactly one month to our own crucial elections.
To make matters worse, a careful look at the past 15 speakers really convinces me that these are indeed extra-ordinary times.
It is not often that an under 40 journalists gets to appear on a platform which has been graced by the likes of the late Rt. Hon. Peter Ala Adjetey, Justice Emile Short, Dr. Kwadwo Afari Gyan, The late Justice VCRAC Crabbe, Dr. K. Y Amoako, Prof Takyiwa Manu, Prof Naomi Chazan, Dr. Jendayi Frazer, Prof K Gyimah Boadi, and the venerable Kwaku Baako Jnr among others.
Last week, my college Manasseh Awuni delivered the Kwadwo Baah- Wiredu Annual Lecture, and here I am today. It appears a new wind is blowing and a new generation of media voices are being heard
I am acutely aware that this could end in one of two ways: either an aberration that organizers would vow never to repeat or the beginning of a new dawn to give fresh new voices place on the table of the mature.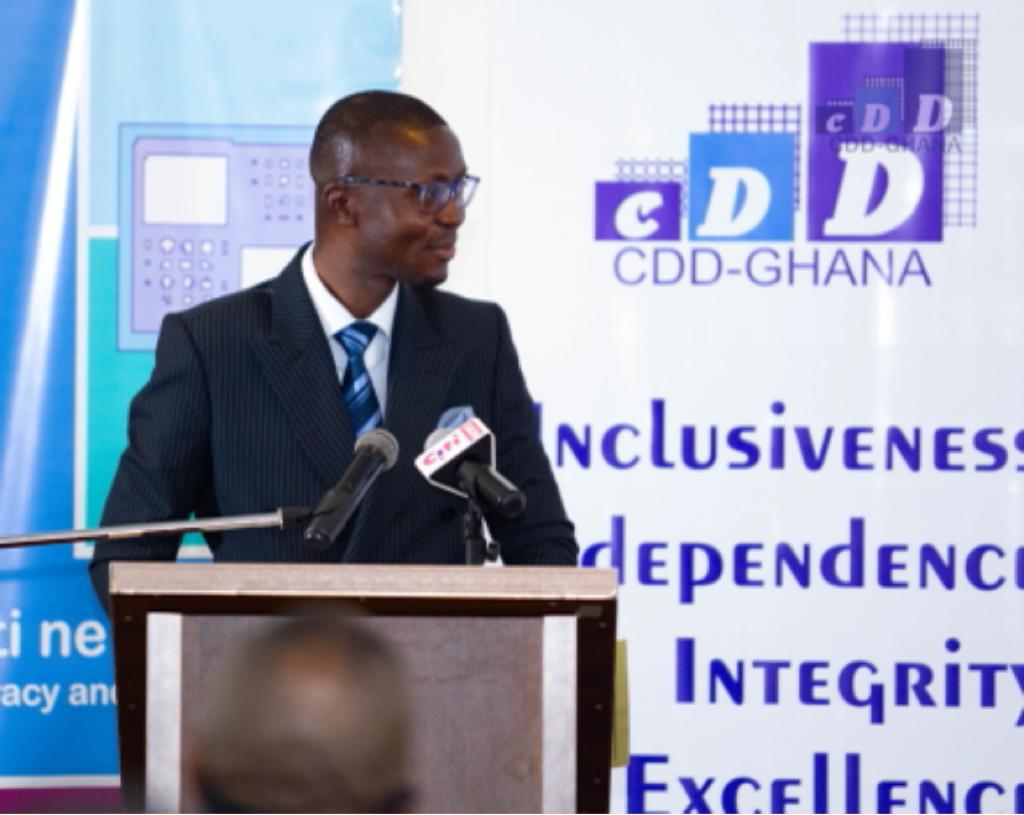 I hope for the latter and am convinced there's a purpose for this, especially given a couple of interesting coincidences.
First, today November 5 2020 is exactly 16 years since Citi 97.3 FM which I have been working with since inception, was founded.
CDD did not know this, so while they think this is just a Kronti Ne Akwamu Lecture, I am treating this also as a low-key Citi anniversary lecture.
2020 is also exactly 20 years of my practice as a journalist. I entered the university of Ghana in September 2000, and by November that year I had been given the opportunity to start training as a Volunteer Broadcast Journalist at Radio Univers at the University of Ghana.
To get to deliver the 16th edition of Kronti Ne Akwamu Annual Lecture on the 16th anniversary of Citi FM, in the 20th year of my practice, surely, must be divine design!
The lines are indeed falling unto me in pleasant places!
Now, I must tell you that I accepted the title for the talk, Radio, Rulers and the Ruled in the 4th Republic, with some protest. I thought it was quite a mouthful.
In our line of work as journalists, words are everything.
When a reporter refers to a political party being voted into power, we would often correct them and tell them to use voted into office, since that agrees with our view of what they are voted to come and do.
The words "Rulers are the Ruled are a bit like that. The connotations are not "democratic" enough for me. Kings rule, Presidents govern. I was therefore quite surprised that Kojo agreed to go with "ruling" as the main motif. Maybe it's a sign of the times.
On a more serious note, beyond the convenience of alliteration, the words were intentionally chosen to demonstrate, perhaps, the nature of the relationship between Ghanaians and their political leaders.
It has become one in which even though citizens can often say whatever they want, the government inevitably does whatever it pleases. Prof Kwame Karikari in his 14th Kronti Ne Akwamu Lecture called this "the paradox of voice without accountability."
The word Republic was made popular, by Plato, in his seminal work between 380-360 BCE- The Republic. But unlike Plato, the republic I am discussing is neither ideal, not is it ruled by philosopher kings.
It was Plato who once infamously said "Democracy passes into Despotism." Were he to be here today, I am not sure he would have been too impressed by my approach and emphasis, because while he held no hope for popular democracy, (after what it did to his mentor Socrates) I think there is still hope for popular multiparty democracy with the universal adult suffrage as a viable system of governance.
Plato's Republic was a utopia, ruled by Philosopher-kings he nicknamed Navigators. Our republic is less than ideal and is governed by the Sailors-The Politicians.
Secondly, Plato preferred intellectual reasoning to observation, as the path to knowledge acquisition, and in stating my observations about 25 years of this evolving relationship, I tend to be more Aristotelian in my approach.
The media and Ghana's democracy
Ghana's recent history as a nation-state has seen us vacillate between democratic governance and military rule.
The 4th Republic, in its 27th year has been the most successful period of uninterrupted democratic governance that we have ever had.This feat has placed us ahead of many of our contemporaries with a proud record of 3 peaceful political transitions from one political party to the other.
There are many factors which have contributed to this sustained period of electoral democracy, like the consultative process that led to the creation of the 1992 constitution, the development of relatively stable institutions, and the presence of a vibrant media landscape.
The 1992 constitution guaranteed the place of the media in the multiparty democratic system, and in this respect, Article 162:5 is seminal.
It states : " All agencies of the mass media shall, at all times, be free to uphold the principles, provisions and objectives of this constitution, and shall uphold the responsibility and accountability of the Government to the people of Ghana."
This provision clearly spells out the imperative of media freedom needed to fuel a democracy, in keeping governments responsible and accountable to the people.
Beyond stating the imperative of a free press, the article also implies a three-way relationship between Government, Media and Citizens.
In the evolution of that relationship, various media worked together to advance the role of information, education, entertainment, and accountability- the four-dimensional role of the media in a functioning democracy.
My aim in this lecture is it to share my observations about how this 4th republican democracy has been shaped by the media, with an understandably biased emphasis on the electronic media, in particular radio.
Radio in Ghana
Radio has been in Ghana since the mid 1930s. The Station ZOY—named by adaptation of its call sign ZD4AA, relayed BBC Overseas service programs to the then Gold Coast. When Ghana gained independence, it developed locally originated content and became independent of British Broadcasting Policy (Smith 2018).
GBC Radio was an important part of Ghanaian lives through the Nkrumah years, and gained a place of notoriety during the coup years from 1966 to the early 80s.
The Rawlings coup on 31 December 1981 would usher Ghana into another decade of military rule, until multiparty democracy was restored with the coming into force of the 1992 constitution.
As mentioned earlier, the media played an important role in the periods leading up to the drafting of the constitution and the breaking of the "culture of silence" under Rawlings.
And while private radio had not quite developed enough to influence the 1996 election, newspapers like the Free Press, the Ghanaian Chronicle and the Guide are often mentioned as leading in this area.
Names like Prof P.A.V Ansah, Kabral Blay Amihere, Nana Kofi Coomson, Gifty Afanyi-Dadzie and Kwaku Sakyi Addo will forever be remembered in this regard.
In 1995 the Ghana Frequency Registration and Control Board (GFRCB) opened applications licenses to operate broadcasting services independent of GBC. The first frequencies were assigned in July 1995 for ten commercial radio services in Accra, Kumasi & Sekondi-Takoradi (Abdul Bassit 2017).
The first commercial radio licenses were issued two years into our 4th republican journey — a development that was triggered by Charles Wereko Brobbey's botched Radio Eye experiment, which earned him the moniker Tarzan, from the them minister of information, Kofi Totobi Quakyi.
The operations of the likes of Joy FM, Radio Gold, Vibe FM, Otec FM and later on Peace FM and others, coincided with the opening up of the political space. Until that time, many Ghanaians had never heard their political leaders and duty bearers having to answer questions live from well-informed journalists.
My personal love affair with radio started as a secondary school student, when during vacation, I would tune in to Radio Univers to hear Legon Decides.
One of the Legon campus electoral contests that has remained etched on my mind include the closely fought race between Paul Adom Otchere of Commonwealth Hall and Adjei Domson of Legon Hall in 1998 for the position of NUGS President.
I still remember the report Nat Kwabena Adisi (Bola Ray) filed to announce Domson's victory. That fateful evening, he said " This year, Legon hall have gone for their own and voted for Domson and Paul Adom Otchere who was then News Anchor for TV3 (I believe with the likes of our Chairperson for today Emma Morrison), had been undone, by his "misunderstood" claim that "he was not an ordinary student."
Much as he tried to explain his comment to mean that he was better placed by his exposure to national leaders to address student's problems, Domson's camp had a field day with songs and chants that they were mobrowa's who felt what ordinary students felt.
Needless to say, Paul lost, and Domson won.
Listening to the post-election discussion as a secondary school was my first lesson in concepts that would define my work: for instance, live on-field election reporting, the power of the question, the nuisances of scorekeeping, the complexities of gatekeeping, and the power of media to determine not just campus elections but national destinies.
(Paul, by the way is now host of one of the most popular TV shows in Ghana-Good Evening Ghana and a member of the Board of the NCA. Adjei Domson become a DCE under the Kufuor administration and is now NPP candidate for the Asikuma Odobeng Brakwa constituency. Bola Ray rose to become one of the most famous presenters on Joy FM and is now CEO of the EIB Group.)
The growing importance of radio in the 90s was evidenced by the caliber of journalists it attracted as show hosts, like Kwasi Pratt's Point-Blank on Vibe FM, Kwaku Baako's Hotline on Groove FM, and Ben Ephson's File on Radio Gold to name a few.
These were complemented by the peerless Komla Dumor on His Super Morning Show on Joy FM, Kwaku Sakyi-Addo's Front Page on Joy FM, KSM's Talk Shop on Vibe FM, Kwame Sefa-Kayi 's Kanawu Segment on the Radio Gold Morning Show, Maame Dokono's Odo ne asomdwie on Choice FM, and Afua Konaduwo haw ne sen on Peace FM.
(My favorite radio show by the way, in those days was The Midnight Train with BB Menson, the Virus! on Radio Gold)
These radio programs did a lot to entrench the democratic culture by keeping listeners well-informed and providing a platform for healthy political debate and discourse.
Peace FM in particular was crucial in bringing along the masses, as its use of Twi suddenly opened the floodgates for popular participation in political discourse.
Some even think the limited way Ghanaians define democracy as "ka bi na min kabi" to wit– speak and let me also speak, has something to do with the influence of local language stations like Peace FM in particular, and Adom FM, Happy FM, and others.
Having been lucky to have lived through these 27years as a listener, a trainee, a journalist, and now a manager in the media space, I will now share my observations about the vicissitudes of the relationship between radio, citizens and governments. Specifically, I note three paradoxes and three emerging trends, that I will now discuss in detail.
Paradox one: Less profit yet more commercial operators
I have always known Ghana's media environment as highly saturated, but comparing our numbers with other African countries, we see that the situation is more serious than I initially thought
Table 1 shows the number of radio stations per country for 7 African Countries.
TABLE 1
| | | | |
| --- | --- | --- | --- |
| Country | Population (2019)Millions | Number of Radio Stations in Operation | Audience Size Per Station (000) |
| Ghana | 30 | 577 | 52 |
| Burkina Faso | 20 | 163 | 122 |
| Ivory Coast | 26 | 52 | 500 |
| Senegal | 16 | 276 | 58 |
| Nigeria | 205 | 339 | 600 |
| Kenya | 53 | 100 | 530 |
| South Africa | 59 | 296 | 200 |
Various
Ghana's 30 million people have over 500 radio stations in operation, with over 3/4th of them being commercial. South Africa, with a population of approximately 60 million has less than 300 and even Nigeria with a population of over 200 million has less than 400!
Calculating what I call number of citizens per radio station, which is my own term for radio saturation in the country reveals that while Nigeria would have roughly half a million people per radio station , while in Ghana you would have around 52,000.
Ghana's number is further compounded by the fact thatan exceptionally high percentage of the stations are commercial . Senegal which also has a high radio saturation of 58,000 per station, has only 17% of its 276 radio stations being commercial, with 80% of their stations being community radio stations. In Ghana , 75% of all stations are commercial with less than 15% being community radio stations.
FIGURE 1: Radio stations in Ghana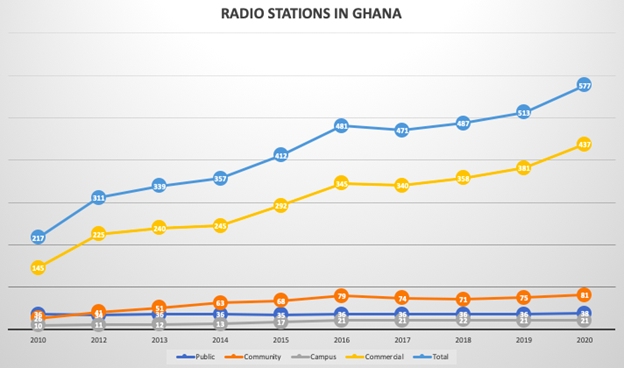 Source: NCA
Figure 1 shows the growth in number of the various types of radio station in Ghana since 2010, and the steepness of the commercial radio curve speaks for itself.
Using industry competitiveness models like Michael Porter's Five Forces to analyze Ghana's commercial radio industry one comes to the conclusion that commercial radio in Ghana is hypercompetitive.
That is, the Level of Competition is very high, Potential of New Entrants is High, Bargaining Power of Suppliers (of equipment) is also high. Customers or Buyers, in this case the clients/advertisers are also very powerful, as is the Threat of Substitute Products like social media and word of mouth. Objectively speaking, nobody seeking to make profit in less than 5 years would opt to own or operate a radio station in this kind of market!
Applying this model to Ghana's radio industry leads me to no other conclusion than the fact that the rush to acquire radio licenses is either due to ignorance of how the medium actually works or the quest to harvest perceived benefits which are non-pecuniary.
Being the General Manager of one of the leanest media businesses in the country, I am convinced that the increase in radio numbers has nothing to do with the profitability of the sector.
Paradox two: More licenses, Less geographical coverage
The send thing about the radio landscape that puzzles me is the paradox of increasing radio licenses while reducing the geographical coverage of the stations.
FIGURE 2: Radio lincences in Ghana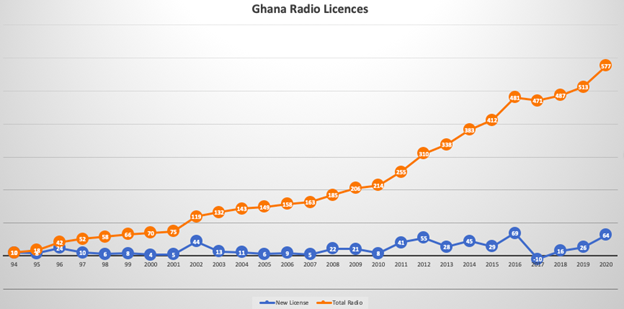 Source:
Figure 2 shows the number of radio station licenses awarded since records started. The blue line indicates the number of new licenses and the orange line show the cumulative total. also reveals some interesting insights.
Over 500 radio licenses have been issued since 1995, in those 25 years, 4 years stand out with the highest numbers: 2002 with 44 licenses, 2012 with 55, 2016 with 69, and 2020 (as of the 2nd quarter), 64.
If you haven't figured it out already, 3 of those years are election years. In other words, the time series indicates a correlation between election year and number of new licenses issued.
Comparing the decades, the whole of the 90s produced 65 new radio stations, the next decade saw 139 new stations added. This decade has seen a whopping 363 new radio stations!
In percentage terms, the number of stations has doubled every decade. If things continue at this rate, we will have over 1000 radio stations by 2030!
At the same time, the regulator is reducing the extent of geographical coverage of commercial radio stations.
In 2015 the NCA announced that it was reducing the geographical reach of commercial radio stations from a 100km radius to a 45 km radius, and made adherence to the reduction a condition for the renewal of licenses. This decision effectively reduced the geographical market size available to each business.
By limiting the coverage of FM stations, the NCA reduced the ability of the stations to enlarge their audience footprint and therefore offer better value to advertisers.
By Issuing more and more licenses, the regulator is squeezing existing media businesses and new entrants, often offering higher than market rate for new talent, leads to high staff turnover causing temporary distortions in the wage structure.
Because they are not given free of charge, it would seem as if the award of licenses has become a cash cow for the NCA, without due consideration for the viability of these business entities.
There also seems to be political pressure, for incumbent governments to award as many new licenses as possible, potentially as a way of mobilizing support or expanding their footprint of "friendly radio stations." In this sense, our business has become like political football for them.
The effects of this policy on viability of media operations is already showing. Many journalists are poorly paid and ill equipped to do their work professionally. And while poor pay is never a justification for accepting bribes, media owners have to do more to reduce the temptations their reporters face.
Another noteworthy and troubling development we see from Figure 2 is the drop in the blue line in 2017. That year, the NCA embarked on an audit of all FM stations in the country and imposed sanctions on 57 stations out of the 144 found to have been operating with expired authorizations. As we speak, at least 34 are still shut down.
Some of the stations are alleged to have failed to renew their authorization for 16 years. While I do not condone radio stations breaking the law nor believe that stations are untouchable or above the law, the resort to outright closure sent the wrong signals about the state's intentions concerning media freedom.
This is particularly concerning, since from the data we see that the number of licenses granted in 2020 is 64! (and these are only 2nd quarter figures). Would anyone be wrong if they concluded that the stations were shut down to make way for the award of new licenses?
Paradox three: More laws, poorer media security
Journalists sit at the center of the media ecosystem, and their freedom and safety are key indicators of the health of the media landscape.
The repeal of the criminal libel law in 2001 was a breath of fresh air for journalist and media houses. This has been followed by the passage of the Right to Information Law (awaiting implementation). However, while these laws exist on paper, the attacks against journalists have gone up, with security forces leading the charge.
The promulgation of these laws does not seem to have guaranteed the safety and freedom of journalists to do their work.
Data from the Media Foundation for West Africa reveals a worrying increase in the number of attacks against media practitioners and media houses.
According to their research, there have been 72 incidents of media freedom violations in Ghana between January 2016 and end of October 2020. These violations include Physical Assault, Arrest/Detention and Seizure/Damage of Equipment, the lowest point being the killing of a member of Anas Aremayaw Anas' Tiger Eye team, Ahmed Suale in 2019,
Table 2: Media freedom violations Jan 2016- October 2020
| | | | | | | | | | | | |
| --- | --- | --- | --- | --- | --- | --- | --- | --- | --- | --- | --- |
| Year | Killing | Kidnap | Physical Assault | Arrest/ Detention | Seizure/ Damage of Equipment | Sentence | Shutdown | Censor | Threat | Fine | Total |
| 2016 | | | 7 | 2 | | | | 1 | 4 | | 14 |
| 2017 | | | 9 | 1 | 2 | | | 1 | | 1 | 14 |
| 2018 | | | 10 | 1 | 1 | | | | 3 | | 15 |
| 2019 | 1 | | 8 | 3 | 2 | | 2 | | 2 | | 18 |
| 2020 | | | 6 | 1 | 1 | | 1 | | 2 | | 11 |
| Total | 1 | | 40 | 8 | 6 | | 3 | 2 | 11 | 1 | 72 |
The paradox here is that we appear to be moving towards better laws around media freedoms, yet journalistic safety is on the decline.
The irony the matter being that of the 72 violations, 30 or a startling 41% were committed by security agencies. These agents of the state, who are supposed to protect citizens and defend their rights are rather the ones perpetuating these violations against media practitioners and media houses. This is not only disappointing but very worrying.
TABLE 3: Perpetrators per year
| | | | | | | | | |
| --- | --- | --- | --- | --- | --- | --- | --- | --- |
| Year | Security Agents | Individuals | Political Party Affiliates | OrganisedOrganized Group | Regulatory Body | Court | State Official | Total |
| 2016 | 7 | | 1 | 3 | | | 3 | 14 |
| 2017 | 3 | 5 | | 4 | | 2 | | 14 |
| 2018 | 7 | 1 | 5 | 2 | | | | 15 |
| 2019 | 8 | 6 | 0 | 0 | 2 | | 2 | 18 |
| 2020 | 5 | 2 | 2 | 1 | 1 | | | 11 |
| Total | 30 | 14 | 8 | 10 | 3 | 2 | 5 | 72 |
THREE EMERGING TRENDS
THE Growing popularity of partisan programs
The fact that high profile media owners have ties with political parties is not new in Ghana or surprising for that matter.
The Daily Guide Media Group is owned by NPP Chairman Freddie Blay, Radio Gold by one of the Ahwois, Net2 and Oman of Kencity by Kennedy Agyepong, XYZ Media by Julius Debrah, Asaase Radio by Gabby Otchere Darko, Wontumi TV by NPP Ashanti Regional Chairman Womtumi and so on.
This relationship of political ownership appears to have mutated into a troubling trend that has become much more pronounced in recent years.
Thedefault format for the popular political shows in the first 20 years of commercial radio was to have politicians from two sides debate an issue. Starting with the likes, Crossfire and Newsfile on Joy FM, it soon became the standard format for most morning shows like Good morning Ghana on Metro TV and Kokrokoo on Peace FM.
While this format is not perfect in that political parties and politicians seem to think they have a divine right to appear on programs and start allocating spokespersons to appear on shows, something which should be the prerogative of producers, that format has its good sides. It at least it gives the chance for multiple sides of an issue to be heard on various issues.
These days , a new type of program tends to be dominating the traditional and digital media spaces. These programs are one-sided and often push narrow and often partisan agendas.
I am referring to Programs like Boiling Point and the Seat, on Oman FM/Net 2, Chairman Wontumi on Wontumi Radio/TV and With All Due Respect of WDR TV and Inside Politics with Mugabe Maase on Power FM to name a few.
These highly partisan programs seem to be growing in popularity with digital media audiences.
The fact that some of these programs get regularly flagged by the Media Foundation for West Africa's (MFWA) monitoring of indecent and abusive language on radio doesn't seem to be a deterrent to listeners and viewers.
The MFWA's September 2020 report for example noted that [and I quote] " 12 out of the 20 stations monitored recorded indecent expressions. Kumasi-based Wontumi Radio recorded the highest indecent expressions on its morning show.
Accra-based Oman FM recorded 19 indecent expressions across four programs Boiling Point (14), National Agenda (3), Evening News (1) and Dialogue (1), Power FM's Inside politics program as also recorded (2) incidents." [end quote].
Whether it's the politics that spawning this type of programming or the programming that's reinforcing the politics is not clear. What is however clear is that this kind of programming is steadily growing in popularity [and is worrisome for civil public discourse].
A finance and media fling
Another interesting trend that I have observed in the past few years is what I call the Financial Media fling– the brief relationship between fallen finance and mega media.
Even though we have shown that the media market, particularly radio, is already highly saturated and characterized by fragmentation of advertising revenue and reduced profitability, owners of some financial institutions appear to have had a strong and uncanny appetite for owning them.
From Figure 3, we notice that as many as 7 financial institutions that went under from the 2017 — 2019 financial sector clean-up were related to some media houses by ownership.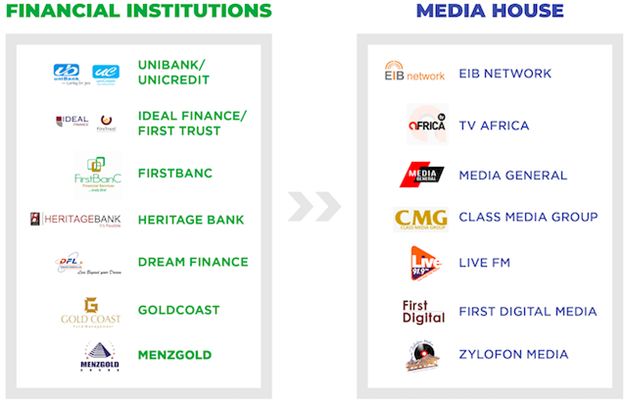 While I am not suggesting that these financial institutions collapsed because of their ownership of media or their relationship with it, the fact that as many as 8 of the largest collapsed institutions either wholly or partially owned important media houses presents a number of questions.
What do financial company owners see in media that others do not see?
What analysis did they do before entering the media market which we have seen to be already saturated?
Is the media business meant to reap financial profits or are there other hidden benefits?
To what extent did the ownership of these media businesses affect the financial institutions?
The collapse of these financial institutions would inevitably affect the operations of these important media organizations, and it is not surprising that post collapse and now because of Covid-a19 many are being forced to reduce their level of activities, because the principal source of money is no more.
As relationships go, this is not Odysseus and Penelope, it's more like a Scarlett O'Hara and Rhett Butler– It was nice while it lasted.
The power of networked radio
There is however another emerging trend that bodes well for Ghana's democratic space and serve as a reminder of what professional practice, astute management and visionary ownership and leadership can achieve.
In a yet to be published study, Nikoi and Avle (2020) argue that stations like Citi FM Joy FM, (broadly described as Networked Radio), "provide a limited but necessary alternative to exacting accountability from public officials as [the] dynamics of [media] participation elicit the state's responsiveness more regularly than the formal routes established for those purposes."
Network radio describes the integration of social media into radio programming in ways that enrich content and changes the nature of the relationship between media, their audiences and duty-bearers.
The alternative they refer to here is the fact that while a citizen may not get access to their DCE or MCE directly, at the local level, to respond to their needs, through networked radio, citizens may be able to force duty-bearers to respond to their needs.
This, in my view is one of the most important evolutions of media in Ghana and radio in particular in this decade.
Moreover, while many electronic media platforms are ceding their platforms to the two main political parties to comment on and debate most issues along partisan lines, networked radio stations like Citi FM & Joy FM, appear to be redefining their gate keeping role ambidextrously to not only localize national issues, but also nationalize local matters.
Radio in most places is local, and try to localize national issues.
Networked radio stations are however successfully bucking that trend by using their national networks to throw greater light in what would appear to be local concerns.
This approach has worked largely because most of the local problems that listeners lament about are similar across the country. For instance, it has become fairly common for text messages and tweets about shoddy work by a contractor on a road in say Gbawe, leads to a national conversation about the quality of road infrastructure across the country.
One great example of the power of Networked Radio is the recent work of my colleague Manasseh Azure Awuni, who at his own expense investigated the activities of the Chief Executive of the Public Procurement Authority.
His investigations and subsequent airing of the documentary "Contracts for Sale, gave national prominence to what initially begun as isolated procurement breaches.
Following a CHRAJ report the President fired the CEO of the Procurement Authority.
This type of work is what credible media can and ought to be doing, but where are the resources and where is the support.
Now, as a freelancer, how long would he have to use his own resources to pursue such important work and who will ensure his safety?
The Manasseh example is both a cause for celebration, but more importantly a clarion call for radio stations in particular to use the power of their influence to invest in and support daring anti-corruption and accountability work.
In summary, the first quarter century of radio in Ghana have been a mixed bag some great achievements but also failures and excesses, with important lessons to learn.
I will now turn my attention to the challenges facing us for the next 25 years and how to deal with them.
Three recommendations for the future
Remodeling the digital landscape
While networked radio mentioned earlier appears to offer some reprieve in augmenting the relationship between media, their audiences, and duty bearers, there are some challenges posed by digital media more broadly.
Given the high cost of internet and the low broadband penetration we have in Ghana; media owners have to find ways of being profitable without having to sacrifice their independence.
Most new markets are rural and poor, this means that the may have to rely on a mix of commercial and philanthropic support to survive.
We need sustainable business models that free us from our dependence on one or two powerful advertisers.
One of the principles of good journalism is that Journalists must be independent of the people they cover. This is important not just for the individual practitioners but also the media houses they work for. An important way of achieving this to have well diversified streams of revenue.
The more diversified the business sources of revenue and advertising, the less control one advertiser will have over them. It is like the single obligor limit of banks: our independence as media should not just be an editorial or ideational independence, it also ought to be financial and political.
And while poor pay can never be a justification for accepting bribes from politicians or business people, it is important to reduce the temptation by investing in viable business models that guarantee better remuneration, better equipment, better resourcing and ultimately higher quality journalism training and practice.
Reimaging the social sphere
According to latest figures [by Hootsuite Digital 2020 Report, about 20% or 6 million Ghanaians are on social media, with WhatsApp, Facebook and YouTube being the most popular. This situation has empowered both the informed and ignorant to not only react to information, but also generate their own content.
The rise in social media in news sharing and programming enriches the content,
but also presents a danger where paid armies of media trolls are unleashed on journalists who present views which are perceived to go against their paymasters and political sponsors.
The poor presenters who think the rise in social media reduces the influence of serial callers, now have to deal with paid trolls, many of who hide under anonymity to unleash vitriol on them.
In this world where audiences are empowered to become content creators, possibilities are limitless, but so also are dangers. This requires a different kind of media practitioner and media manage. One who is both social media savvy and ethically grounded.
There is also the existential threat all media houses face from what has been described by [Scott Galloway] as the rapidly growing 4 horsemen of the media apocalypse.
Facebook, Google, Amazon, and Apple are dominating the media landscape in a way that few media houses can cope with, much less compete with. Once entrenched, these platforms monopolize the media environment by providing information embedded within their apps, and serve as gatekeepers to third party news sources. In doing so they dominate the ad market and starve other news sources of revenue, often putting them out of business.
Facebook in particular is most lethal in this respect. They own the WhatsApp messaging platform which is the most prevalent social media platform in Ghana, and therefore have the potential to be a major centre of control of the hearts and minds of Ghanaian audiences. Their challenge to democracy is not just here in Ghana, but worldwide, and requires careful thinking about how to balance free speech with responsible public discourse.
REDEFINING THE RELATIONSHIPS
Finally, the increasingly complex nature of the world and the interrelatedness of phenomena mean that our fundamental appreciation of various relationships and responsibilities ought to change.
The media focus must change from just giving voice, to promoting good values, values, from a focus on mere visibility to insisting on accountability, from being a platform for debates, to becoming a catalyst for change…
The political elite must also evolve from Electoral Politics to people-centered politics, from winning elections to improving human lives and from providing handouts to voters to tackling structural issues confronting the country
The media must evolve from media development to media for development, from parroting party positions to scrutinizing plans, policies and programs.
The right to free speech must inherently ensure the right to hear, to have free access to all sides of an issue, not just the right to speak. This means the media in general and radio stations in particular must move away from partisan coverage to a citizen centered practice.
For radio to be effective in performing its role in the next 25 years, we should not consider our audiences as mere listeners but also as citizens. If we do this, citizens will consider themselves not just appendages of political parties but as agents of change for public good.
I want to thank CDD for this opportunity. God bless Ghana.
***
The writer, Benard Avle is a broadcaster and host of the Citi Breakfast Show.