There is a particular story Abedi Ayew Pele likes to tell when you ask about which of his sons three sons looked most likely to follow his footsteps into football greatness.
He talks about Rahim Ayew's doggedness from the start, his strong affection for everything sports and Dede Ayew's desire from an early age to play football too.
Then there is Jordan Ayew, who Abedi says fancied a career as a Formula One driver and never quite bothered about football. Abedi also always adds that all that was despite the fact that Jordan was easily to him the most talented of the three.
Dede Ayew follows a similar narrative when you ask about his brothers. The Swansea forward has become the shining light of the family now, the torchbearer for a family whose roots in football runs deep and at the highest level. For him Jordan Ayew has always seemed special.
It is not a universally held opinion.
Dede is viewed as the closest thing to the Abedi Pele who made us fall madly in love with the European champions league, the Abedi who could drag the Black Stars through the most difficult game and the Abedi some loved to hate but couldn't help applauding when he pulled off some of those insane skills and won games for Ghana so often.
There is even something in their body language on the football field; the constant encouragement by clapping hands to teammates and the way that left hand is bent almost as if the captain's armband must be worn at a specific angle.
For Dede, the initial resentment, some of it fuelled by nothing other than his background and status of his father has given way to admiration at how much effort he puts in and how well he has done in a football sense.
And the more you look at the Jordan Ayew story, the more you feel he is at that stage now too. The new Aston Villa striker, it seems can't do much right in the eyes of many Ghanaians. He is lampooned and picked on regularly.
People moan about the way he wears his pants, parents complain it will influence their kids the wrong way and some can't stand the fact that he has a permanent surliness about him.
When Jordan Ayew skins a German defender, runs the full length of the half and goes for goal himself rather than pass, it becomes the definitive reason why Ghana didn't make the knockout stage of the World Cup.
Everyone conveniently forgets that in the same game Agyemang Badu hit a shot over the bar in a three on two situation with Dede Ayew and Asamoah Gyan either side of him.
So in a way the Premiership represents Jordan's best chance to win over many of those whose default mode is to question everything about him from his talent and attitude to how he dresses on the pitch.
It is a massive stage.
At 23 years he has considerable experience at the highest level already. Two Africa Cup of Nations, played in two semi finals, one final, played in World Cup games, European champions league ties and Ligue 1 experience is a good resume for any footballer that age.
But the premiership will be different.
There will be many Aston Villa and Ghana fans watching every movement. For Villa fans the demand will be simple; for him to score goals and help them bin Christian Benteke's memory for good. For Ghana fans it will be to prove to the world we have proper ballers from here.
The good thing for him is that in this case he can kill two birds with one stone.
If he scores for Villa with the whole country watching, his reputation will only soar here and while there may never be a wholesale acceptance of his strong personality, there will be respect for Jordan the footballer.
That is what the Premiership offers him: a stage to grow his personal brand and reputation because this is the league we all love to watch.
In a way it is unfair to the national stars who don't play there and Jordan is a case in point. His form for Lorient last season was stunning.
He scored goals from outside the box, he scored tap ins, he scored headers, he scored penalties and he set many up too. He has pace and can beat a man in a one on one situation any day.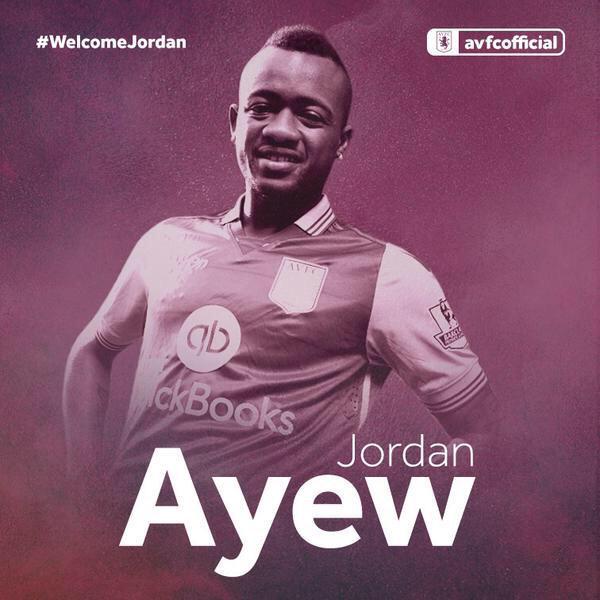 But he did a lot of those away from the glare of a public hyper critical of him. Now he can do it as they watch and maybe appreciate him more.
It will not be easy by any means. Those Benteke shoes are massive to fill but those same shoes will offer encouragement. A talented young man who came over from Belgium and took his opportunity with both hands. There will be pressure on Jordan to do same and his ability to shut everything out and just concentrate on football will come in handy.
It may represent a gamble for Aston Villa but so is every transfer. Hopefully Jordan will take his chance begin to change the sometimes negative narrative beginning to cloud his fine talent.
–
Michael Oti Adjei is a senior writer at Allsports.com.gh. Follow him on Twitter @OtiAdjei