Zoomlion Ghana Limited has expressed disappointment with the directive by the Public Accounts Committee (PAC) instructing Metropolitan, Municipal and District Assemblies (MMDAs) against engaging its service.
According to the waste management institution, the directive is uncalled for since no adverse findings have been made against it.
In a press statement issued on Friday, it said all questions that were raised during their appearance before the Committee were appropriately addressed.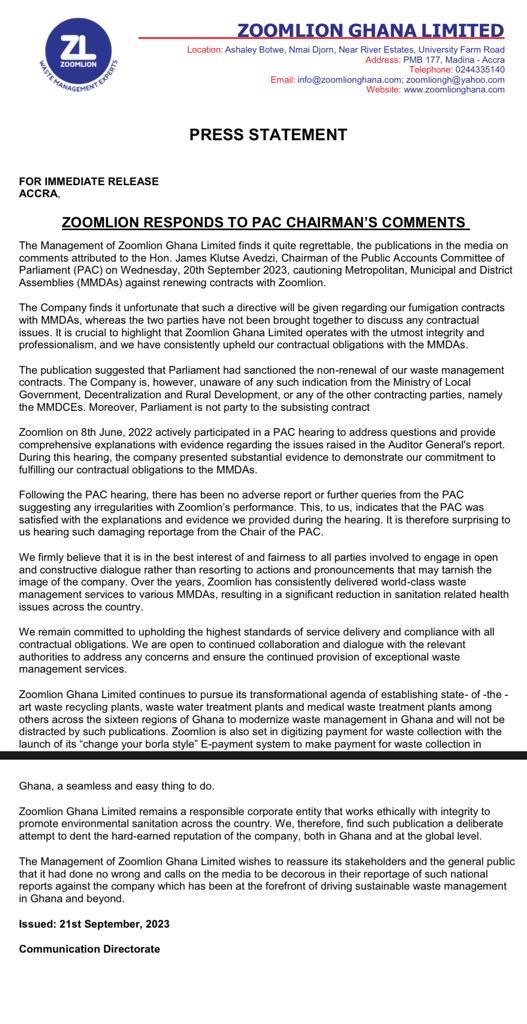 "Zoomlion on 8th June 2022 actively participated in a PAC hearing to address questions and provide comprehensive explanations with evidence regarding the issues raised in the Auditor General's report. During this hearing, the company presented substantial evidence to demonstrate our commitment to fulfilling our contractual obligations to the MMDAs."
"Following the PAC hearing, there has been no adverse report or further queries from the PAC suggesting any irregularities with Zoomlion's performance."
"This to us indicates that the PAC was satisfied with the explanations and evidence we provided during the hearing. It is therefore surprising to us hearing such damaging reportage from the Chair of the PAC," Zoomlion explained in its statement.
This comes after the chairman of PAC, James Klutse Avedzi, during the Committee's hearing in Ho, said Parliament had sanctioned the non-renewal of the waste management company's contract, citing the absence of discernible benefits.
He thus has cautioned Metropolitan, Municipal and District Assemblies (MMDAs) against renewing contracts with waste management firm Zoomlion.
The caution was made after the Fanteakwa South Municipal Assembly failed to provide the requisite documents to renew its contract with the waste management company.
Furthermore, the committee proposed a comprehensive review of the existing agreement with Zoomlion, considering that numerous Assemblies lack transparency regarding the terms of their contract with the company.
"I am told that there is a clause in the contract that gives automatic renewal. Unless you the assembly will communicate to the company the intention not to renew."
"So go back and read your contract document and then make reference to that clause, and inform Zoomlion that when your contract expires, you will not renew it again. Because you are not deriving any benefits from that, you are just wasting that money."
But Zoomlion says it finds these comments inappropriate and unfortunate.
DISCLAIMER: The Views, Comments, Opinions, Contributions and Statements made by Readers and Contributors on this platform do not necessarily represent the views or policy of Multimedia Group Limited.