Two people were killed as police carried out a seven-hour raid on a flat suspected of housing the alleged mastermind of Friday's attacks.
A woman blew herself up with a suicide belt and another suspect was killed by gunfire. Seven arrests were made.
But the fate of chief suspect Abdelhamid Abaaoud was not yet clear.
He was initially thought to have directed the attacks from Syria, but prosecutor Francois Molins said intelligence indicated he was in Paris.
The French government said on Wednesday it had finally identified all the 129 victims of last Friday's attack.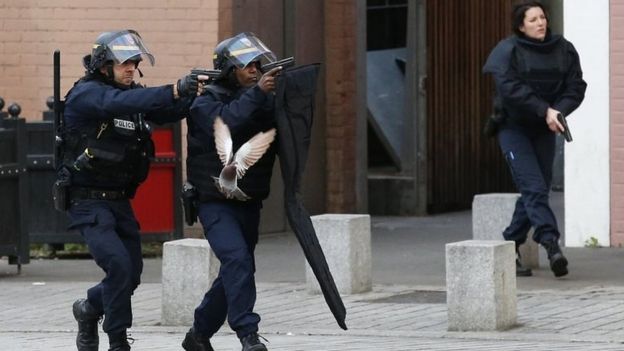 Armed police sealed off Saint-Denis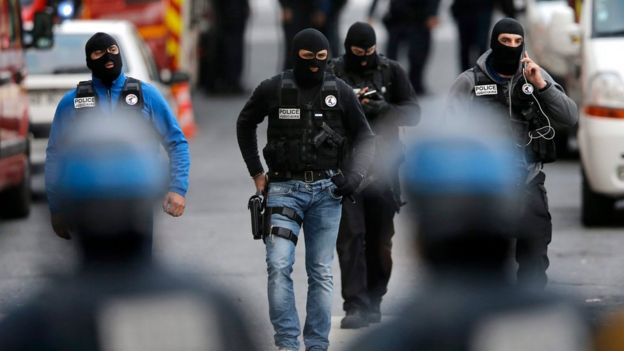 Some police officers were masked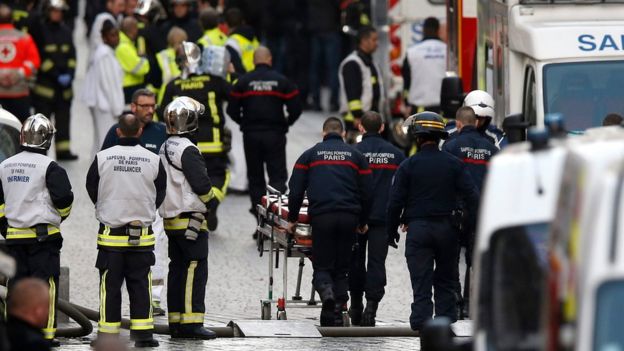 Ambulances are at the scene
The operation began at 04:20 local time (03.20 GMT) in Saint-Denis, the same district as the Stade de France.
Speaking from the scene after the operation had ended, Mr Molins said it was ordered after phone taps and surveillance operations suggested Abaaoud, a Belgian of Moroccan descent, could be there.
The prosecutor said a young woman – who France's BFMTV said was a relative of Abaaoud – detonated her explosives belt soon after the raid began.
Another suspect was killed by grenades and police bullets, Mr Molins said.
Three men were arrested in the apartment. Two others were found hiding in rubble and a further two – including the man who provided the lodging – were also detained, he said.
"It is impossible to tell you who was arrested. We are in the process of verifying that. Everything will be done to determine who is who," he said.
Multicultural Saint-Denis: by the BBC's Cagil Kasapoglu
Saint-Denis is a multicultural, multi-religious, multi-ethnic suburb or banlieue. There are Africans, Indians, Chinese, Turkish and many more from different backgrounds.
Many have "sans-papiers" status – meaning they do not yet have a legal status and an ID which would allow them to find a job.
During my visit to Saint-Denis on Tuesday, I heard quite a lot of "us vs. them" when people talked about the "Parisiens" and themselves in the banlieues.
As the operation got under way, roads were blocked off around Rue de la Republique in Saint-Denis, by truckloads of soldiers and armed police.
Local residents, who were urged to stay indoors, spoke of hearing continuous gunshots and large explosions.
Amine Guizani told the Associated Press he heard the sounds of grenades and automatic gunfire.
"They were shooting for an hour, non-stop. There were grenades. It was going, stopping, Kalashnikovs, starting again," he said.
French Interior Minister Bernard Cazeneuve praised the security forces for operating "under fire for a number of hours in conditions that we have never seen before today".