The Ghana Police Service has secured an injunction from the Accra High Court against the intended 'armed' demonstration by some #FixTheCountry conveners.
This follows an application on notice by the Police on June 1, which was aimed at restraining the organisers from carrying out their planned protest.
"After hearing the application [on Friday, May 3], the Court granted an order to restrain the organisers, their agents, assigns and whoever is claiming through them, from embarking on the armed demonstration as had been intended," the Police said in a statement on Friday.
The Accra Regional Police Command earlier served notice it cannot oversee a three-day demonstration by the movement.
A group of persons, including Okatakyie Afrifa Mensah, Captain Godsbrain Smart, Benjamin Darko and Oliver Barker-Vormawor gave notice to the Police on a demonstration they want to embark on from Saturday, June 4.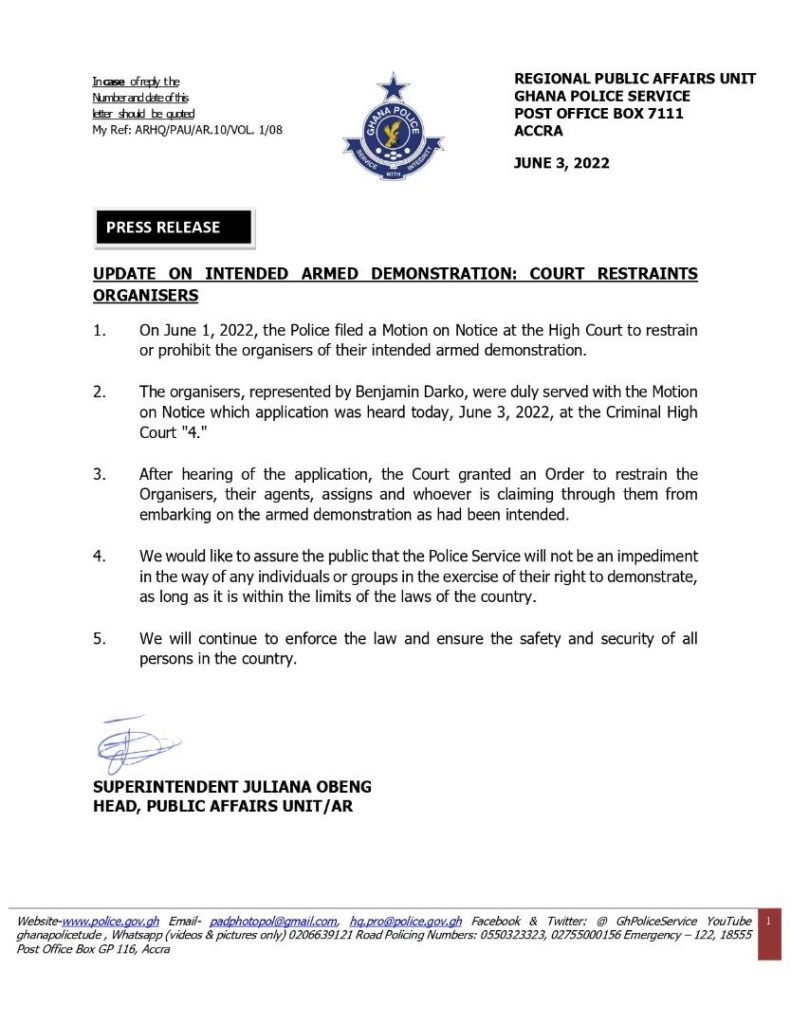 Among other things, they sought to contract a private security company to provide protection for the demonstrators and also picket at the premises of the Ghana Broadcasting Corporation (GBC) and the Ghana Police Headquarters.
But after a careful consideration, the Police said the demonstration is inconsistent with the Public Order Act, 1994 (Act 49).
This was rejected by one of the organisers, Afrifa Mensah, who said their only motive is to demonstrate against the Agyapa Deal, cessation of the Achimota Forest Reserve, and not to tamper with the country's security.
In its ruling, the Criminal High Court '4' noted that the manner in which the demonstrators wanted to embark on their action poses a security threat.
"We would like to assure the public that the Police Service will not be an impediment in the way of any individuals or groups in the exercise of their right to demonstrate, as long as it is within the limits of the laws of the country.
"We will continue to enforce the law and ensure the safety and security of all persons in the country," the Police added.