The Dean of the School of Information and Communication Studies at the University of Ghana has urged members of the Kufuor Scholars Program (KSP) to be patriotic if they will be able to play a meaningful role in helping develop Ghana.
According to Prof. Audrey Gadzekpo, having a can-do attitude, prioritising Ghana first, as well as being positive and productive are some of the prime attributes of patriotism.
Speaking during a virtual meeting with the youngsters, the Academic Professor noted that "the subject of patriotism is an important one for young people in the country."
The webinar on Wednesday explored several topics including how to become relevant in your country, making your voice heard through constructive communication, and how to make your nation better for the next generation.
She also commended some measures taken by previous governments to inspire patriotism in Ghanaians.
"Under President Kufuor, we experimented with Ministry of Information and National Orientation. The ministry was to formulate a culture that challenges Ghanaians to do the best for oneself and country. Then they laid out pillars of national orientation," she explained.
She, however, observed that "we don't have the ministry anymore."
Prof. Gadzekpo, therefore, urged the young people to make their voices heard and demand accountability from the powers that be and be accountable to themselves.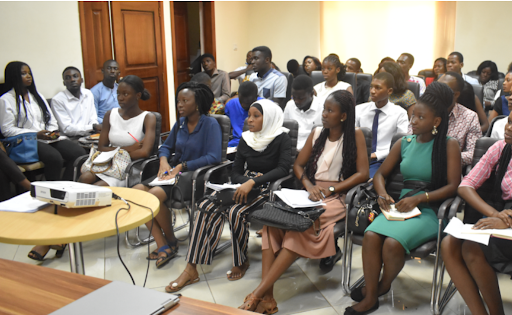 "Find your purpose and relevance in life. It should aim at making the world a better place than you found it," she told the students.
The Academic professor also encouraged the young people to value Ghana's democracy, citing the chaotic incident that ensued during the inauguration of the 8th Parliament as unfortunate.
"Don't take democracy for granted. Take democracy seriously. Work to rid our political system of patronage, cynicism, and the 'footsoldierism' that has dominated our political landscape," she said.
"Seeing our own lawmakers fighting in the chamber of parliament should give us a sense that democracy is fragile. We must strengthen our parliament's oversight capacity and its independence," Prof. Gadzekpo added.
One of the scholars, Abigail Yayra Asarfo thanked Prof. Gadzekpo for the knowledge shared, noting it will inspire them to work towards achieving more for themselves and Ghana as a whole.
A political science student at the University of Ghana, Elizabeth Dansoa Osei also observed that the "subject of patriotism is crucial because it speaks of our ability to be effective… the love we have for the country falls within that."
Chief Executive Officer of the John A. Kufuor Foundation, Prof. Baffour Agyemang – Duah on his part said imbibing patriotism in young people is an important step in preparing them for a better future.
The KSP is an initiative of the John A. Kufuor Foundation, an organisation founded by former President John Agyekum Kufuor after he stepped down from office.
The Foundation seeks to imbibe effective leadership skills in tertiary level students so they can help develop the nation.
So far, the KSP has recruited 25 to 30 students every year through a competitive application process to participate in a three-year-long training and mentorship program.