Players in the logistics space are asking government to put in place policies which will help create the needed environment for businesses to thrive.
According to them, successive governments have lacked courage to implement these policies that enables businesses including indigenous ones to flourish.
One of such disgruntled businesses is Apex Shipping and Commercial Company whose Chief Executive Officer, Prince Arkutu, believes Ghana can do better.
He was speaking to Joy Business at the CEOs' Breakfast Meeting organised by Ghana Investment Promotion Centre at Tema in partnership with Agility Logistics Parks on the theme: 'Revitalizing Ghana's Supply Chain, Maximizing Logistics Eefficiency for AfCFTA and FDI role.'
"The country is blessed with all the resources needed to develop to the point we all want. We the business people and entrepreneurs are saying government is doing a fantastic job. However, there is more to be done".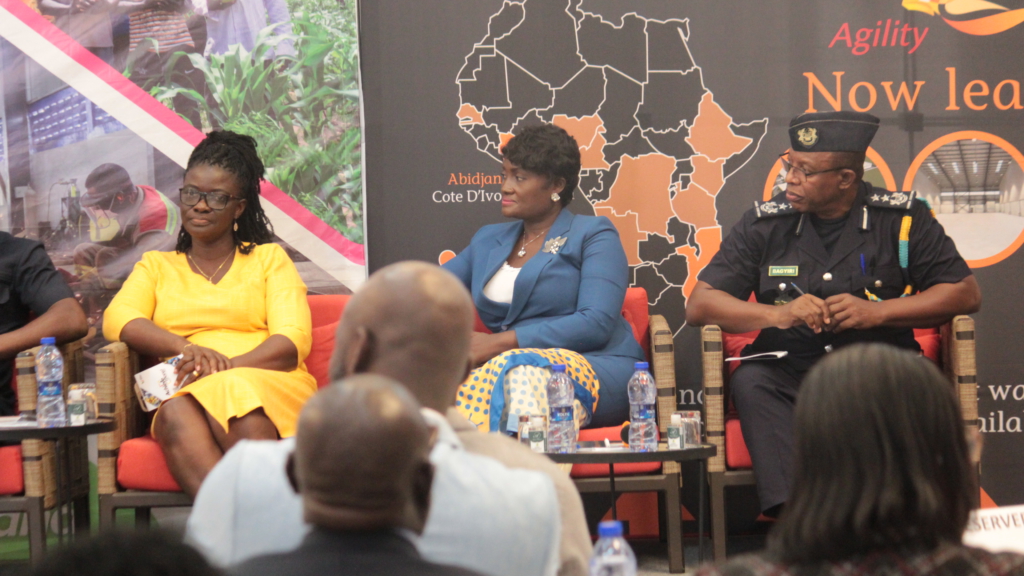 "I want to see the courage to do the right things, to take decisions to invest in our country so that citizens can enjoy the prosperity for example, construction of roads, technology, capacity building in managing the economy, currency among other things," he added.
Earlier in the programme, he shared an instance where goods believed to be missing with scammers behind it in China were tracked down due to a functioning system.
Prince Arkutu wants same to happen in Ghana where systems really work.
The Greater Accra Regional Chair of the Association of Ghana Industries (AGI), Tsonam Akpeloo, was much concerned about the tax burden on members.
"Logistics is one of the pillars on which a successful free trade agreement could be built. We're asking government to consider recalibration of the tax and VAT and ensure that imported raw materials do not attract taxes".
He was particular about support for indigenous businesses and clarity of policy to boost investor confidence.
Deputy Chief Executive Officer of Ghana Investment Promotion Centre, Yaw Afriyie, however, gave assurances that ideas shared at the event would be put to use.
"Ideas gathered at this event done on quarterly basis would be put to use having discussed challenges facing the business environment and how partners like Agility Logistics are helping address inefficiencies in the supply chain".
"The event was not a talk shop. There were a number of private sector persons at the event who will need the kind of services Agility offers considering the importance of African Continental Free Trade Area (AfCFTA)," he continued.
The meeting discussed opportunities in Ghana, how to broaden the country's appeal as a premier investment destination on the continent.
According to Yaw Afriyie, government through incentives, reforms programmes is attracting capital to leapfrog into the AfCFTA.
"Steps are being taken by the relevant authorities to ensure SMEs which make up about 60% of Ghana's labour market are able to export within the block and this can only be achieved when the needed partnership takes place and this event provides such platform," he explained.
GIPC creating such platform would want players and other stakeholders to take advantage of the impact of the conflict in Europe and COVID-19 which rattled global commerce with the ripple effect still being felt.
Trade flows rebounding to pre-pandemic levels
Yaw Afriyie, however, said trade flows is rebounding to pre-pandemic levels citing World Investment Report.
"According to World Investment Report 2022, global foreign direct investment stood at $ .6 trillion in 2021 and analyst forecast this to grow in the medium term. Africa's share was $83 billion from $39 billion in 2020 which accounts for 5.2 % of global foreign direct investment. Ghana's share was $2.6 billion".
He believes Kotoka International Airport which has ranked as the best airport in Africa for the third time, the seaports and other factors will play a crucial role in the logistics space in Ghana, West Africa and the continent at large.
The Chief Revenue Officer, Import and Exports at Ghana, Edward Bagyiri of the Customs Division of Ghana Revenue Authority said a revitalized and efficiently managed logistics and supply chain sector is a prerequisite for value creation and cost reduction in trade through expedited delivery services.
A panel discussion involving Agility Logistics Parks, LMI, Association of Ghana Industries, Ghana Free Zones Authority, and Ghana Ports and Harbours Authority all shared the respective roles they are playing to ensure efficient supply chain in the country.
The second part of the event took place at Agility Logistics Parks at the Tema Free Zones enclave where participants toured the company's 32000 square meters warehouses and how these would help efficient supply chain.
Vice President, West Africa for Agility, Charlie Gassoub, shared the need to have efficient cycle of logistics on the continent.
"Currently, other countries are pushing to become Ghana of yesteryears which enjoyed all the attention"
"I believe this breakfast session would be taken more seriously with the African Continental Free Trade Area(AfCFTA) as Ghana cannot afford not to be creative and move forward especially being the headquarters of AfCFTA. The country can take advantage and bounce back," he urged.
DISCLAIMER: The Views, Comments, Opinions, Contributions and Statements made by Readers and Contributors on this platform do not necessarily represent the views or policy of Multimedia Group Limited.