Eighteen persons with disabilities have received support worth ¢17,000 from the Adansi Akrofuom District Assembly in the Ashanti Region.
The support included equipment and cash meant to serve as seed capital to empower them to start their businesses to find a sustainable livelihood.
It ranged from Deep Freezers, Knitting Machines, Spraying Machine, wheelchairs to Industrial Sewing Machines.
Forty-three (43) other persons were given educational support whiles the Assembly supported a hundred and fifty-five (155) people to renew their Health insurance.
Secretary of the Akrofuom Chapter of the Ghana Federation of the Disabled, Sarah Tieku praised the assembly for the disbursement.
She admonished her colleague beneficiaries to use the items for their intended purpose in order to sustain their livelihoods.
Mrs Tieku appealed to Government and other stakeholders including the media to create a congenial environment for Persons with Disabilities to have a voice.
This disbursement of this common fund is the sixth by the assembly since 2018.
Briefing the media after the presentation, the DCE, Maurice Jonas Woode, said the gesture was from the Assembly's share of the Common Fund.
Currently, the district has 439 registered PWDs. The DCE however advised persons with disabilities to join their various groupings for easy identification.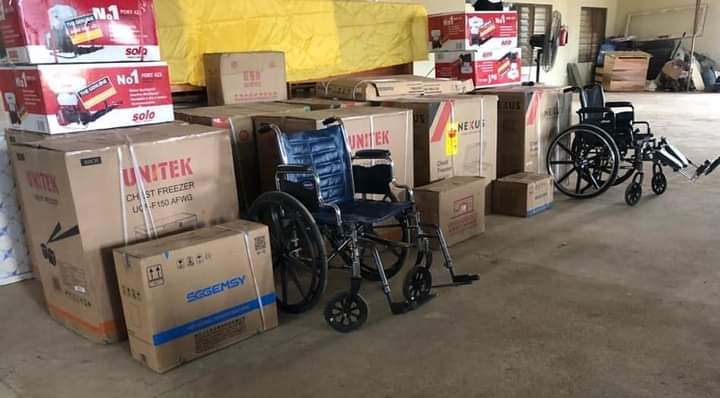 District Coordinating Director, Ebenezer Douglas Ntiamoh advised the PWDs to properly utilise the items giving them to help improve their lives and families.
A visually impaired cocoa farmer, Philip Obeng who received a spraying machine thanked the assembly for the kind gesture and promise to work with it by giving it for hiring other farmers who will need a spraying machine for their farming activities.
An immobilized young girl who received a wheelchair lauded the assembly for coming to her aid.