As part of Recycle Up! Ghana's objective to promote of green and circular economy, it brought together industry persons and entrepreneurs to deliberate on ways to attain this vision.
The demo day 2022, featured already established and experienced partners and incubatees with Recycle Up! Ghana.
The event, which is the 3rd edition, showcased Recycle Up! Ghana's primary goal of supporting young social entrepreneurs.
It was under the theme: "Green economy: the role of entrepreneurs." It saw the participation of seven green start-ups led by young Ghanaians who presented their ideas to a panel of judges.
Seven incubatees are; Ariella Myco Integrated, Waste Me Gh, and Upcyclecomfort.
The rest are; Biogas Innov, Waste Advantage Afric, F&W Env. Solution and Waste Cure.
They presented their business projects to an interested audience and investors with critical feedback.
The participants are part of the Cohort 3 incubatees who completed a 6-month intensive business training at Recycle up! Ghana, and 30 trained women from rural communities in the Agona district, operating in the green entrepreneurship space.
Ariella Myco Integrated pitched how they are using waste to design new products.
Wastecure has the goal to collect waste at affordable prices and prevent communities from diseases, flooding and soil, water and air pollution.
Waste Advantage Afric, a female-led start-up aims is to recycle waste into bricks.
F&W Environmental Solution aims to turn plastic waste into school bags.
Recycle Me Ghana aims to recycle PET bottles. pet bottles are shredded into pet flakes and sold to other recycle companies who turn the flakes into bricks, hair, clothing and many other things.
Biogas Innov. improves biogas production by designing an integrated pretreatment chamber. The system prevents communities from depending on wood as fuel for cooking and offers biogas as an alternative.
The three winners are Waste Advantage Afric, Upcycle Comforts, And Biogas Innov. They were awarded with cash prizes to support their business growth.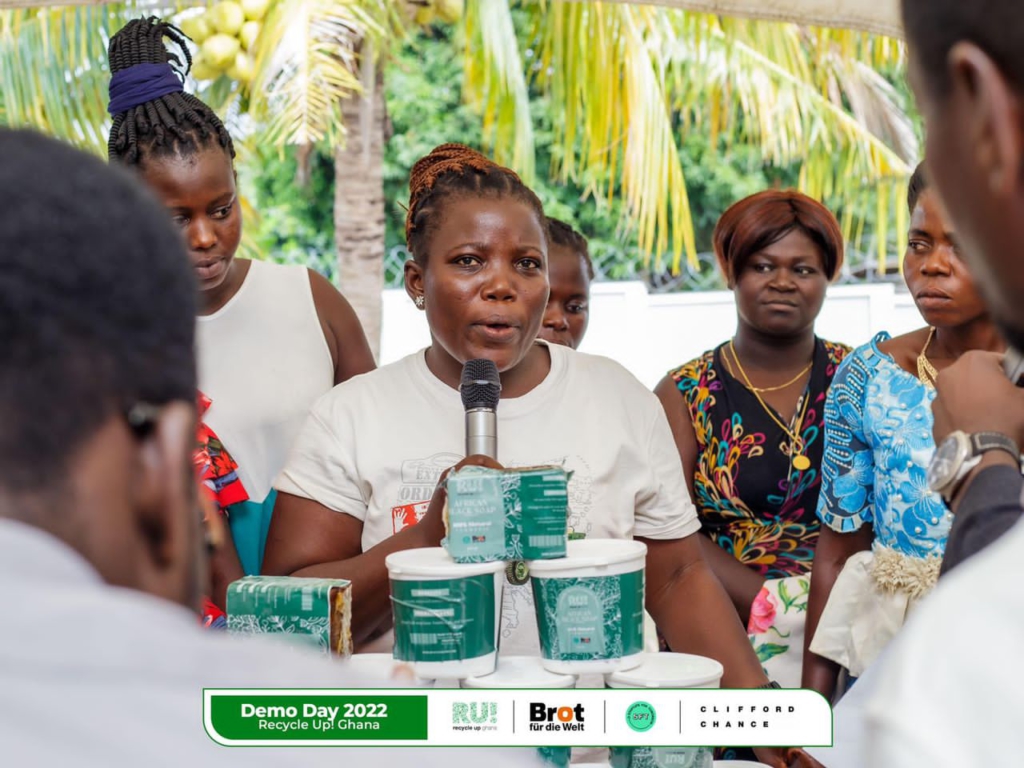 One of the judges, Mr. Charles Ojei, encouraged the entrepreneurs to implement strategies to reach their goals.
"Stay on track so your vision becomes clearer," he said.
Ms. Adwoa Coleman, senior sustainability Manager of Dow Chemical Company encouraged the entrepreneurs to create more room for employment in their businesses.
"Socio economic factors cannot de decoupled from green economy or circular economy.
"Are you thinking about the people at the very first mile of your value chain and what their livelihoods and what their qualities of life is? and how you can help to enhance it?," she asked.
Executive Director, Abdulrahim Shaibu Issah was optimistic of a good outcome after the meeting.
"A Green Economy is not made to harm anything that already exists, a Green Economy increases Prosperity and Job Creation for a sustainable future.
"With passion, teamwork, the vision of a bright future, hours of hard work, and innovative thinking, a great foundation has been laid for these outstanding 37 businesses," he said.
"A huge thanks to all partners for this tremendous feat," he added.