On Tuesday, July 5, some parts of Accra, including principal streets, got flooded following heavy rains.
Rapper Reggie Rockstone was among the dozens whose homes were taken over by floodwaters that morning.
The musician posted a video of the damage done to his Cantonments home on Instagram.
The water which washed through the streets in Reggie Rockstone's neighbourhood spread to his compound.
He later spotted a huge lizard clinging to his front gate amid the flood.
"I pray the hoods and all are safe. I am grateful for all but I can only imagine what is happening elsewhere," he captioned his post.
This comes after Tuesday's downpour lasted for about five hours.
The rains affected many areas including Kaneshie, Achimota, Teshie, Dansoman, Darkuman and Kwame Nkrumah Circle among others.
In May 2022, government claimed that it has spent GH₵450 million to curtail the flooding menace in the country.
President Akufo-Addo, speaking at the Commissioning of an IHC BEAVER 50 dredging and marine equipment at Adjei Kojo, stated that the GH₵450 million his government invested in curbing the menace of flooding in the country, has reduced the impact of the menace in the country.
In June, the Works and Housing Minister, Francis Asenso Boakye reiterated government's commitment to resolving the flooding issue confronting the country.
According to him, the Akufo-Addo government has constructed more drainage systems than any other administration in the history of the country.
"Over the past four years, investment in flood control measures under the 2018 and 2020 National Control Programmes has been the highest commitment by any government in our history. Committing approximately GHS 450 million.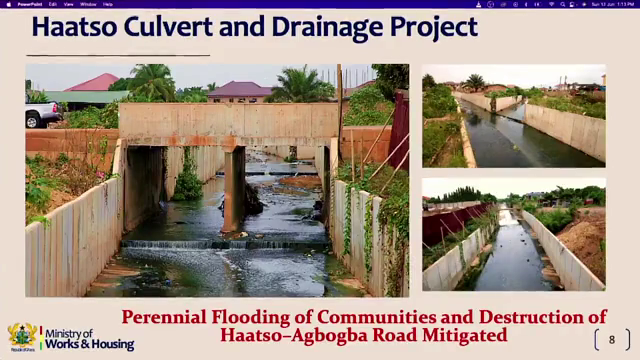 "To date, 2018/2020 National Flood Control Programme has completed the construction of some 35km of drains, while over 1000km drains have been excavated, rechanneled and maintained across the country all to reduce to devastating occurrence of flooding," he said.