The opposition National Democratic Congress (NDC) in the Ahanta West Constituency of the Western Region, is demanding the resignation of the incumbent Member of Parliament, Ebenezer Kojo Kum on grounds of ill-health.
The NDC Ahanta West Communication Bureau in an open letter to the New Patriotic Party Member of Parliament, said the constituency was lagging behind in terms of development due to the MP's continuous ill-health which has affected his ability to function effectively.
"We write as your constituents to express our deep disappointment on the current state of affairs and the lack of progress we are witnessing under your tenure as our Member of Parliament. We believe it is time for a change, a time to relinquish stress to give way for total concentration on your health."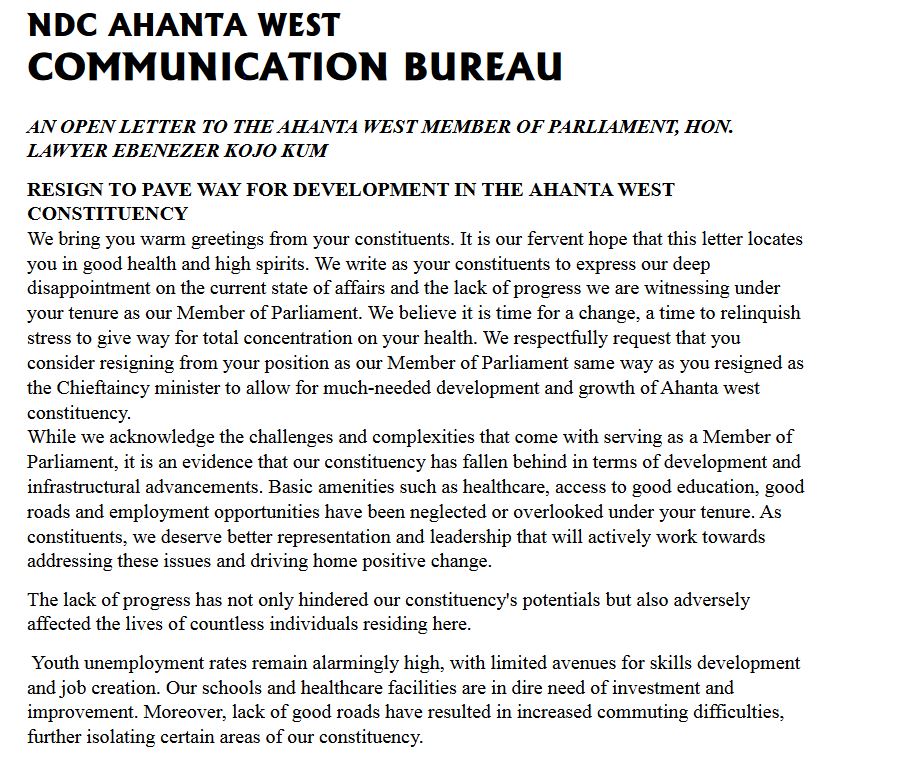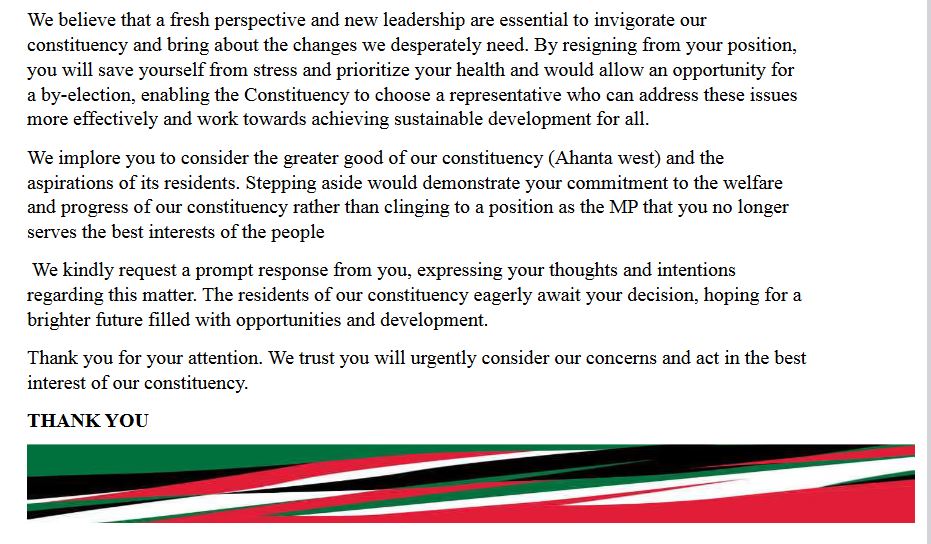 It is unclear what ailment the MP is battling with, but he has been sick for nearly two years. Due to his ill-health, resigned as Minister for Chieftaincy and Religious Affairs in February 2023.
A few months ago however, he is reported to have been flown to Accra to vote in Parliament when the NPP badly needed numbers to sway a critical decision in their favour.
According to the NDC, just as he resigned his ministerial position due to his ill-health, he ought to do the same for his constituents who are longing for development.
"We respectfully request that you consider resigning from your position as our Member of Parliament same way as you resigned as the Chieftaincy minister to allow for much-needed development and growth of Ahanta west constituency."
"We implore you to consider the greater good of our constituency (Ahanta west) and the aspirations of its residents. Stepping aside would demonstrate your commitment to the welfare and progress of our constituency rather than clinging to a position as the MP that you no longer serves the best interests of the people."
The party says the constituency requires someone with a new perspective "to invigorate our constituency and bring about the changes we desperately need. By resigning from your position, you will save yourself from stress and prioritize your health and would allow an opportunity for a by-election, enabling the Constituency to choose a representative who can address these issues more effectively and work towards achieving sustainable development for all."
Mr Ebenezer Kojo Kum, a lawyer, is serving his second term as MP for Ahanta West. He was well and hearty during his first term, but his health started deteriorating at the start of his second term after the 2020 election.
Ghana's constitution has no provision that disqualifies or requires a Member of Parliament to resign his or her position on grounds of ill-health.
On the matter of the qualification to be MP, the constitution only makes reference to a person being of sound mind in Article 94 to hold an office.
This means that a Member of Parliament may only choose to resign voluntarily if they so wish on the basis of ill-health.
The standing orders of parliament also permits a member to excuse him or herself "from service on the House or on any committee, so long as he or she has leave of absence."
DISCLAIMER: The Views, Comments, Opinions, Contributions and Statements made by Readers and Contributors on this platform do not necessarily represent the views or policy of Multimedia Group Limited.