Social media giant, Twitter is facing a new crisis at its headquarters which may result in the closing down of the company.
Earlier this week, the firm's new owner, Elon Musk said employees had to commit to working long hours and would "need to be extremely hardcore" or leave the company.
In an email to staff, Musk said workers should agree to the pledge if they wanted to stay.
The email also stated that employees who refuse to sign the form by 5 pm Eastern on Thursday, November 17th, would be let go and would receive three months of severance pay.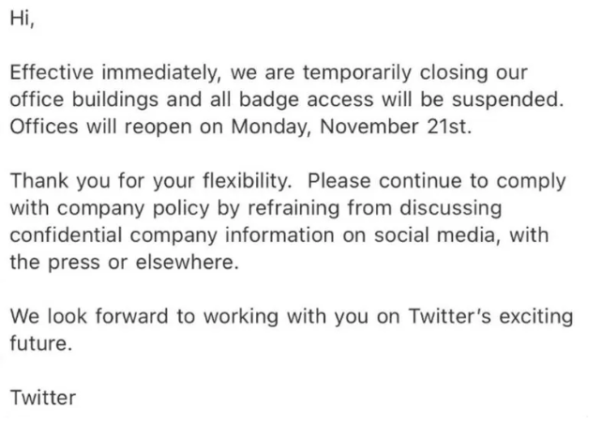 "If you are sure that you want to be part of the new Twitter, please click yes on the link below," Musk said.
However, after long hours for workers to check "yes" on a Google form accepting Elon Musk's proposal of working "long hours at high intensity", it seems a large number of employees have rejected his vision.
In light of this, the firm is on the verge of collapse and losing even more employees following the mass layoffs of engineers and managers who keep the firm running.
Users of the platform have taken to its blogging site to express their concerns and worries.
What's Happening??
Elon Musk really shut down all Twitter offices after hundreds of employees resigned, so the app shutting down is actually quite possible. #RIPTwitter #GoodByeTwitter #TwitterDown pic.twitter.com/yU01Bq9be2

— Caption Master 🇵🇰 (@Caption__Master) November 18, 2022
🚨Twitter employees say given the scale of the resignations this week, they expect the platform to start breaking soon. Some "legendary engineers" have reportedly left one by one.

Users are already bidding their farewells via #RIPTwitter. pic.twitter.com/Z8ZJDuR0ys

— Kenneth Awotwe Darko (@TheKennethDarko) November 18, 2022
Musk turned one of the biggest sites on the internet into a crater within a month.

I never want to hear anyone call him other than a dipshit ever again.

Twitter HQ

RIP Twitter

— Michael Swartz (@Maswartz226) November 18, 2022
Shout out to all the workers at Twitter. You all built a vital place for connection and deserved so much better.

Millions of people appreciate the space you built and the hard work that went into it. Thank you 💙

— Alexandria Ocasio-Cortez (@AOC) November 18, 2022
Other comments making waves on Twitter are of the belief that the micro-blogging site will survive amidst the mass cut.
Me right now manifesting that Twitter won't shut down #RIPTwitter pic.twitter.com/nYOG3PgLjO

— 🍑🧡 (@FHeartsHS) November 18, 2022
Me trying to prevent Twitter from shutting down cus it's the only interesting app #RIPTwitter pic.twitter.com/ld0luUOH6h

— KHA CHI ❼ (@SonOfMargret) November 18, 2022
I swear to god, if Twitter shuts down, we at LazytSpo is gonna to be dissapointed. for the love of god, please save Twitter altogether, because otherwise, it will be game over for Twitter. #RIPTwitter 😭😭😭

— LazytSpo (@LazytSpo) November 18, 2022
See more reactions below
It's been a pleasure tweeting with y'all for the past 13 years. #RIPTwitter pic.twitter.com/XsLuMNi59A

— toby is the scranton strangler (@OhHELLNawl) November 18, 2022
Me looking back at my three followers one last time since Twitter about to shut down #RIPTwitter #TwitterDown
pic.twitter.com/1MITBwhlZB

— JC (@JuanCafecito) November 18, 2022
Me finding out that twitter might shut down soon#RIPTwitter pic.twitter.com/AEZAdnfjY6

— Kojo Darko🇬🇭 (@kojodarkoo) November 18, 2022
one last meme before the ship goes down. #RIPTwitter pic.twitter.com/dZ29LZPt08

— The Emory-um Meme Emporium (@emorythebeardie) November 18, 2022
#RIPTwitter #TwitterDown

Everyone checking and refreshing Twitter feeds to see if it is really working or not pic.twitter.com/rujodjc8Yd

— Author (@how_humans) November 18, 2022
If today is the end of Twitter then I will follow everyone who like this tweet for the last time… 💔🫡#RIPTwitter #GoodByeTwitter pic.twitter.com/c0I36Frpc6

— Sarwan Ali Palijo (@SarwanAliPalijo) November 18, 2022
Me telling my grandkids about an awesome app called Twitter in 2060 #RIPTwitter #GoodByeTwitter #TwitterDown pic.twitter.com/C1a5YYqEhP

— Stunner (@headupagain) November 18, 2022
It is not clear exactly how many employees opted for severance pay. But reports say the number was in the hundreds.
On Twitter, dozens of Twitter employees who earlier survived the initial round of layoffs tweeted farewell messages.
"We're all about to get fired," one person said.
It's been a ride pic.twitter.com/0VDf5hn2UA

— Matt Miller (@brainiaq2000) November 17, 2022
Meanwhile, Elon Musk is deeply concerned about how many remaining employees could leave the company.
The departures of the employees raise new questions about whether the remaining Twitter engineers will be able to reliably keep the service up and running.
Twitter no longer has communications staff, but Musk so far hasn't publicly commented on the resignations.
DISCLAIMER: The Views, Comments, Opinions, Contributions and Statements made by Readers and Contributors on this platform do not necessarily represent the views or policy of Multimedia Group Limited.