Ghana football Legends have had the privilege of sports edifices being named after them, as an honour for the sacrifices and dedication to the sport on behalf of the nation.
Ohene Djan, first director of Sports of Ghana and Vice President of the Confederation of African Football (CAF) had the Accra Sports stadium named after him at some point.
1963 Africa footballer of the year, Baba Yara has the Kumasi Sports Stadium named after him, boxing legend Azumah Nelson who held WBC titles for a decade headlines the Kaneshie Sports Complex, so it's no surprise, Abedi Ayew Pele, a three-time Africa footballer of the year has a roundabout named after him, after all, he's arguably Ghana's greatest football export.
But the maintenance and state of these edifices don't often match the status of the names ascribed to them – In some cases, the sports legends have called for their names to be taken off or quietly desire to be disassociated with the mess.
Greeting you on your way to the Aliu Mahama Stadium in Tamale is the popular Abedi Pele roundabout named after the greatest footballer to have emerged from the Northern Regional capital.
The roundabout was meant to remind visitors and indigenes about Tamale's gift to the world but it is an eyesore for many who travel up north to learn a lot about the legends birthplace or visit the Aliu Mahama Stadium for football or other sport.
History
The idea to honour Tamale's greatest football export was forged somewhere in the year 2007. It was an idea birthed following the 'Tamale Beautification Program', pursued by the Tamale Metropolitan Assembly that year and birthed by the late Vice President Aliu Mahama. The assembly led by Dr Amin Adam Antah who served as its chief executive looked to beautify Tamale while Ghana prepared to host the Africa Cup of Nations in 2008.
According to Imoro Mohammed – a former assemblyman, the Tamale Metropolitan assembly sought to mobilize 'sons of Tamale' whether connected to the region through birth or any other means, to support their project. The assembly further decided to reward such persons with memorials to recognize their efforts towards improving the outlook of the city.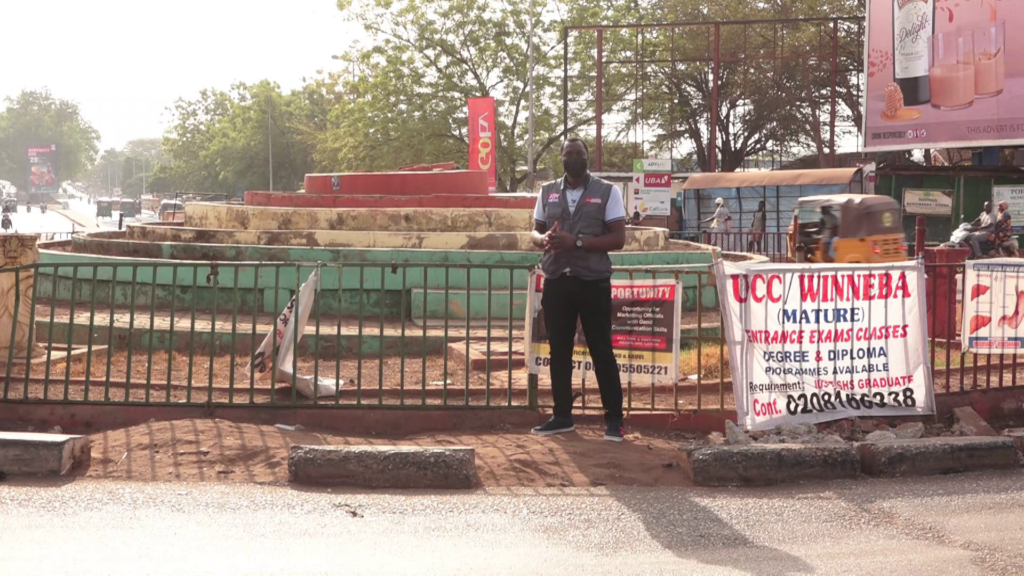 Abedi Pele and Dr. Tsoggu were amongst such people who heeded the call of the assembly and as a result, the three-time African Footballer of the year, had the roundabout at Nyohini named in his honour, and also implanted with his statue.
The Abedi Pele roundabout at Nyohini, the roundabout at Lamashegu, one at Bayaanwire around Zosimli roundabout and another one at Tsoggu were products of the Tamale beautification project
Defacing the Statue
Maintenance of public facilities is one of Ghana's biggest issues, and should the Pele statue at Nyohini receive the power to talk, it will lay emphasis to this unfortunate fact.
Since 2007, the roundabout has gone through a steady decomposition and that decomposition has not been escaped by the statue as scores of individuals have contributed to its disfiguring.
Besides the callous individuals who purposefully contributed to the destruction of the statue, according to Imoro Mohammed, hit-and-run drivers have also been active participants in the destruction which has culminated in the statue being permanently taken away from its earlier location.
The roundabout itself has also been badly kept, with weeds replacing the usual greens used to mark roundabouts and its fence now serving as pins for banners of all kinds, ranging from political parties to job advertisements and others.
Strange Public Reaction
I wondered why this roundabout which at first sight -reminds you of what football means to the Tamale has stood unattended to for years – I heard interesting theories propounded about who needs to do what.
"It is not good at all and it's a very unfortunate development given how the guy has impacted on football not only in Tamale but in Ghana as well. The north being his home region, there is supposed to be something better than what we currently see. The status the man has risen to demands that every edifice that is named after him lives up to that standard and not below. For me personally, it is not in good shape. It must be better than this and it takes something to start. Probably if there's some information that goes round the airwaves that look, the man is big with a worldwide acclaim, let's put the edifice named after him in such standards. In this shape, it is bad." I was told by one gentleman.
"When you look at nature or state at which this particular roundabout is, I think you will not miss words if you say it's a reflection because he's a legend, everybody knows that. Worldwide, everybody knows Abedi Pele, so naming a roundabout after him was a very good idea somebody brought out and they eventually named it after him. But we have not seen he himself trying to do something about the roundabout." one resident narrated to Joy Sports.
"I have heard a lot of people saying that Abedi Pele has gotten everything he is today in Tamale if you like, Northern Region as a whole but it is like he has not paid back to the region and I'm beginning to see the reality in the sense that I can't actually pinpoint one or two things Abedi Pele has done for the Northern Region. I have heard a lot of people, when you ask them about football in the Northern region the first player they are going to mention is Abedi Pele so if that is the case and we are not seeing anything coming from his direction, definitely people will feel that there is no need for you to fight for him. So I want to believe that it is part of the reason we are not seeing that at the roundabout." Another resident said.
Unless I am wrong, expecting the legend to take care of the monument meant to Honor him appeared a bit stretched and begs the question what happens if he's no more.
The greatest footballer, surely deserves more – and even if the Tamale beautification project has hit a snag because its originator is no more – the state of the Abedi Pele Round must be immediately fixed and with a plan that sustains it.
DISCLAIMER: The Views, Comments, Opinions, Contributions and Statements made by Readers and Contributors on this platform do not necessarily represent the views or policy of Multimedia Group Limited.