A philanthropist, Dr. Sangu Delle has expanded his philanthropic works by launching Sangu Delle Foundation in honor of his 35th birthday.
The foundation aims to improve education, health and job creation.
This comes after 15 years of operating a Non-Governmental Organisation (NGO) to fulfill the needs of people in areas of health, water and hygiene in rural areas.
The exclusive launch of the Foundation and fundraising dinner was held at Kempinski in Accra over the weekend.
The event was attended by personalities including Dr Delle's father, Naa Prof Delle, Paramount Chief of the Nandom Traditional Area, Rev. Father Campbell, former Vice-Chancellor of the University of Ghana, Professor Ivan Addae-Mensah, family and friends.
Dr. Delle said his philanthropic nature was inspired by his family's background.
According to him, brilliance is equally distributed but opportunity is not. For this reason, 10,000 beneficiaries of the Sangu Delle Foundation will be given free advisory services, seed capital and mentoring.
As a young man from Nandom in the Upper West Region, it is his dream to see the youth, especially from the Northern part of the country educated and pursuing their dream. In line with this, 5,000 entrepreneurs from the Northern part of Ghana will benefit from his Foundation and the remaining 5,000 entrepreneurs will be from across the country.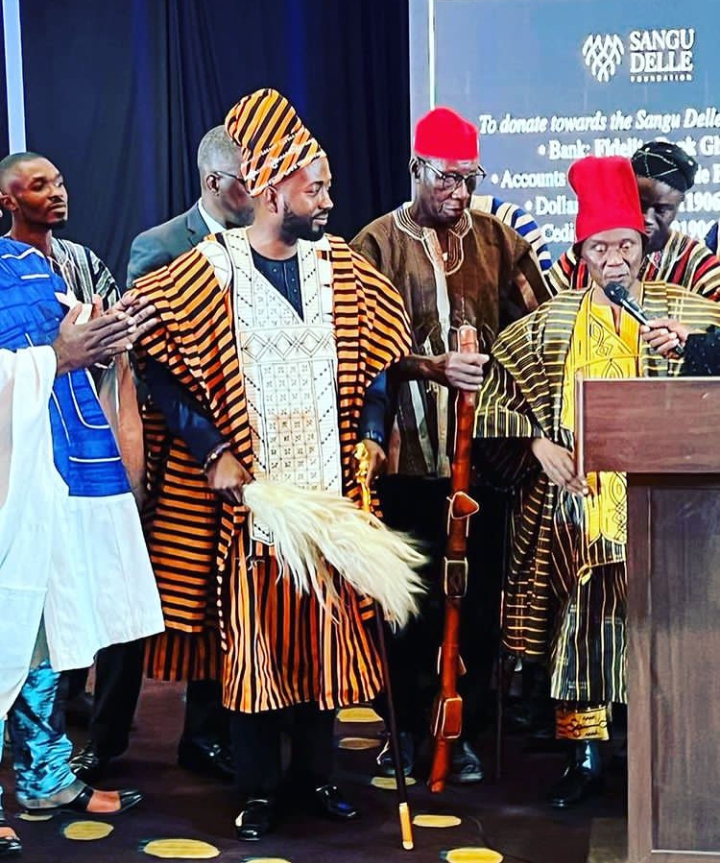 "I am very proud to fund the Sangu Delle Foundation at Ashesi University to support students in the Upper West Region", he said.
According to Dr. Delle, the critical foundation to living a dignified life includes health, education and job creation.
Some initiatives of the Sangu Delle Foundation projects are the Amira Delle Scholarship at Harvard University which will support African Girls in honor of his mother Amira Delle, Prof Edmund N. Delle Research Fund in honor of his father at the Harvard Center for African Studies to sponsor graduate research in Africa in honor of his father.
Library and ICT centers will also be built in all six zones in Nandom. There will also be support for people with mental illness, especially in marginalised areas and to support the effort to fight stigmatisation against mental illness.
Guest speaker, Nana Dufie Addo was awarded the leadership award on job creation, Chief Executive of Mental Health Authority was also awarded in the same category.
Nana Ama Boakye Adom was awarded leadership in mental health.
Guest speaker on education, Patrick Awuah was also awarded leadership in education.
Scholarship recipients for the night were Dr. Erica Koranteng and Dr. Tasha Intsiful.
Speaking at the event,  Dr Sangu Delle's father, Naa Prof Delle expressed gratitude to his son for ensuring that knowledge is passed on to the next generation.
"In 1957, there was only one secondary school in the North, so I am happy he has chosen to do his philanthropic work in the North", he said.
During the fundraising session he quizzed, fundraising in this economic crisis, imagine the pain of the underprivileged?
"Somebody asked me, Sangu why are you doing a fundraising in this economic crisis? And I want to address that, if those of us here are feeling the pinch, imagine the underprivileged.
"It is a time like this where economic hardship is everywhere that we all need to dip into our pockets and help", he said.
"I have pledged that majority of my wealth for the rest of my life to the Foundation because its mission resonates very very deep within me", he added.
Later at the event, Dr. Delle was enskinned by Naa Prof Delle as the Maalu Naa of the Nandom Traditional Area.
DISCLAIMER: The Views, Comments, Opinions, Contributions and Statements made by Readers and Contributors on this platform do not necessarily represent the views or policy of Multimedia Group Limited.