The situation on Ukraine's eastern front lines is getting tough, President Volodymyr Zelensky has said.
Ukrainian troops are facing a very difficult situation in three heavily contested towns in Donetsk – Bakhmut, Vuhledar and Lyman – Mr Zelensky said.
The UK's defence ministry said Ukrainian soldiers are becoming isolated in embattled Bakhmut.
It comes as Ukraine's defence minister reiterated the view that a new Russian offensive is expected this month.
At a news conference, Oleksiy Reznikov said not all Western weaponry will have arrived by then, but Ukraine had reserves to hold off Russian forces.
Mr Reznikov said he expects the anticipated Russian offensive to prioritise taking the whole of the eastern Donbas region and create a land corridor across the areas it occupies, including Crimea, by launching offensives in the south and east of Ukraine.
The defence minister also confirmed that troops will start training on German-made Leopard tanks from Monday.
Mr Reznikov also said Ukraine had negotiated the supply of new long-range missiles with a 90-mile (150km) range and pledged not to use them against Russian territory – only against Russian units in occupied areas of Ukraine.
The head of Russia's notorious Wagner group said there are fierce battles for every street in some areas of Bakhmut.
Russian forces have been attempting to seize control of the town for months – making it the longest battle since Russia invaded Ukraine almost a year ago.
Taking the area is important to Russia in furthering its aim of controlling the whole of the Donbas region in the country's east. It would also signify a turnaround in Russia's fortunes after it lost ground in Ukraine during recent months.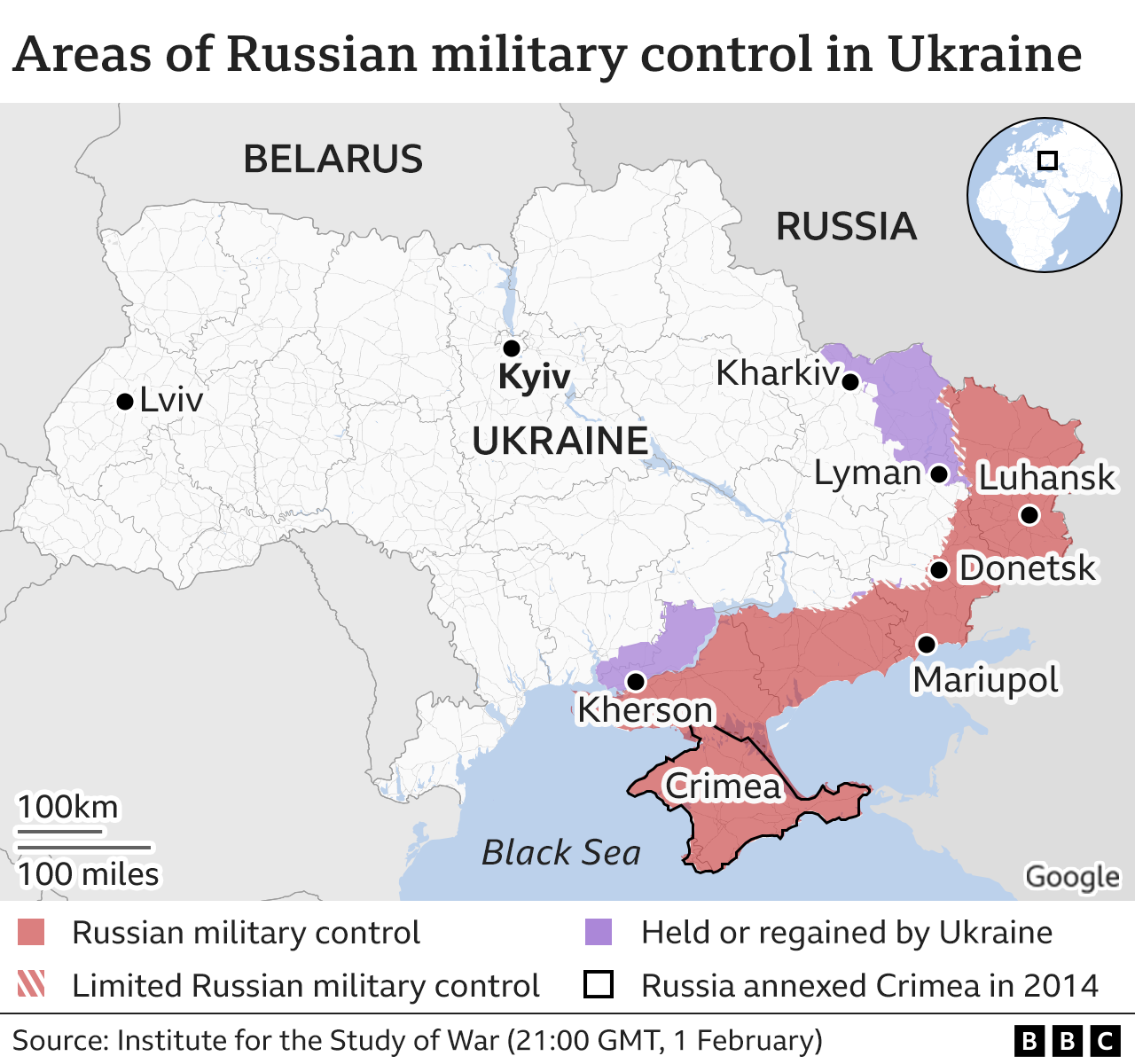 Despite the flow of Western weapons to Ukraine, Russia has made gains around the Bakhmut area in recent days, as Russia's army throws more and more soldiers into combat.
Speaking during his nightly address, President Zelensky said: "During the 346 days of this war, I often had to say that the situation at the front was tough. And that the situation is getting tougher.
"Now is that time again. A time when the occupier throws more and more of its forces to break our defences."
The UK's Ministry of Defence said Ukrainian forces in Bakhmut are getting increasingly isolated as the Russians continue to make small advances in their attempt to encircle the town.
It added that the two main roads into Bakhmut were likely being threatened by direct fire.
Russia's paramilitary mercenary group Wagner have led much of the fighting in the area.
The head of the force, Yevgeny Prigozhin, confirmed that there are "fierce battles for every street, every house, every stairwell" in northern parts of Bakhmut.
Responding to reports that Ukrainian forces had retreated from the town, he said this is not the case and Ukrainian soldiers are "fighting to the last".
The battles on the front line come as more missiles hit parts of eastern Ukraine
In other developments:
In the north-eastern city of Kharkiv, five people were wounded after strikes hit civilian buildings in the city, local authorities have said.
Five others were injured in the Donetsk region during rocket attacks, according to regional leader Pavlo Kyrylenko.
DISCLAIMER: The Views, Comments, Opinions, Contributions and Statements made by Readers and Contributors on this platform do not necessarily represent the views or policy of Multimedia Group Limited.