A star-studded concert has marked the beginning of Joseph Biden's presidency, with performances from Foo Fighters, Katy Perry, Demi Lovato and Bon Jovi.
The theme of the concert was not celebration but unity, with tributes paid to the frontline workers who have borne the brunt of the Covid pandemic.
"This day is about witnessing the permanence of our American ideal," said Tom Hanks, who hosted the show.
Bruce Springsteen kicked off the event with his song Land Of Hope and Dreams.
Standing on the steps of the Lincoln Memorial in Washington DC, the lyrics of the song, first performed in 1999, reflected the aspirations of the new administration.
"Leave behind your sorrows / Let this day be the last," sang the star, "Tomorrow there'll be sunshine / And all this darkness past."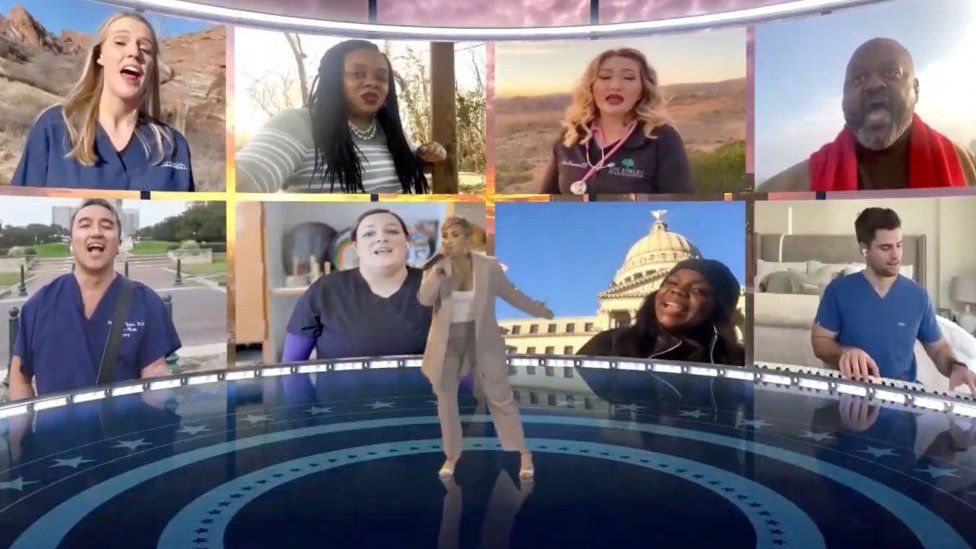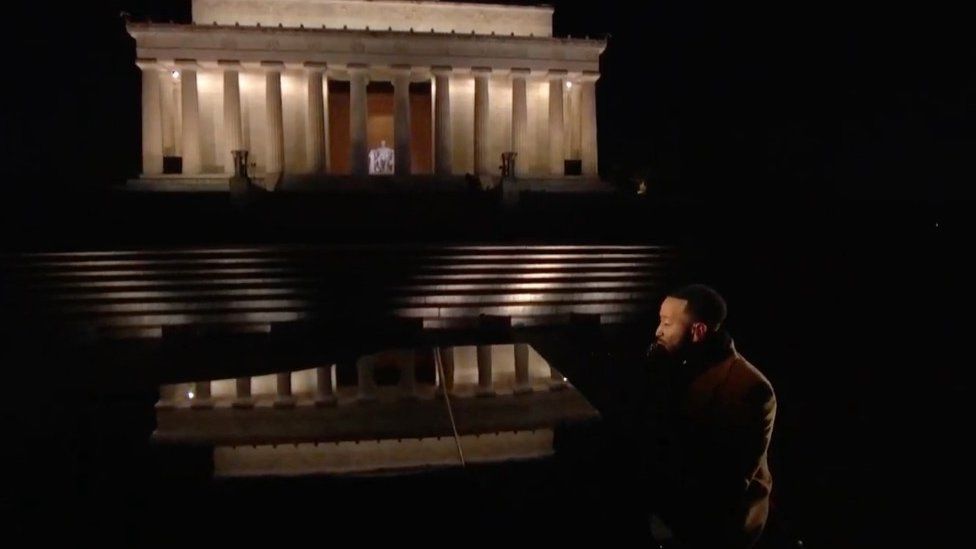 Foo Fighters dedicated Times Like These to the teachers who have "faced unprecedented challenges" with "dedication and creativity", while cellist Yo-Yo Ma played a simple but moving version of Amazing Grace for those who have "found new ways for us to smile together" during the pandemic.
Speaking during the concert, President Biden explained that he and Vice-President Kamala Harris "wanted to make sure our inauguration was not about us, but about you the American people".
In a speech that echoed his inaugural address, he continued: "This is a great nation. We're a good people
"And to overcome the challenges in front of us requires the most elusive of all things in a democracy: unity. It requires us to come together in common love that defines us as Americans."
His message was underlined by country stars Tim McGraw and Tyler Hubbard, of the band Florida Georgia Line.
While the country has traditionally leant towards conservative political views, the stars sang: "Look around and love somebody / We've been hateful long enough / Let the good Lord reunite us / 'Til this country that we love's undivided."
Hubbard explained that he had written the song after a brush with Covid-19 last November.
"When I was in quarantine… I got to take a good hard look at myself. Inspired by my faith in God to reunite our country, I wrote this song," he said.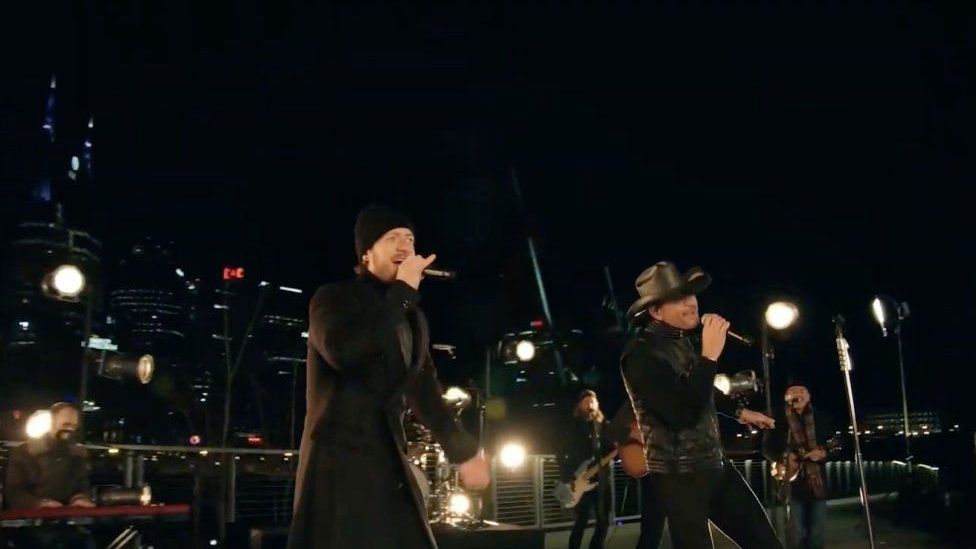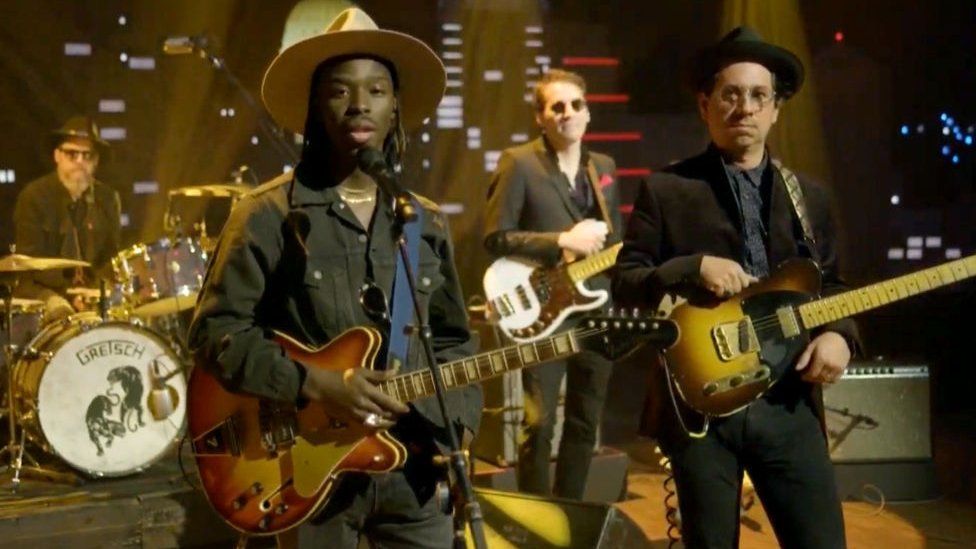 All of the musicians were introduced by everyday Americans who had made notable contributions during the pandemic, including an eight-year-old Wisconsin girl who raised $50,000 (£36,500) from a virtual lemonade stand to feed the hungry, and a primary school teacher whose high-energy online classes went viral last year.
The concert was closed by Katy Perry, who sang a rousing, orchestral version of her signature song Firework.
Standing at the foot of the Lincoln Memorial, she was watched by the Biden family from the balcony of the White House, as fireworks exploded around the Washington Monument.
Gaga's anthem
Although the concert was socially-distanced – and in some cases pre-recorded – the A-list line-up provided a marked contrast to former President Trump's inauguration four years ago.
Although his administration had boasted of securing Elton John for the event, their musical guests were limited to punk band 3 Doors Down; country singer Toby Keith; and America's Got Talent singer Jackie Evancho – who subsequently said she regretted her performance.
Earlier on Wednesday, Lady Gaga led the musical contributions to President Biden's inauguration ceremony, with a bold and crisp rendition of the US National Anthem.
Wearing a blood red ball gown and with a large gold dove pinned to her chest, the pop star gave The Star-Spangled banner the full Broadway treatment, effortlessly navigating its notoriously tricky vocal leaps.
She pointedly lingered on the line "our flag was still there", while glancing across the area where, two weeks ago, Pro-Trump supporters stormed the Capitol in a deadly attack.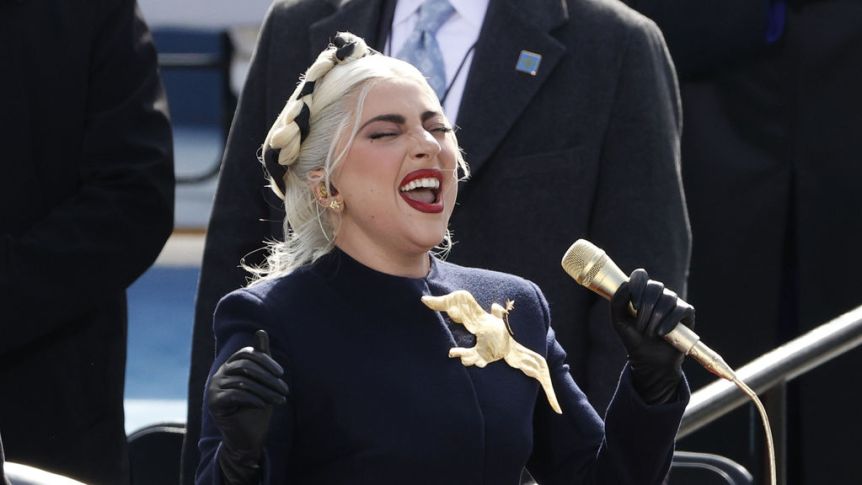 Speaking before the ceremony, Gaga said she wanted her performance to mark a "moment of change".
"My intention is to acknowledge our past, be healing for our present, and passionate for a future where we work together lovingly," she wrote on Twitter. "I will sing to the hearts of all people who live on this land."
Jennifer Lopez also sang a medley of This Land is Your Land and America the Beautiful – addressing the crowd in Spanish part way through her performance, declaring: "Una nación indivisible con libertad y justicia para todos" (One nation under God, indivisible with liberty and justice for all).
And country star Garth Brooks delivered an emotional, a capella version of Amazing Grace, immediately after Biden's inaugural speech.
A staunch Republican, the musician had joked before the ceremony that he "might be the only Republican at this place… But it's about reaching across and loving one another."
By performing at the inauguration, Brooks has now sung for every US president since Jimmy Carter, with the exception of Ronald Reagan.