The Volta River Authority (VRA) has revealed that about 40 students who tested positive for Covid-19 at the Akosombo International School have been isolated for treatment.
According to the Authority in a press release, although those who tested positive for the virus are stable and without symptoms, they have still been admitted at the VRA Hospital for further management.
The Volta River Authority also disclosed that parents of the affected students have been updated on present developments.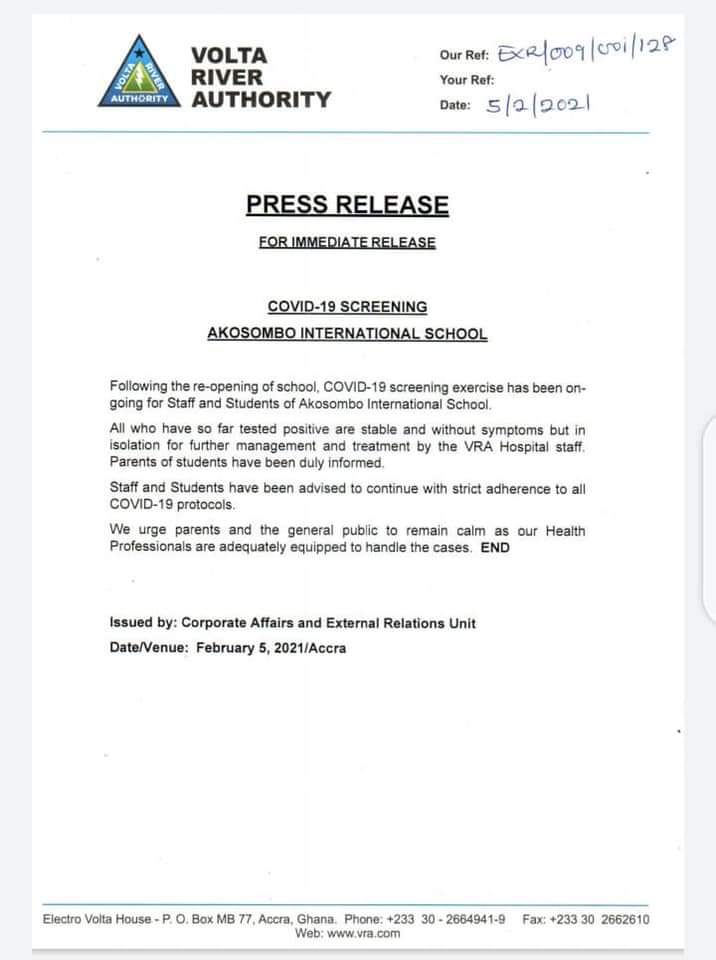 The Authority is, therefore, urging "parents and the general public to remain calm as our health professionals are adequately equipped to handle the cases."
Meanwhile, the Authority has cautioned staff and students of the school to remain vigilant and continue to strictly adhere to the Covid-19 safety protocols.
Some 40 students at the Akosombo International School on February 4, tested positive for Covid-19 according to the Eastern Regional Director of the Ghana Health Service (GHS), Dr. Winfred Ofosu.
The number of Covid-19 cases were reported after the institution engaged in a screening exercise for staff and students after the reopening of schools per the directives of the President.
Dr. Winfred Ofosu explained that out of a total of 500 samples that were taken from the school, 40 students tested positive.
Also, the Executive Director of the National Schools Inspectorate Authority (NaSIA), Dr. Haggar Hilda Ampadu said the Covid-19 outbreak in private schools in the Eastern Region is being assessed by some of its inspectors.