Sean Connery in Dr No
For James Bond's first cinematic outing, Ian Fleming's British secret service agent couldn't have wished for a better avatar.
It was perhaps Connery's intrinsic debonair ruggedness – the barrel chest, the neat haircut, the masculine lip curl – that allowed his Jamaican beach flex in this movie to be a little, well, looser.
It's still very much "working British civil servant (spy) on holiday", but the sky-blue polo shirt matched with sky-blue chinos is nothing short of genius: casual enough for 007 to be his confident self (licence to kill; permission to quip sardonically) yet conservative enough for Bond to get on with his task (saving the world; chatting up Honey Ryder).
Beach-flex level: professional vacationer.
Alain Delon in Purple Noon
Name a cooler-looking actor than Alan Delon? (I'll wait.) Delon's appearance in Purple Noon (Plein Soleil, 1960), the first adaptation of The Talented Mr Ripley, published five years before, is the bar by which all subsequent Tom Ripleys have and will be measured.
(Yes, even you, Matt Damon.) Delon's transformation from stiff-collared worker bee to charismatic sociopath couldn't be more engaging and his wardrobe shifts with his changing mindset.
Throughout the movie, Delon appears like a stylish, bronzed whippet, although it's his beach-strolling outfit, glass in hand, while attempting to woo "Marge" on Maronti Beach (on the Italian island of Ischia), that really zings.
The terry towelling navy blazer with brushed gold buttons, the striped red and black trunks that seem to fit him like clingfilm and a gold pendant necklace that swings as Delon smirks.
All killer, no filler – just like Ripley.
Harry Styles in the video for 'Watermelon Sugar'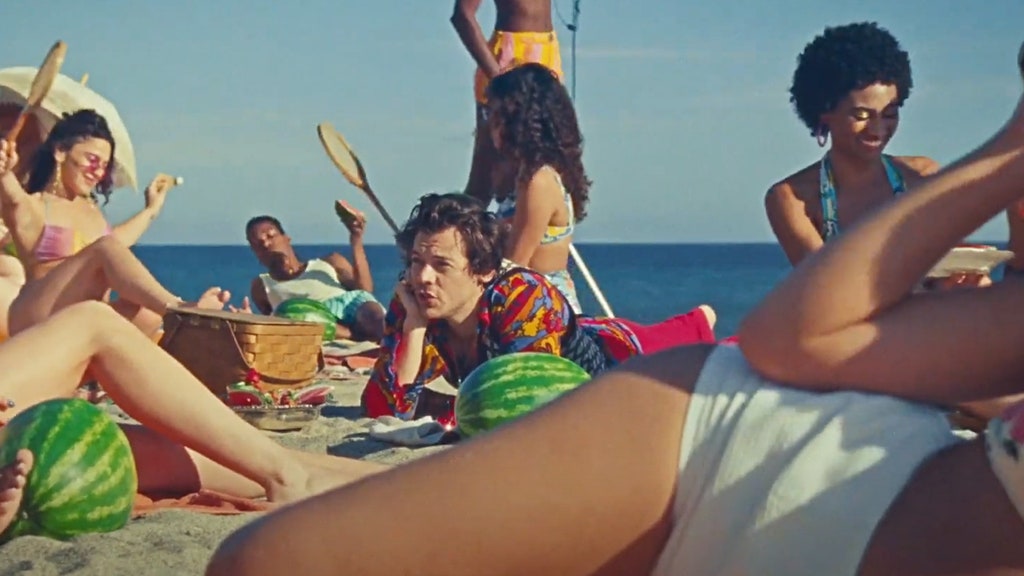 The world looks on at Harry Styles and sighs. How could so much aesthetic nowness come from just one man? In his latest video, launched during peak lockdown in May, Styles knew all the style buttons to hit in order to sooth our pandemic paranoia.
Once again using his long-standing partnership with Gucci as a springboard, his "Watermelon Sugar" music video saw the boy wonder (now based in LA) do that thing we all dreamt of doing while stuck inside: messing about with our pals, on a beach, in clothes that accentuate our louche intentions. His look – all psychedelic colours and too-short crochet tank top – is Woodstock stall attendee by way of Fred Jones from Scooby-Doo at a "shroom'n'swingers" party in Los Feliz. Vibey.
Jay-z's no-shirt holiday tailoring
Remember: there are a lot of men who simply can't stand beaches.
We feel you: the fact that you are required to shed all the clothes you actually enjoy wearing – narrow jeans, highly polished Chelsea boots, navy crewneck cashmere sweaters – and then slather yourself in duck fat, all before plonking yourself down in UVAs that may well be killing you anyway.
Still, there's a way and Jay-Z, as ever, knows how to uptick a trad beach look by combining colourful tailoring with, well, nada.
Wear the suit, but ditch the shirt, the shoes, the socks… Accessorise with pecs as swole as two overripe pineapples and a gold necklace the size of David Geffen's anchor chain.
Robert Redford in Little Fauss And Big Halsy
Has any one man done more for mirrored aviators than Robert Redford? His appearance in Three Days Of The Condor – light blue jeans, blazer, silver shades – is still the mood that most of us dream about nailing on squinty low-sun autumn days.
Yet on the beach the straw-headed star was equally as dazzling, not least when he embraced a role that was slightly left of hero.
Here, he hooks that reckless motorbike rider just so: a washboard stomach the colour of Marmite on toast, a pink kerchief tied a little too tightly around his neck, indigo jeans that seem to be shrink-wrapped to his body. The last all-American icon worth watching.
Michael Douglas in Wall Street
The sort of men who still hold Gordon Gekko up as some kind of bro hero are either fired financiers or retired boardroom sharks.
Although a pure joy to watch, deep down we all know that sort of ball-breaking criminality, that chest-thumping old-school masculinity doesn't belong in the real workplace.
Still, the style is really something else.
The maxi-shouldered tailoring! The billowing shirts! The red braces! The ice-white smirk! And if you're looking to take a pre-dinner business call out on the beach while vacationing in the Hamptons, Gekko's long navy bathrobe accompanied by brick-sized mobile is about the only flex that's worth pulling for wannabe Machiavelli.
Right, Bud?
Armie Hammer in Call Me By your Name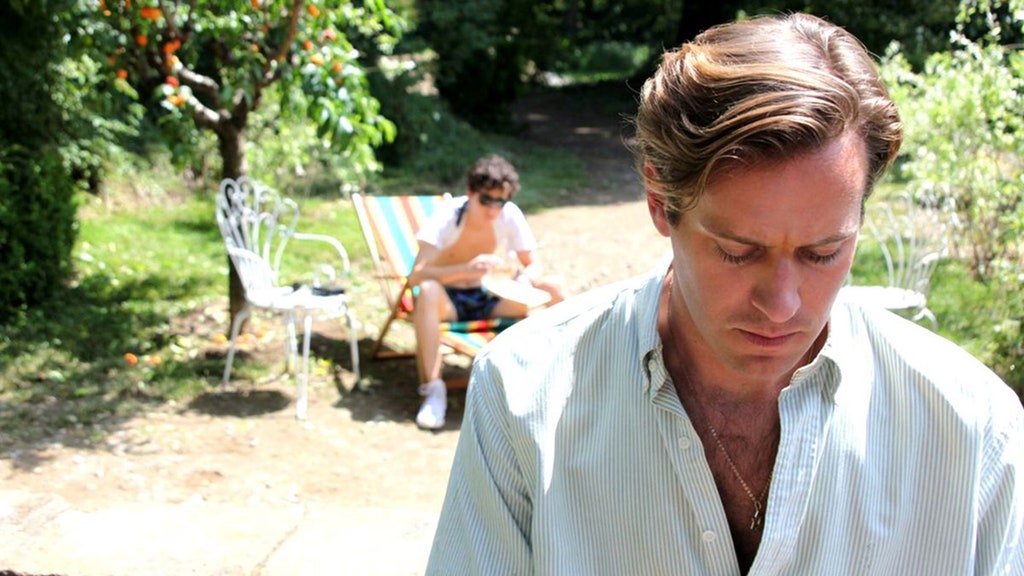 OK, look, we got it: Armie Hammer can get away with a lot. That sort of handsomeness that looks like it's been built in a lab.
Still, the wardrobe department in Luca Guadagnino's adaptation of Call Me By Your Name managed, somehow, to cloak his Adonis-like good looks with a summer vibe that was, well, almost accessible.
(Clue: that's why it's so sexy.) It's actually pretty much what most of us aim for while on holiday.
Smart, short shorts that come to the mid-thigh, open linen shirts in washed-out blues and ivories, all punctuated with dark sunglasses that hide our very best intentions: a large "piscine" of rosé in hand before 11am, please.
Call it by its name: idyllic flex appeal.
Richard Burton as Mark Antony in Cleopatra
Arguably, nothing does this with more machismo than faux-Roman armour (lorica segmentata, to be exact), preferably blacked with battle soot and sweat.
Throughout Cleopatra, alpha-lush Richard Burton had the beach horn-dog look thoroughly sewn up: the tunic, the metal plates, the pre-Versace "Versace-style" decorative embellishments.
Sure, you might get sand in all the wrong crevices, but your fellow sun worshipers will either run or salute you. Ave!
DISCLAIMER: The Views, Comments, Opinions, Contributions and Statements made by Readers and Contributors on this platform do not necessarily represent the views or policy of Multimedia Group Limited.