Different names, different teams, different leagues, however, Jordan Ayew and Andre Ayew have maintained a common ground the entire season.
Arguably the most important similarity, one that would bring smiles to the faces of Ghanaian fans. The pair have scored on the same matchday four times this season.
The brothers, who spent the lockdown period together are difficult to separate off the pitch and even more difficult to separate on the pitch.
In 2015, Jordan and Andre met in the Premier League representing Aston Villa and Swansea respectively.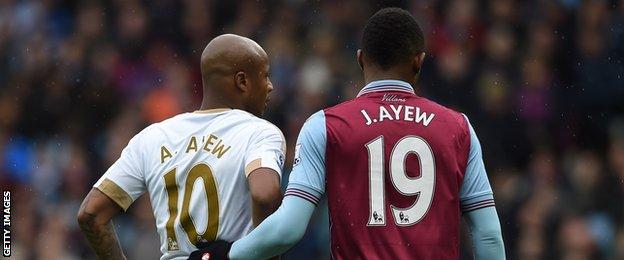 Both of them got on the scoresheet with Jordan giving Villa the lead before Andre scored a late winner.
Despite Swansea winning that crucial match, they were seen embracing each other after the game.
The pair played against each other in the French league in 2014 and Jordan's team won on that occasion, but this time their fortunes were reversed.
After the Villa an Swansea game, Andre emphasised: "We are family, there is no problem."
Fast forward to this season and certainly there would be less of a problem because both players are competing in different leagues.
Despite being in different leagues, the Ayew brothers have been in imperious form with Jordan scoring nine league goals and Andre grabbing 13 league goals so far.
It's even more fascinating to find out that the pair have scored on the same day four times this season.
5th October 2019
Andre Ayew gave Swansea the lead against Stoke City, but the Swans surrendered the lead losing 2-1.
On the East side of London, Jordan Ayew scored a late winner against West Ham as Hodgson's men came out 2-1 victors.
26th December 2019
Andre Ayew was on the losing side as he grabbed a consolation goal in 3-1 defeat to Brentford.
Jordan Ayew was once again in the headlines as he helped West Ham complete the comeback against West Ham, scoring the winner in the 90th minute.
29th February 2020
A second half penalty by Andre Ayew wasn't enough to give Swansea all three points as they drew 2-2 with Blackburn.
Jordan Ayew scored the only goal as Crystal Palace defeated Brighton 1-0
20th June 2020
Andre capped off a wonderful performance by dispatching a penalty against Middlesbrough to see his side win 3-0.
Jordan made history with his goal against Bournemouth as he became Ghana's highest scorer in the Premier League.
---
Jordan Ayew winning family battle
On the four occasions the brothers have scored on the same day, Swansea have won just one compared to Palace's four.
Out of those four wins, Jordan scored the winner in three and secured the win against Bournemouth by scoring the second goal for Palace.
Andre's goals won just a solitary point for Swansea in this period.
Overall, Andre has contributed to 19 goals (13 goals and 6 assists) in the Championship this season, nine more Jordan who has contributed to 10 goals (9 goals and 1 assist) in the Premier League.
However, with the Championship being a tier lower, Jordan's goals would carry more weight.
In terms of contribution to teams, Andre's goals have won 15 points for Swansea this season with Jordan's goals winning 17 points for Crystal Palace this season.
One thing is evident, and that is how relevant these brothers are for their respective teams.
This demonstrates the hardwork both players have put in especially after enduring a very tough 2019 Africa Cup of Nations.
Ghanaians, Crystal Palace and Swansea City certainly won't mind if Andre Ayew and Jordan Ayew remain synchronised in front of goal for the rest of the season.