Communities situated downstream of highly polluted Offin and the Pra rivers are paying dearly for activities of illegal mining.
The main water sources of residents of Beposo, Supom-Dunkwa, Bokorkope, Atwereboanda, among others in the Shama District of the Western region have been destroyed by illegal miners who have pitched camps upstream in Ashanti, Central and Western regions.
The residents have been left with brownish-milky looking water sources.
Water-borne diseases are rife in affected communities as residents are forced to use the polluted water.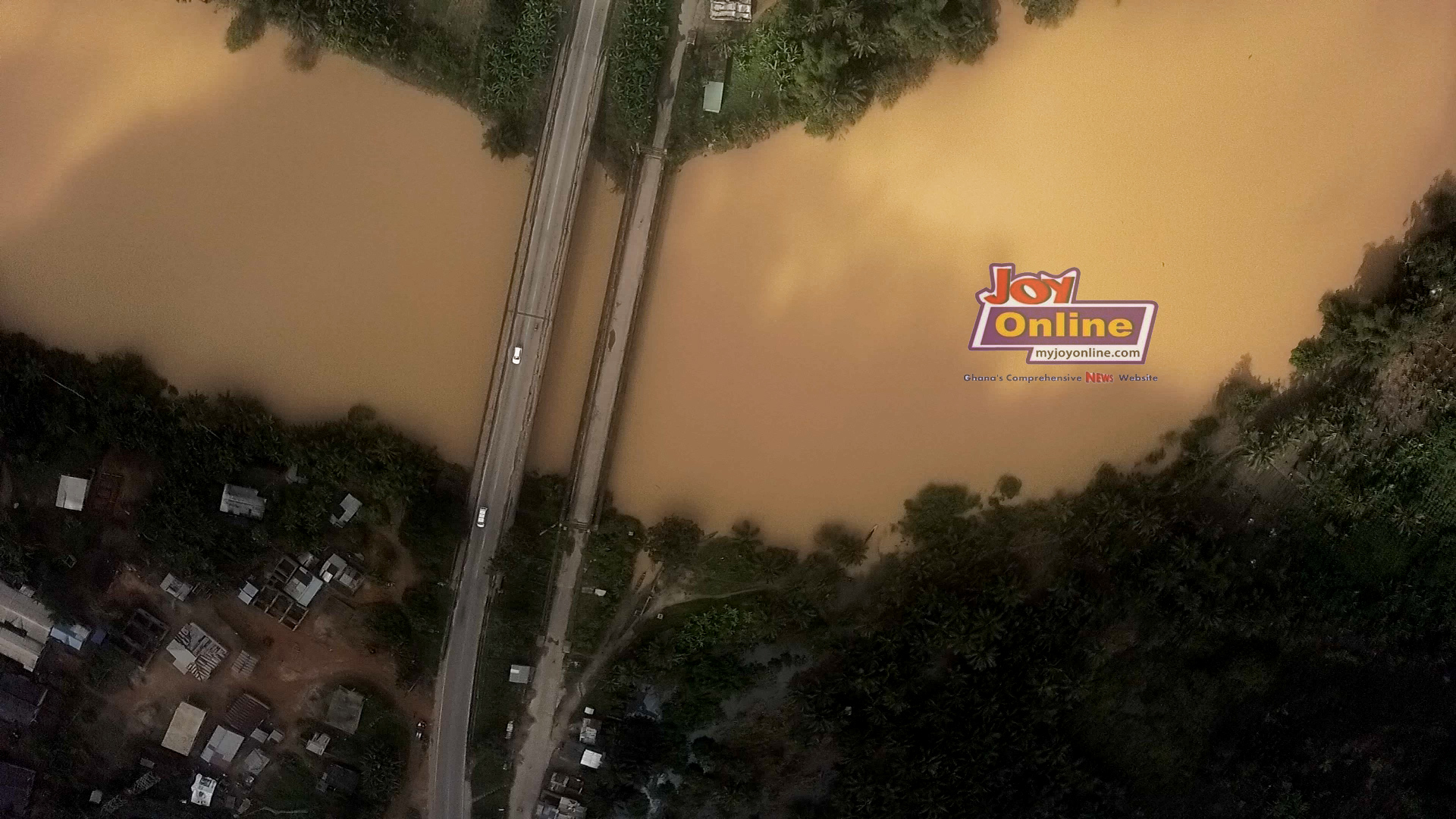 I visited Atwereboanda, a farming community situated downstream of the main Pra River in the Shama District of the Western region.
The mainstay of residents here is crop and vegetable production, fishing and basket weaving.
Residents depend on the Pra River for their livelihood as they use water from the stream for household chores, including bathing, irrigating crops and fishing activities.
Like Beposo, Supom-Dunkwa and Bokorkope, the community with a population of about 1,000 residents is feeling the negative impact of illegal mining activities.
The Offin River is a major tributary of the main Pra River, which enters the Gulf of Guinea near Shama in the Western Region.
At 6:00am, children, some as young as two years, are seen taking their bath in this stream before going to school.
One of them is Andrews Takyi, a JHS 2 student.
As a practice, he and other children in this community take their shower in the stream every morning.
"When we wake up, this is the water we come and bath in," he said.
As a first-time visitor, I wondered why these kids would use dirty, brownish water from the much-polluted Pra River to wash down.
"We don't have water that's why we came and bath here." Andrews revealed.
It is obvious turbidity in the water is extremely high above the Environmental Protection Agency's recommended limit.
It is common to see Pra and other river bodies affected by illegal mining in this state because harmful chemicals such as mercury are used.
This has become a routine for Andrews and many children in this community.
Though Tullow Ghana in 2016 commissioned a merchandised water project to supply residents of Atwereboanda with clean drinking water, residents can no longer get wholesome water for their household needs due to equipment break down.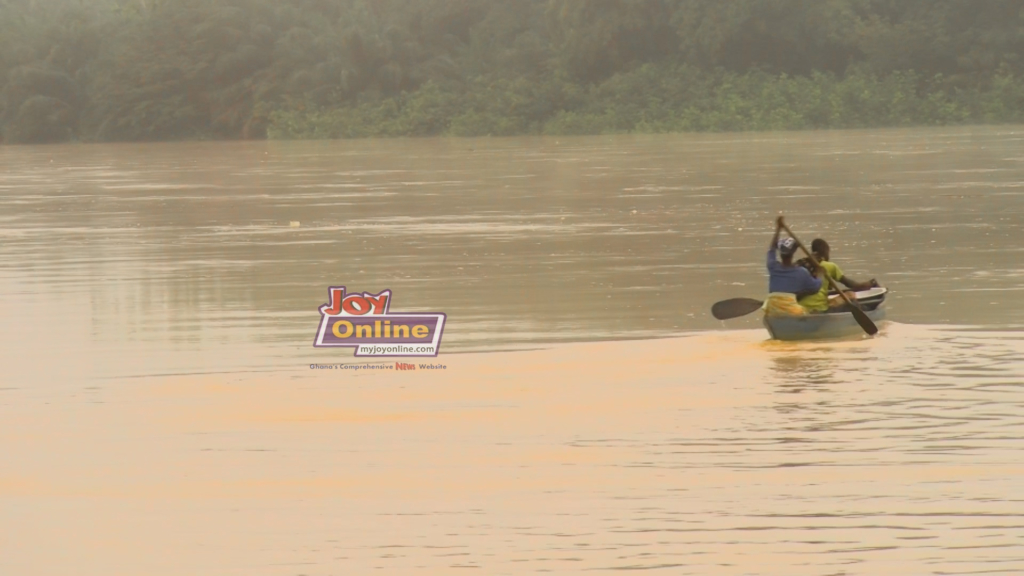 "We know the water is dirty but we have to go to school," says Andrews who spoke to me in his topless state.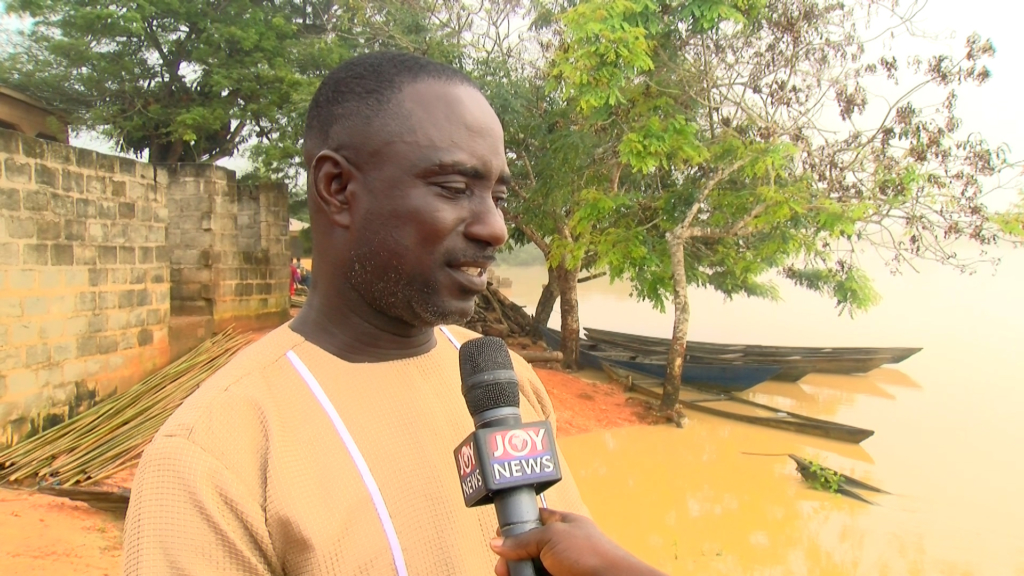 Assemblyman for New Junction-Amisakrom-Bokorkope Electoral Area, Alpha Justice Wonkye, laments the situation.
"Let's say from 1 and half years 2-years, they all bath at this point. Early in the morning, you will see them; no matter how the weather whether a chilly weather or if it is hot weather, it this same river that they bath in before going to school".
The practice is impacting negatively on the health of residents, especially children.
Authorities at the Community Health-Based Planning Services (CHPS) compound say residents are plagued with malaria, cough and water-borne diseases such as scabies, diarrhoea and bilharziasis.
The Assistant Headmaster of the local Atwereboanda D/A Primary and JHS, Kwasi Appiah, revealed school children have been asked not to bathe in the stream because of the dangers posed by chemicals used in 'galamsey' operations.
"We have stopped the children from taking their bath at the river side because there are some chemicals the 'galamsey' people use which is affecting them.
In fact it gives them some diseases. If you could observe, plenty of the children have some scars on their head. They got it is through this river that they have been taking their bath in."
He added: "We have been fetching this water and drinking it all the time. When the 'galamseyers' started the 'galamsey' works, we stopped."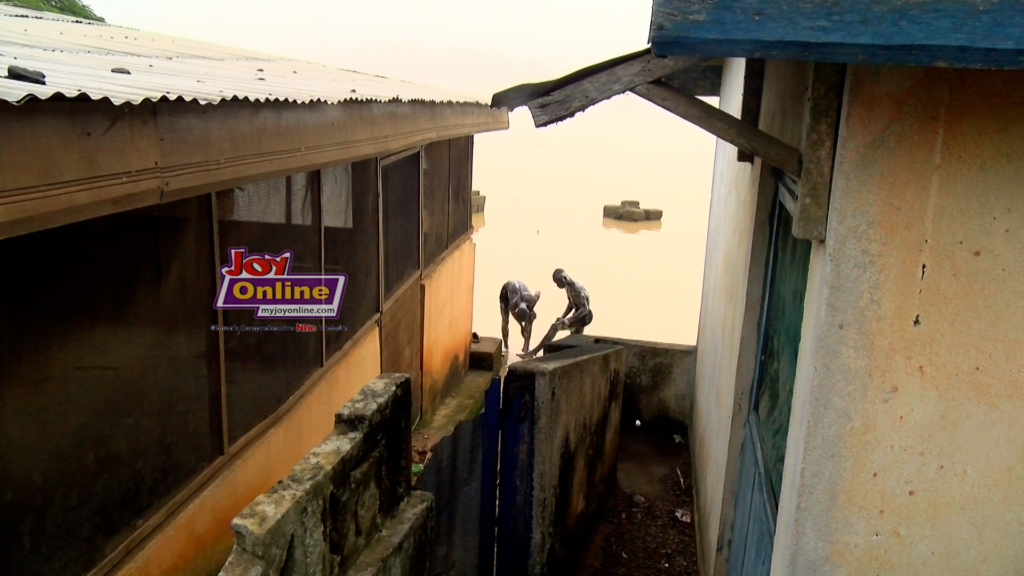 Unfortunately, that directive is yet to be adhered to by Andrews and several other children who have no alternative water source.
Mr. Wonkye is not only passionate about the situation but also concerned about the negative impact of illegal mining activities on communities downstream.
"It is very heartbreaking. It is very, very heartbreaking," he said of effects of 'galamsey' on communities in his electoral area.
"There's a proverb in Akan "okotere nkowe ne mako na mmfifire mmfiri atwer" to wit, the community shouldn't suffer from operations 'galamsey' operators have enjoyed.
"We are not happy with the activities of this 'galamsey' up there and we are suffering from the consequences of it."
"We are urging the President and the NPP government to in fact, fast-track things in order to prevent those people in these water bodies."
The challenges of affected communities such as Atwereboanda are compounded by flooding.
Residents blame illegal mining operations upstream that have either blocked the waterways or changed the course of the stream.
One of the areas affected by the flood is the football pitch which serves as the training ground for the Under 13 and 17 teams, Pra Babies in the community.
The community, until now, has been nurturing talents to feed Hassacas and other football teams.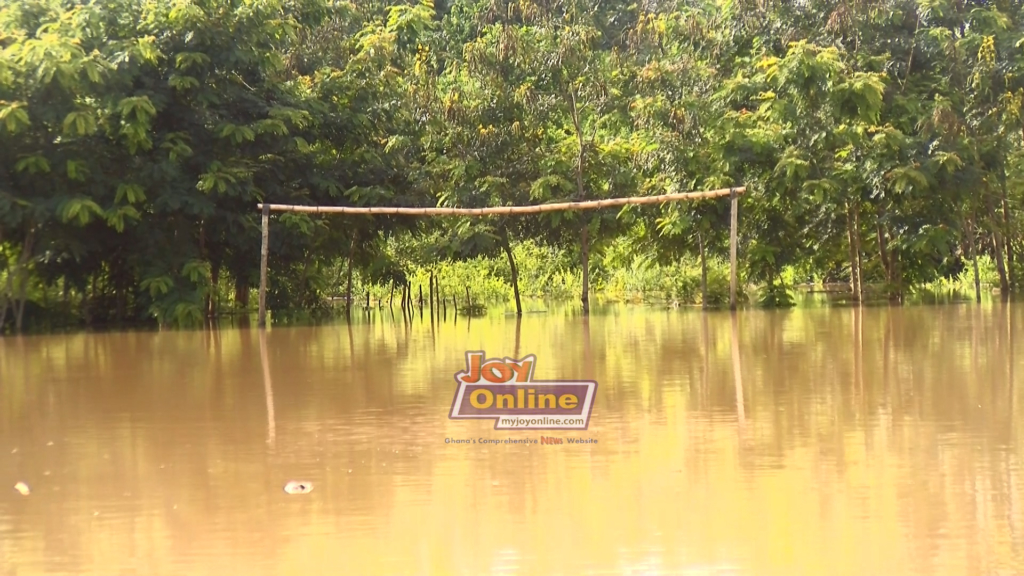 The flood means players cannot practice here. One of them is Mmrah Ababio Jnr.
"We train on this pitch after school each day. Then on Sunday, we play football matches. But the pitch has been flooding. Anytime it floods, it means we cease playing. It then affects our performance during match days," he revealed.
"This is the only source of recreational center we have in our community here, but look at the activities of 'galamsey' that has caused the water to overflow its banks to this level." That's according to Mr. Wonkye.
Former Acting District Physical Education Coordinator for Shama District, Kwasi Appiah, says this will affect the nurturing of players in the community, "it's going to affect them you know, because we train on the field."
Dr. Anthony Osei-Twumasi is an Environmental Engineer and a Senior Lecturer at the Kumasi Technical University.
He has published extensively in several international journals on water resource management in Ghana.
He warned that communities downstream affected by 'galamsey' face dire consequences of flooding, water shortage, among others.
"The impact is direct. It's not that they don't live around that area, they would have those flooding effects," he said of activities of illegal miners on communities downstream.
"The moment you create those pits, you change the course of flow of river in those areas. Now, you have put some impediments. For example put embankments-it means that all those areas those embankments are, you are creating artificial flooding."
Residents of Atwereboanda, Bokorkope, Supom-Dunkwa and Beposo are banking their hopes on President Akufo-Addo to help change their narrative by putting a stop to illegal mining operations.
"If the President and the NPP government tightens up situations in order to prevent those corrupt people who have been corrupting our environment; who have been causing harm to the water bodies, for us, we would be very happy," said the Assemblyman for the area.
Until the government reacts positively, residents can only hope.
DISCLAIMER: The Views, Comments, Opinions, Contributions and Statements made by Readers and Contributors on this platform do not necessarily represent the views or policy of Multimedia Group Limited.