The Youth Wing of the National Democratic Congress (NDC) has called on government to institute immediate measures to transport Ghanaian nationals in Ukraine to safer zones.
On Friday, a statement signed by the National Youth Organiser of the NDC, George Opare Addo, said the ongoing disturbances between Ukraine and Russia must not be taken for granted; hence, the government to announce strategies to relocate citizens caught up in the crossfire.
"This follows similar actions taken by other countries that prioritise the lives of their citizens. The fact that government has remained silent on this issue for nearly three days is very telling. This is not a time for political indecisiveness and passiveness."
"Government must fully use its diplomatic contacts and resources to ensure our students are safe and kept away from harm's way. Furthermore, government must announce a plan on its intends to execute this very critical assignment," the statement said.
The NDC Youth Wing also entreated the Ghanaian Consulate in Ukraine to mobilise students and offer them shelter amid the ongoing developments.
"The National Democratic Congress joins similar calls made by the National Union of Ghana Students (NUGS) and its sister body in Ukraine, urging government to quickly evacuate students studying in the country."
"As a matter of urgency, we call on government to put in place measures to relocate Ghanaian students to a safer zone in the region or bring them back home. The ongoing standoff between Ukraine and Russia and its attendant military actions must not be taken for granted more-so when Ghanaian lives are at stake."
Meanwhile, the Foreign Affairs Ministry has initiated steps to evacuate students to neighbouring countries like Moldova, Belarus, Slovakia and Hungary.
A list of students has been compiled to facilitate an evacuation exercise, a statement from the Ministry announced on Friday.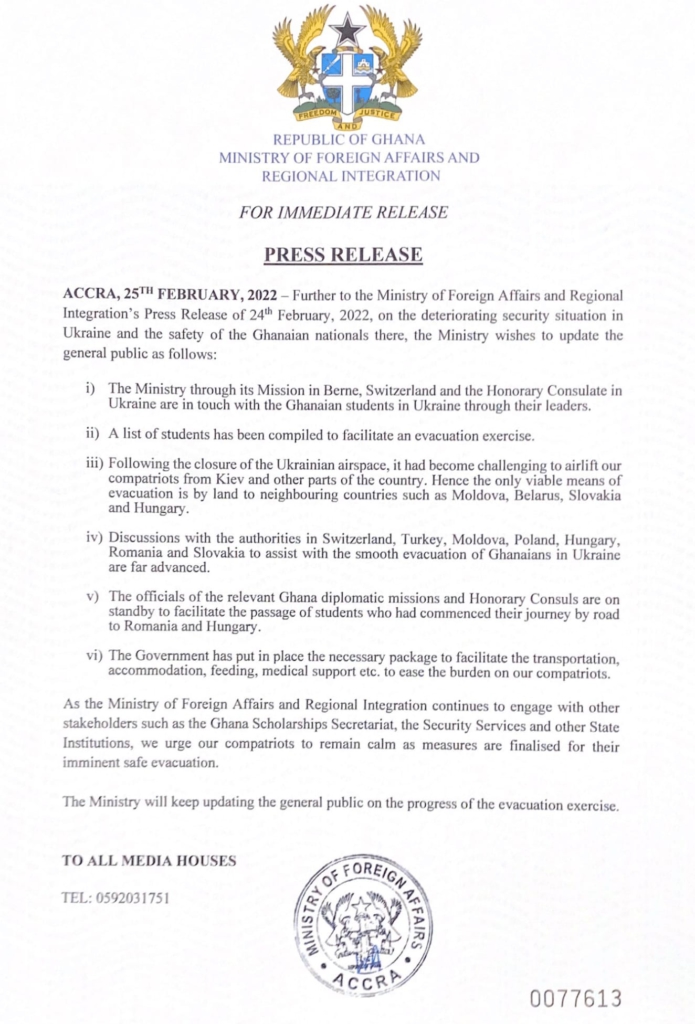 "Discussions with the authorities in Switzerland, Turkey, Moldova, Poland, Hungary, Romania and Slovakia to assist with the smooth evacuation of Ghanaians in Ukraine are far advanced."
"The officials of relevant Ghana diplomatic missions and Honorary Consuls are on standby to facilitate the passage of students who had commenced their journey by road to Romania and Hungary," the statement added.
What happened?
Russian troops launched their anticipated attack on Ukraine on Thursday, as President Vladimir Putin cast aside international condemnation and sanctions and warned other countries that any attempt to interfere would lead to "consequences you have never seen."
Big explosions were heard before dawn in Kyiv, Kharkiv and Odesa as world leaders decried the start of an invasion that could cause massive casualties, topple Ukraine's democratically elected government and threaten the post-Cold War balance on the continent.
Ukrainians who had long braced for the prospect of an assault, while never knowing precisely when it would come, were urged to stay home and not to panic even as the country's border guard agency reported an artillery barrage by Russian troops from neighbouring Belarus.
Meanwhile, experts have warned of dire consequences for the global economy, including oil and gas supply challenges, as Russia launches a special military operation in Ukraine's Eastern Donbas region.