Burkina Faso's most famous revolutionary Thomas Sankara has been reburied in the capital by the military junta – despite his widow and children boycotting the funeral.
Sankara was laid to rest at the spot where he was assassinated in 1987.
His immediate family wanted the reburial at a site that would "appease hearts", not at the "crime scene".
The dispute is seen as unfortunate, as the funeral was aimed at honouring a man revered as a national hero.
Sankara was regarded as a pan-Africanist with a modest lifestyle who spoke out against neo-colonialism.
But his critics say his rule was also marked by human rights abuses and state repression.
His new grave is in front of an imposing statue of him at the Thomas Sankara Memorial Park in the capital, Ouagadougou.
Some of his relatives attended the funeral, but his widow, Mariam, and children were absent, AFP news agency reports.
In an earlier statement issued on behalf of the family, they said Sankara should have been laid to rest at a public garden or at the cemetery from where his body was exhumed in 2015 as part of investigations into his assassination.
"We believed and continue to believe that it is fundamental that a space be found that allows us to gather and appease hearts, and not divide us and increase resentment," the statement said.
The military government said the site was chosen in the "national interest", and because of "security imperatives".
Sankara was Burkina Faso's president when he was shot dead, along with 12 others, by a hit squad.
The assassination opened the way for his friend, Blaise Compaoré, to seize power in a coup.
The 12 killed with him were also reburied in coffins draped in the national flag at a ceremony attended by the junta's prime minister and other officials and dignitaries.
"We thank the authorities who took part in writing an important page of our history," Reuters news agency quoted Sankara's uncle Mousbila as saying.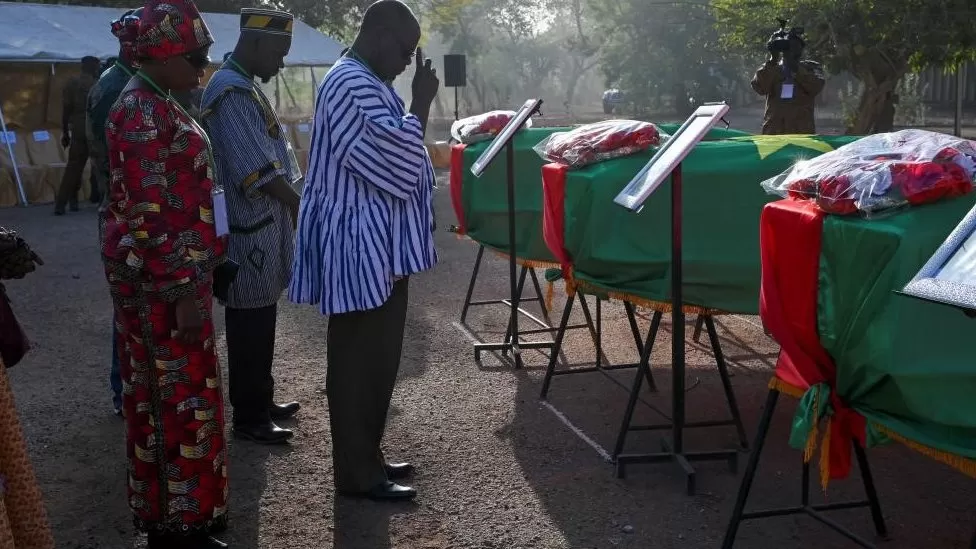 Compaoré was overthrown in a popular uprising in 2014, and was later sentenced in absentia to life in prison for complicity in Sankara's assassination.
He is exiled in Ivory Coast, and denies involvement in the murder.
Burkina Faso has been in political turmoil since his overthrow, and the security situation has worsened as militant Islamists wage a brutal insurgency.
It has led to the military seizing power once again, but it has continued with efforts to honour Sankara.
Many people are, however, disappointed that the junta and his family failed to reach agreement on his reburial.
They feel that 35 years after their hero's killing, he should be left in peace.
DISCLAIMER: The Views, Comments, Opinions, Contributions and Statements made by Readers and Contributors on this platform do not necessarily represent the views or policy of Multimedia Group Limited.