Daily Guide:
* You can't trap Mahama with a baby – Actress spills beans
* President opens largest greenhouse estate.
* $86.1m for armoured cars.
* Senior Minister tours Lavender Hill.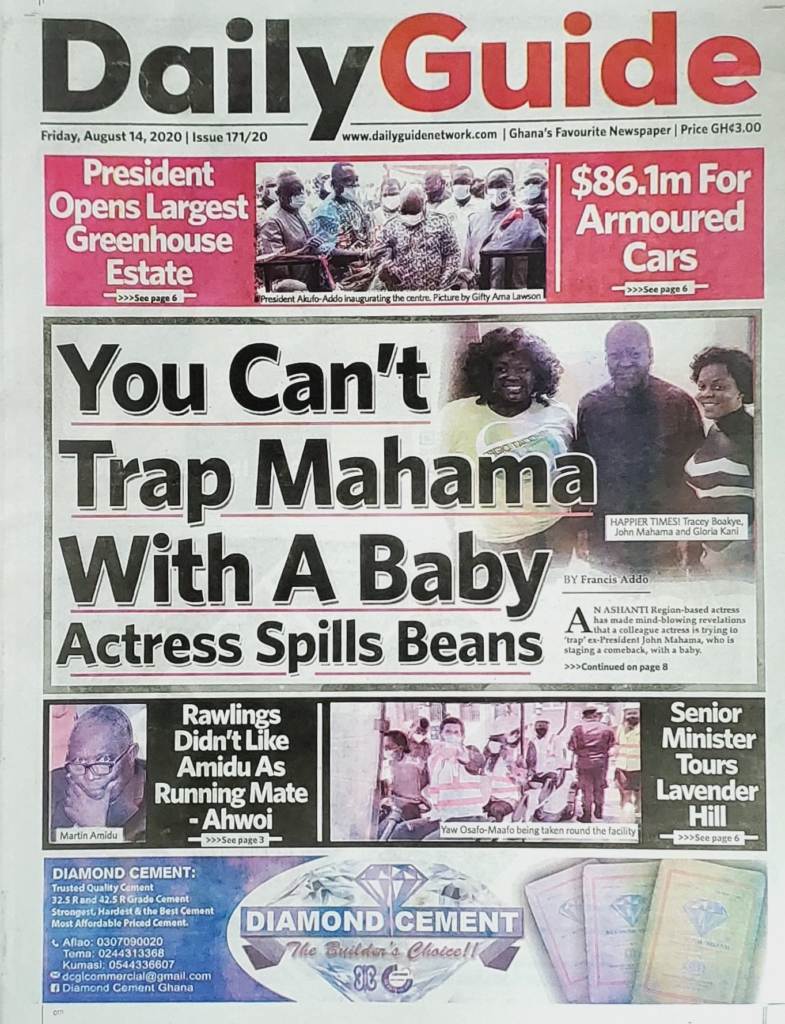 Finder
*Ghanaians should reject Mahama's deceitful promises – Sammy Awuku.
*New register: EC saved GHc173m, cut bloating, reduced minors and foreigners.
*I'll never denigrate Kufuor's legacy – Pius Hadzide
Daily Stateman
*Awuku: You can't trust indecisive Mahama with Ghana's destiny.
*President commissions West Africa's biggest greenhouse.
*NPP unveils manifesto launch committee.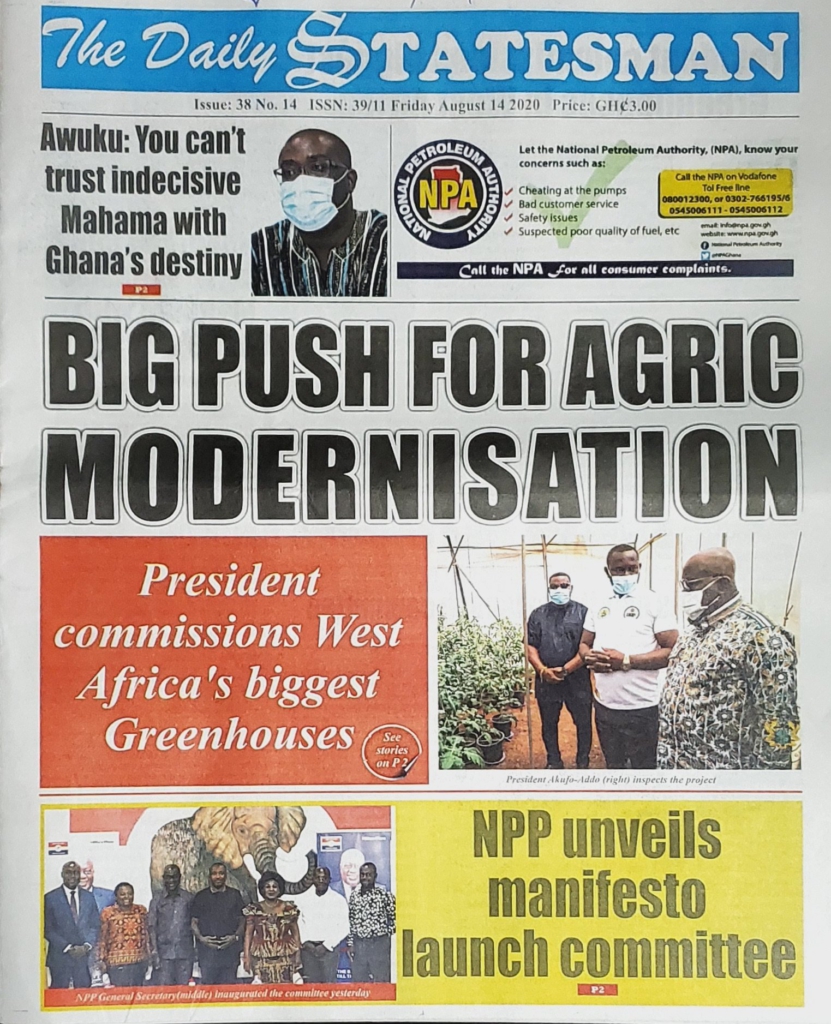 Daily Graphic
*Seek permits before construction Ya-Na urges developers.
*Business proposals flood 1D1F secretariat.
*President opens 75 greenhouse farms…similar facilities up in Akomanda, Bawjiase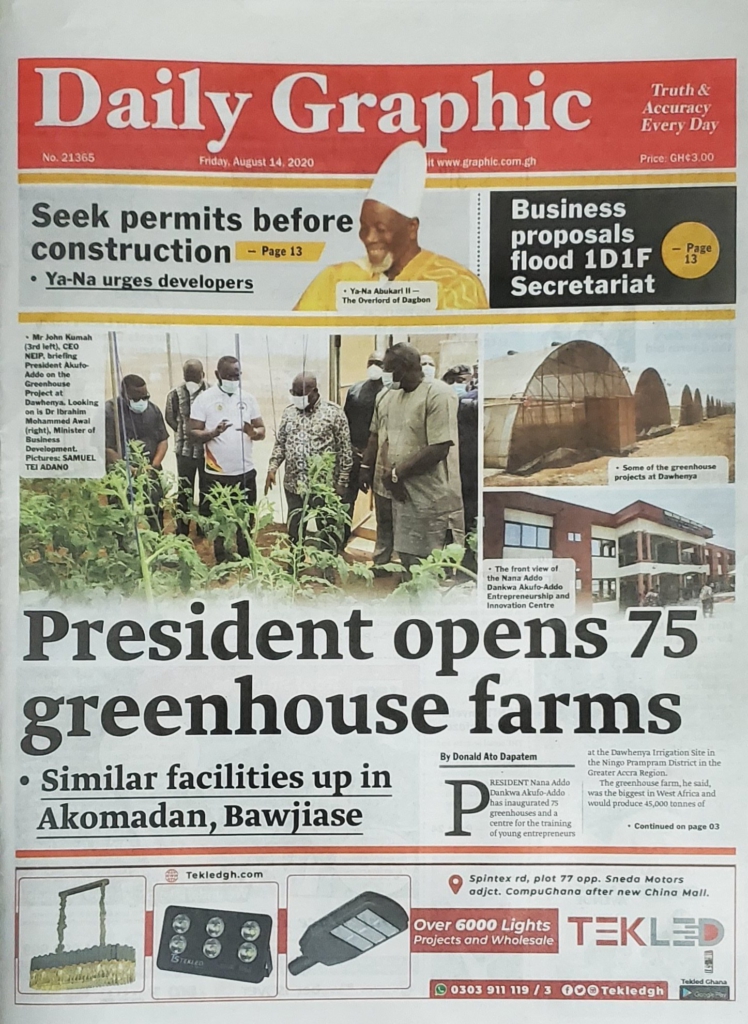 Ghanaian Observer:
* Bawumia hails mobile money interoperability.
*Government to back SSGL to replicate waste treatment plants – Senior Minister.
* President Akufo-Addo commissions biggest greenhouse village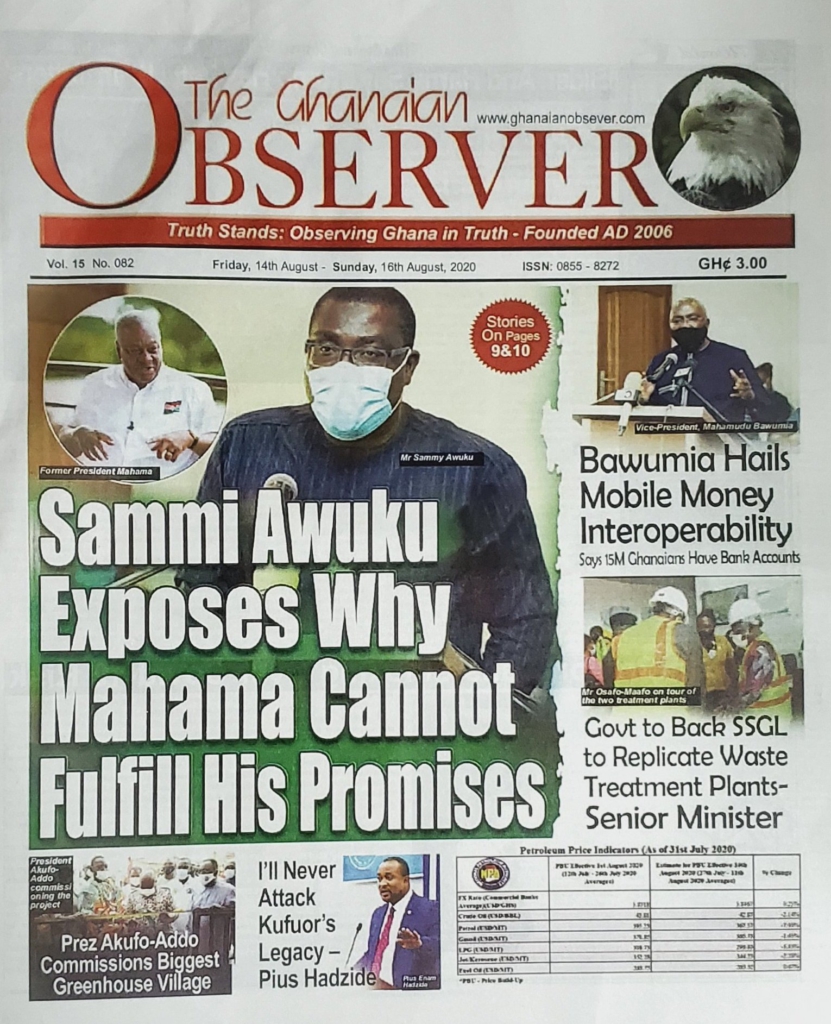 Chronicle:
* 30 Ghanaian women in captivity in Iraq..their passports seized, made to work like robots
*Carlos begs Tema chiefs for forgiveness.
New Weekend Crusading Guide
*Ex. Auditor's lies against UPSA VC falls flat as evidence expose his claims as bogus
*Akufo-Addo commissions 75 Greenhouses to boost local vegetable farming.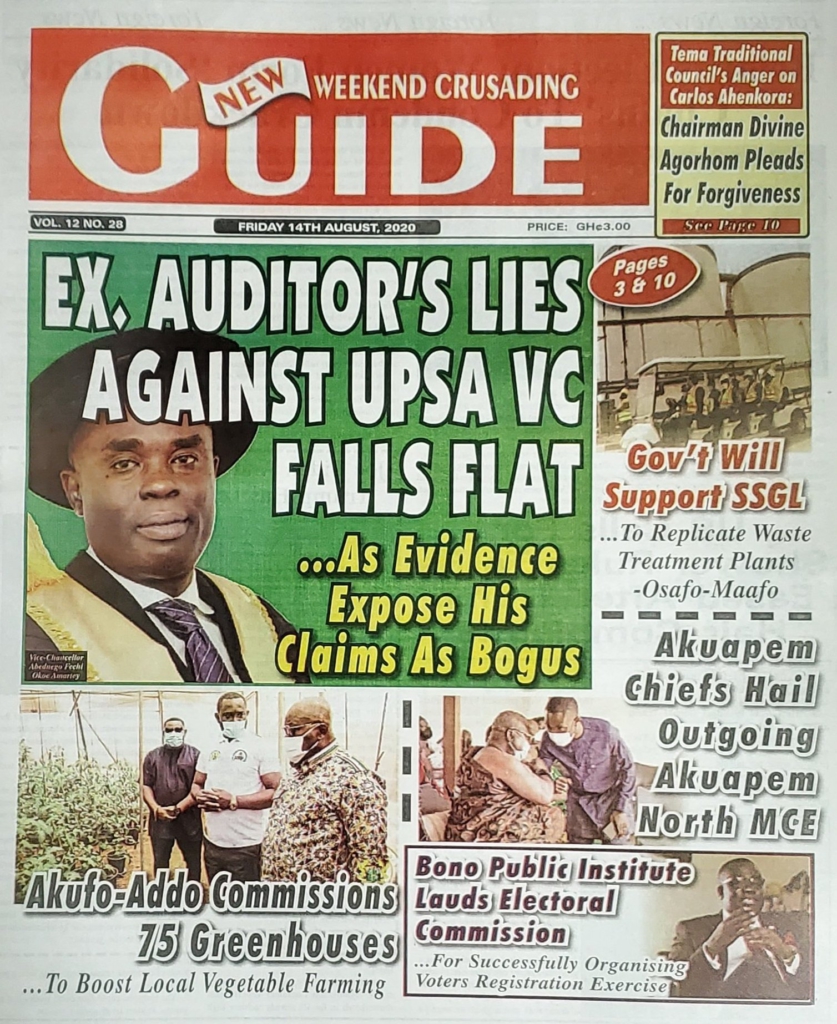 Daily Heritage:
*New voters' register..NDC demands independent audit
* Hit-and-run victim can't walk again..needs support for new life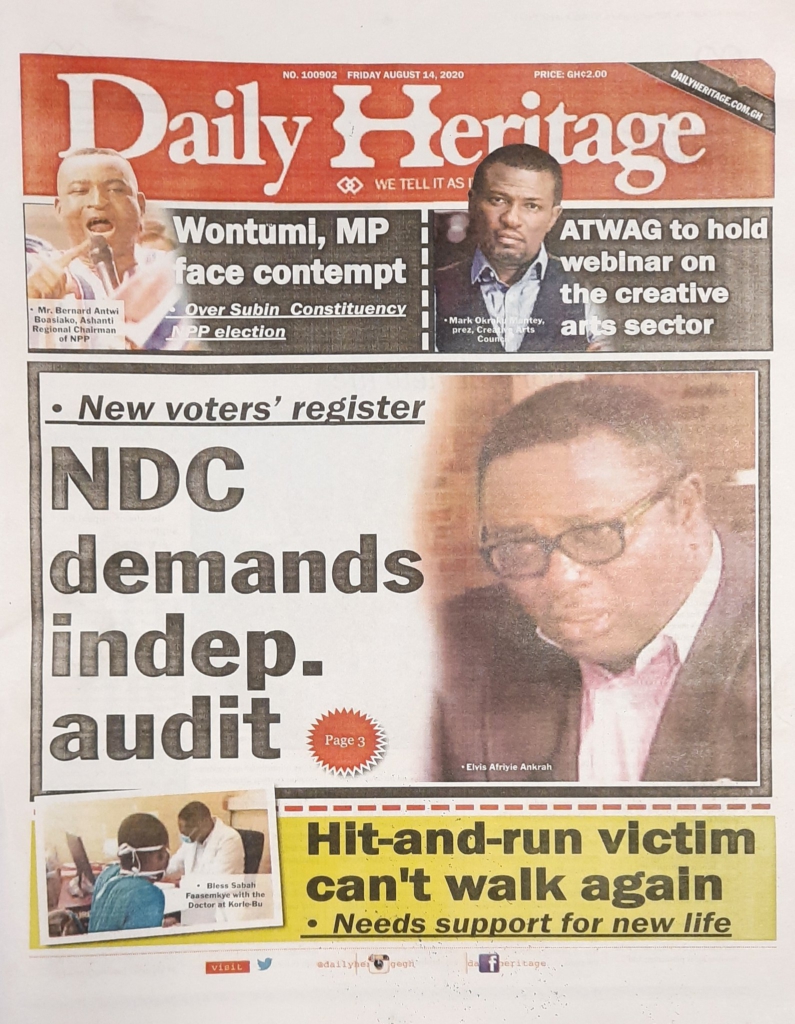 Inquisitor:
* Covid-19 restrictions, we'll open schools at right time- Says Education Minister
*Let us be civil, our children are listening – Mahama tells NPP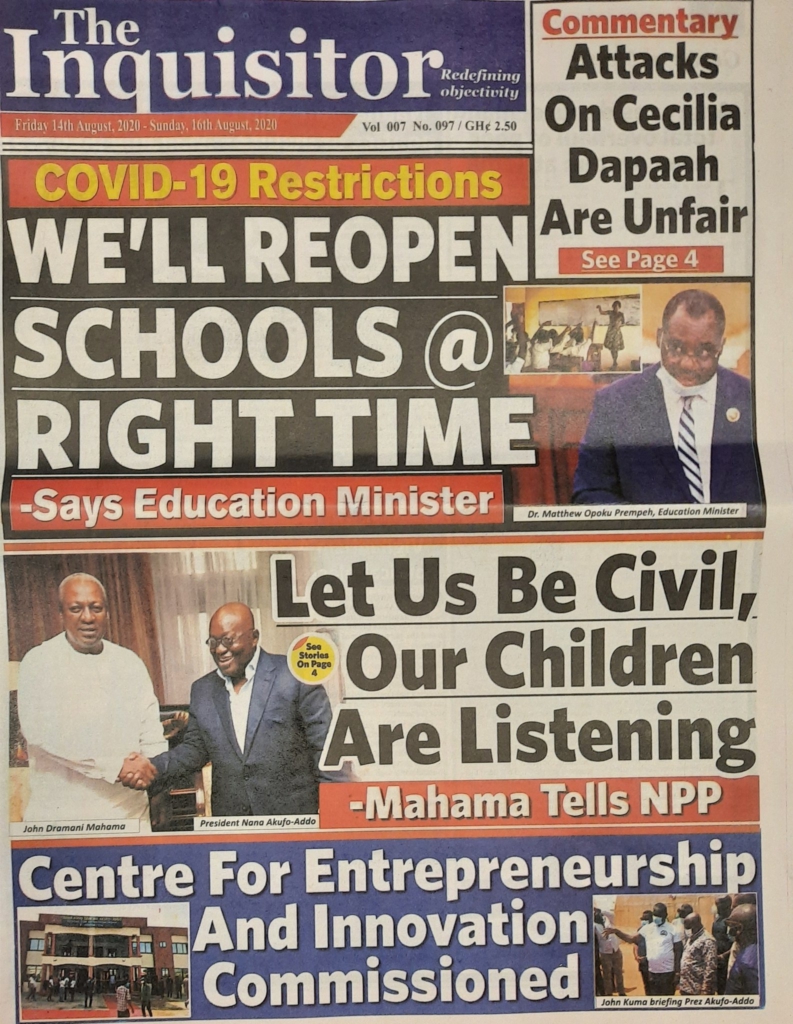 Insight:
*EC chairperson makes startling revelation: Minors, foreigners bloat new register
* Deal with grenade explosions – BPS urges national defence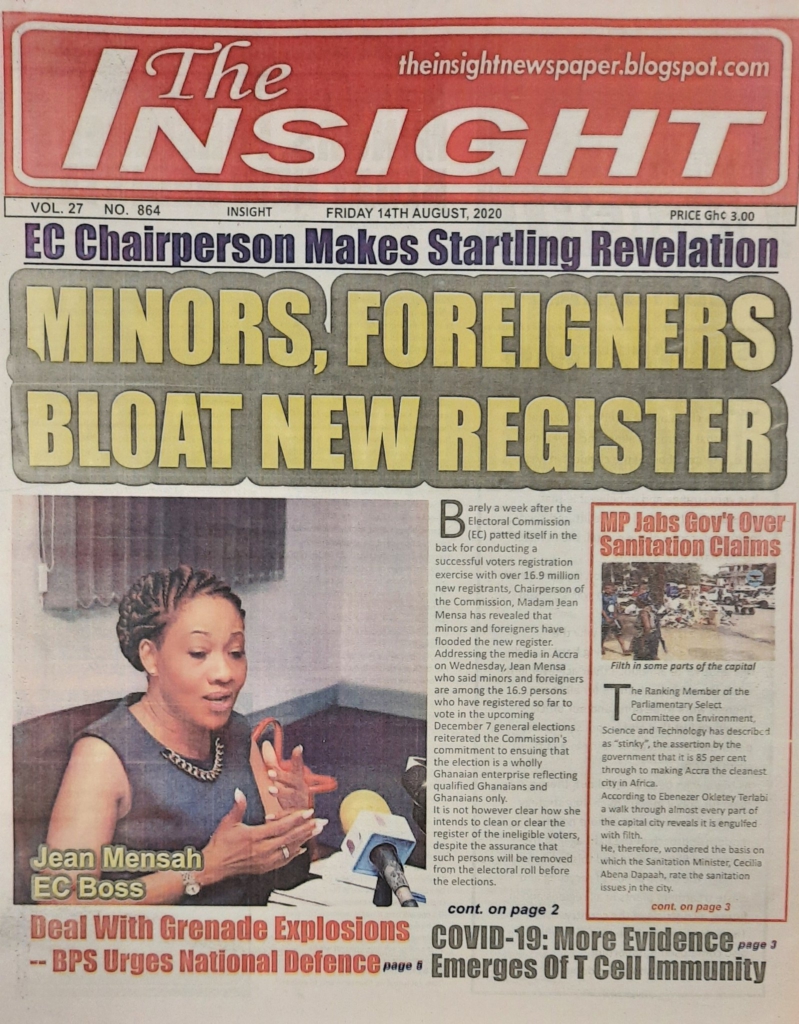 Ghanaian Times:
* Over 50 shops owned by foreigners closed down
* 83 'banks' suffered GHS 115.5m fraud in 2019 – BoG report
*NDC: We don't trust EC to complie credible register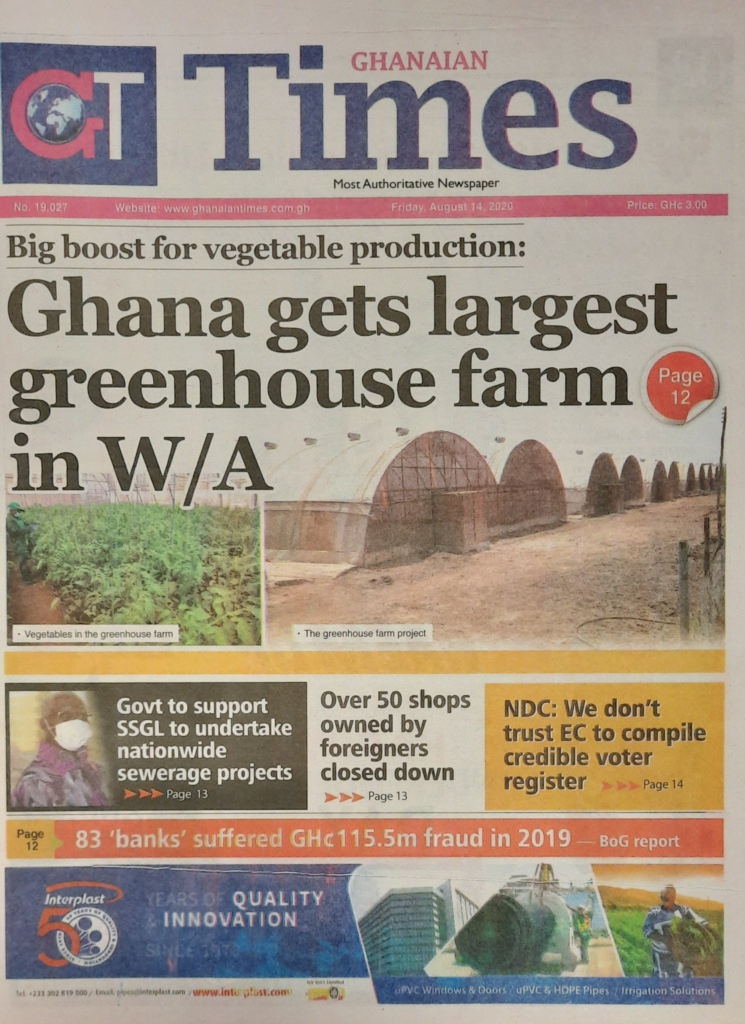 Daily Dispatch:
* Apart from GT. Accra, Central and Western regions, NPP likely to win if they stop NDC from getting 30% votes in Ashanti- Ben Ephson
* Rawlings in bed with NPP than NDC – Prof. Gyampo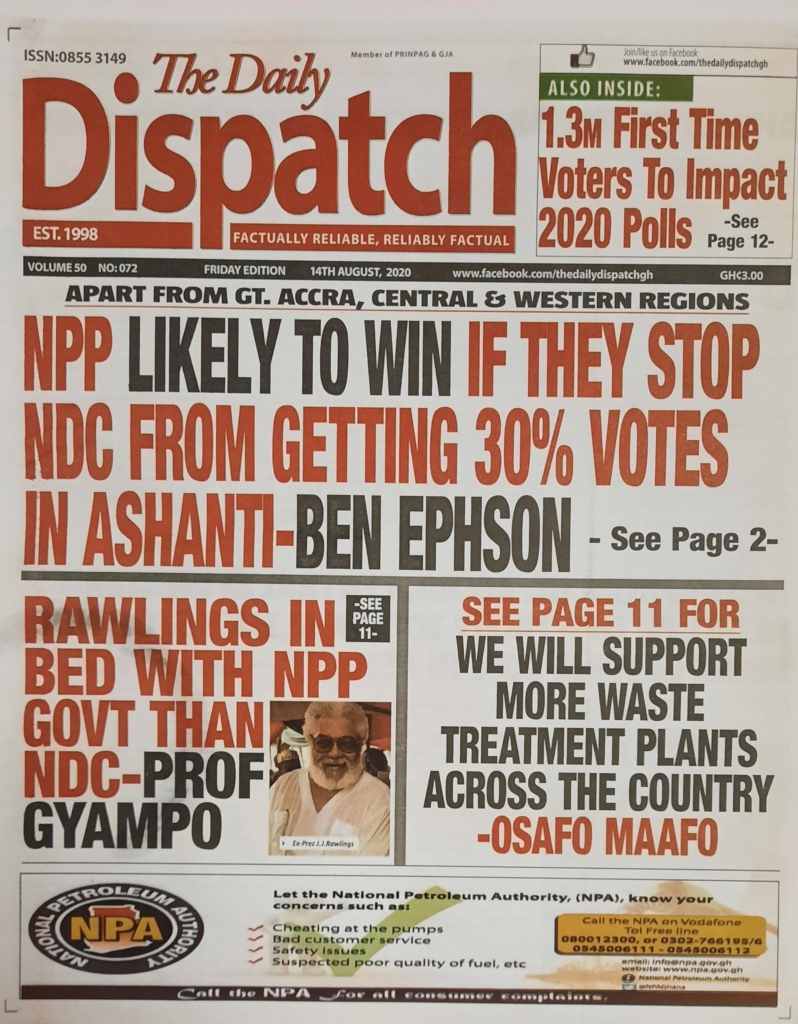 Daily Post:
* CHEAP! – Akufo-Addo steals Mahama's greenhouse project and names it after himself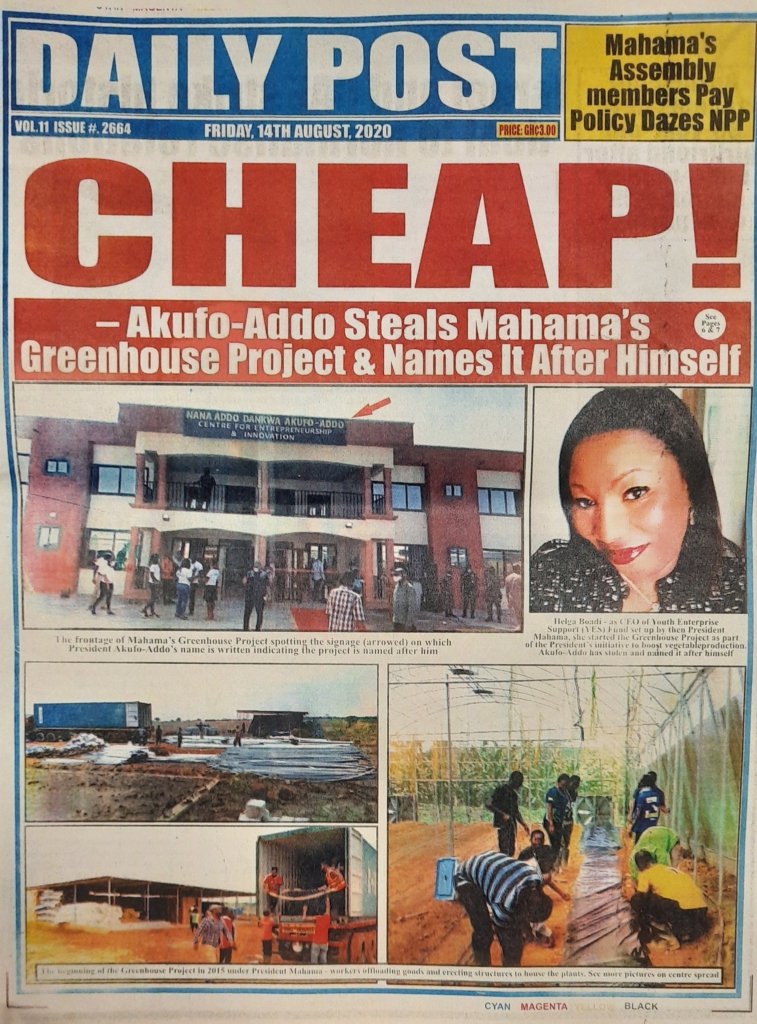 Herald:
* Ghana Airports expose Jubilee House & Aviation Ministry as company describes gov't Turkish deal on Kotoka as "unsolicited"
* EC Boss refuses to eat humble pie on register after getting notion into wasteful exercise