Managers of the Microfinance and Small Loans Center (MASLOC) in Ashanti Region is recording between 80 and 85 per cent loan recoveries and payment.
"Our repayment is very good, the group loans we. Group loans are 80 to 85 percent recovery."
Regional Manager for MASLOC, Zeinabu Sallow, says the rate is impressive especially among poultry farmers that recorded 100 per cent repayments when the repayment period was six months to one year.
She revealed this when the institution disbursed loan cheques for twenty more poultry farmers after the earlier thirty redeemed.
"The first batch is about thirty and their recovery rate is 100 per cent because all of them are paying. This month they are finishing the payment and we are supposed to double it for them.
Today, we are giving another twenty poultry farmers and we have encouraged them to pay as the previous ones did."
Officials of the poultry farmers the association applied for more than 300 members for its members and Zeinabu Salow confirms there are a lot of them on board they are yet to assess.
"We have spoken to the leadership and by next week we will come and assess the rest and grant the loan. We can't do all the poultry farmers in the region but we are gradually getting there, we are done with fifty, next month we shall start the next batch."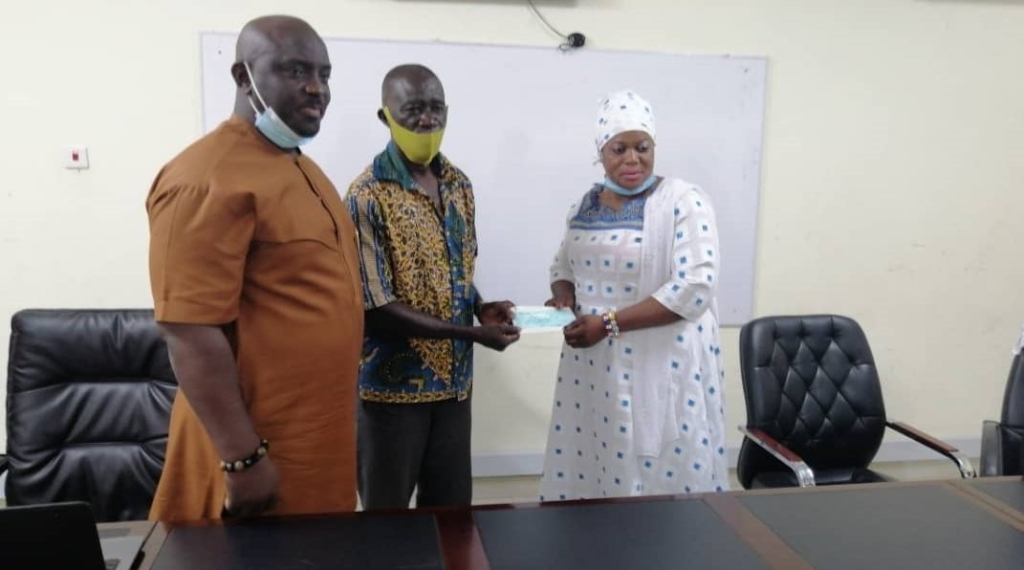 Poultry Farmers
Fifty poultry members of the Ashanti Poultry Farmers Association have benefited so far from the MASLOC loans.
Disbursement ranged from ¢15,000 minimum to ¢20,000 to the poultry farmers.
Ashanti Regional Chairman of the Poultry Farmers Association, Boris Baidoo, is positive the sector will grow and reduce the burden on imports if this continues.
He explains the association applied for more than 300 loans for members and are yet to receive all.
"I am so happy that with the strong intervention and a bit of pressure, we have been able to secure 50 loans for 50 members.
 "We applied for 350, I have received a phone call that another set is ready, and I believe that if it continues like this, the sector will grow impressively and we can do something for the industry.
Hajia Sallow says the situation has compelled them to double the loan request for the next batch.
Ghana imports over three hundred and seventy million dollar worth of chicken to meet consumption demand annually.
Domestic production accounts for five percent of local demand.
Poultry farmers in Ghana as at 2019 were producing only five percent of poultry for consumption, out of a demand of 175, 000 metric tonnes per annum, equivalent to over three hundred and seventy million dollar worth of chicken.
The leadership of the poultry farmers say they will continue to push and hold the president to his words as they increase their capacity to produce chicken locally.
"One very good thing I am happy about is our recovery rate, and it tells you that it is all about leadership who leads the association.
We are trying to put ourselves together to do this broiler project and we are promising the president that if he screws a bit of the importation to give chance for local people to produce locally.
"We are going to collaborate with the importers to produce the quality fresh chicken for them and all Ghanaians to consume and create employment."
Interest Rate Review
The regional manager revealed the institution has reduced drastically the interest rates for loan repayment.
Now for poultry farmers, that had only one year for repayment have had the payment period increased to eighteen months because the repayment is good.
According to Hajia Sallow, they inherited 24 per cent interest rate but have currently been pegged at 12 per cent per annum.
Group loan repayment which previously was six months has been extended to one year.
"We inherited group loans for six months and because of how they are doing and the pressure on them to pay at that short period we have now extended to one year."
She said, "We indicated to them that MASLOC is not Father Chrismas and so they are paying."
DISCLAIMER: The Views, Comments, Opinions, Contributions and Statements made by Readers and Contributors on this platform do not necessarily represent the views or policy of Multimedia Group Limited.