Universities and research institutions across the country are being urged to develop intellectual property policies for their organisations and put in place deliberate strategies and action plans for implementing the policies developed.
Co-founder of the Centre for Intellectual Property Rights Awareness Ghana (CIPRAG) and an Assistant Research Fellow at the Directorate of Research, Innovation, and Consultancy at the University of Cape Coast, Isaac Nketsiah, indicated that this was the only way universities and research institutions could remain relevant and be more agile and responsive to the challenges of 21st-century higher education institutions.
Speaking at a workshop on the emerging trends in intellectual property (IP) policy for biomedical sciences at the University of Health and Allied Sciences (UHAS), Ho, under the Ghana Bio-enterprise Innovations Partnership (GBIP) Project, Mr Nketsiah underscored the need for universities and research institutions to develop an intellectual property framework to guide their research and scholarly works to enable them to generate income from the commercialization of their works.
''The issue is that universities and research institutions hurriedly develop policies without a clear-cut implementation roadmap."
In light of the quickly evolving trends in biomedical research and access to medical technology, he declared that "continuous awareness, creation, and deliberate efforts to identify, register, and commercialize university IP are necessary for achieving universities' mandates, particularly in the post-Covid-19 era of Africa's sustainable development."
He also expressed concern about how, in the age of technological development, the majority of universities and research institutions in Africa continue to focus on teaching and fundamental research while passing up chances to make ground-breaking discoveries and find solutions to the majority of the continent's problems.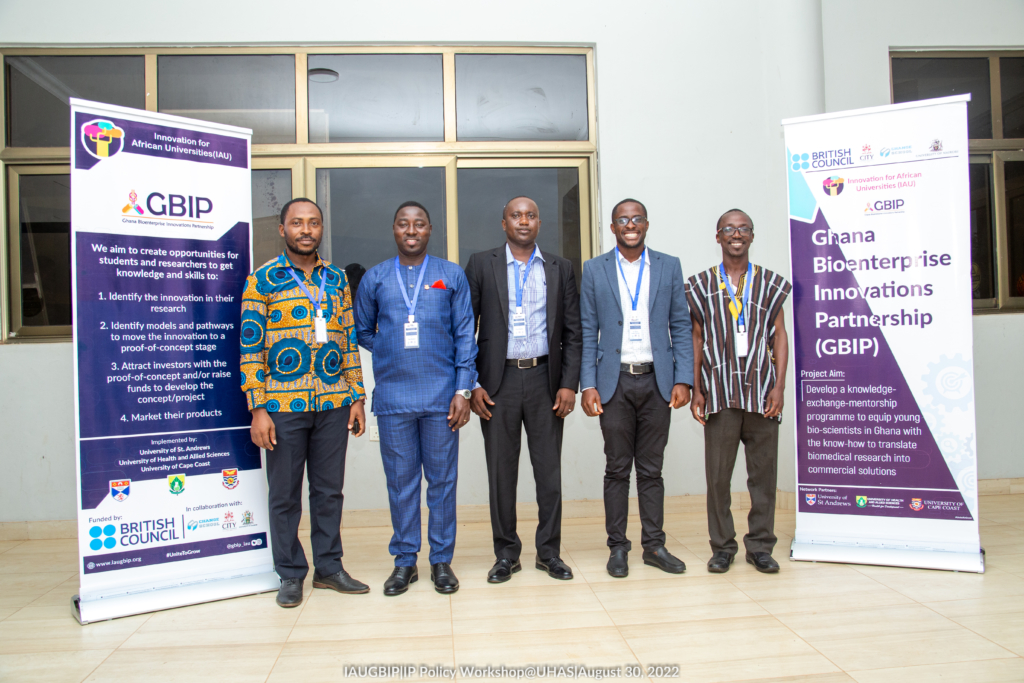 He indicated that in this era of COVID-19, opportunities abound in the area of drug discovery and the development of rapid diagnostic test kits.
He recommended that "universities and research institutions should develop and operationalize effective institutional IP policies that provide guidelines on creation, protection, commercialization, benefit sharing mechanisms, and ownership of IP rights."
He further stressed the need for universities and research institutions to put in place appropriate support structures, such as the establishment of Technology Transfer Offices.
(TTOs), Business Incubation Services, Industrial Parks, and University Enterprises in order to commercialize research outputs.
Present were the Director of Public Affairs, Maria B. Gwira, a Director at CIPRAG, Saviour Sobia Komla Deikumah, the Principal Investigator and Coordinator of the GBIP Project, Prof. Kwabena Deudu, and Dr. Jones Gyamfi, biomedical research scientists, among a host of others.