US House of Representatives Speaker Kevin McCarthy is fighting for his political life after a right-wing rebel filed a rarely used motion to oust him.
Responding to Matt Gaetz's move, Mr McCarthy posted on social media: "Bring it on." Mr Gaetz retorted: "Just did."
Tensions between the two Republicans boiled over at the weekend after the Speaker passed a bill with the help of Democrats to fund government agencies.
No US Speaker has ever been ousted by such a so-called motion to vacate.
The leadership has two days to bring up the measure for a vote, though procedural tools could be used to thwart the process.
The Speaker is second in the line of succession for the presidency after the US vice-president. He or she sets the lower house of Congress' legislative priorities, controls committee assignments, and can make or break the White House's agenda.
The deal late on Saturday that averted a government shutdown left out $6bn (£5bn) of funding for Ukraine because Mr Gaetz, of Florida, and other ultraconservatives insisted the US has spent too much on that country's war with Russia.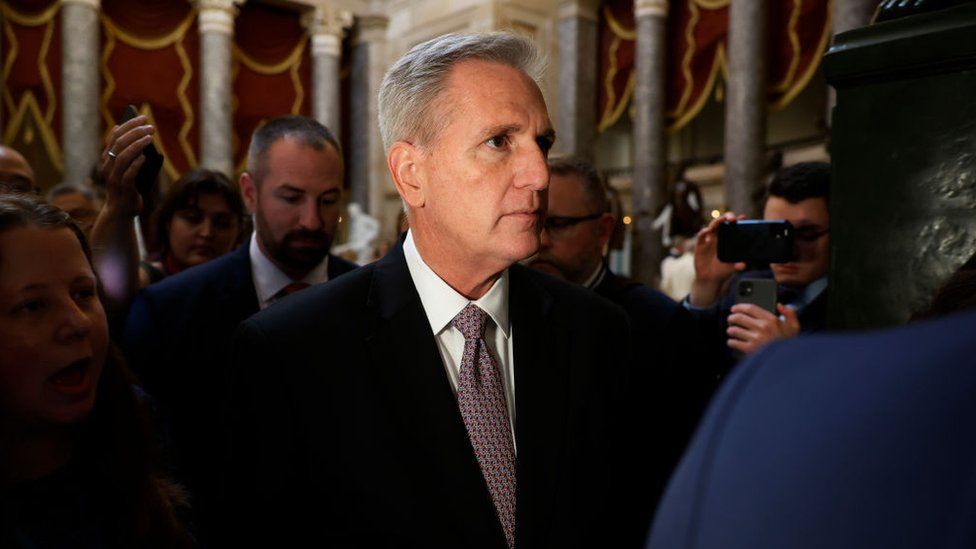 Mr Gaetz has wielded the threat of dethroning Mr McCarthy ever since January when he led party rebels in opposing the California congressman's bid for the speakership, forcing him to endure 15 gruelling rounds of voting in the chamber.
During the political horse-trading, before he ultimately won the gavel, Mr McCarthy agreed to a change of rules that would allow any single lawmaker to call for a vote to oust the Speaker.
That paved the way for the motion to vacate.
In a speech on the House floor on Monday, Mr Gaetz accused Mr McCarthy of striking a secret deal with the White House to insert new Ukraine funding into separate legislation.
Mr McCarthy has said there is "no side deal on Ukraine".
After filing the motion to vacate, Mr Gaetz told a crowd of reporters: "Well, I have enough Republicans where, at this point next week, one of two things will happen.
"Kevin McCarthy won't be the Speaker of the House, or he'll be the Speaker of the House working at the pleasure of the Democrats, and I'm at peace with either result, because the American people deserve to know who governs them."
Asked earlier on Monday whether his actions were plunging the institution into turmoil, Mr Gaetz told reporters: "You talk about chaos as if it's me forcing a few votes and filing a few motions.
"Real chaos is when the American people have to go through the austerity that is coming if we continue to have $2 trillion annual deficits."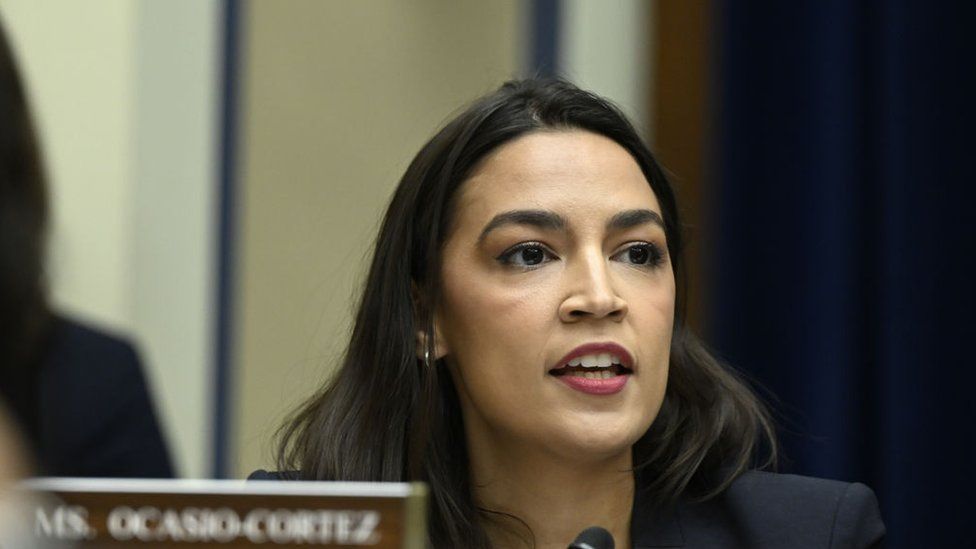 Mr Gaetz told reporters outside the Capitol on Monday night that he would be up for supporting Louisiana Republican Steve Scalise - currently deputy to Mr McCarthy - to succeed the Speaker.
Tom McClintock, a California Republican, blasted the "self-destructive course" of trying to remove the Speaker, before Mr Gaetz's floor speech.
Without naming his Florida colleague, Mr McClintock said: "I implore my Republican colleagues to look past their prejudices, their passions, their errors of opinion, their local interests and their selfish views."
According to the rules of the chamber, the Speaker is required to keep a list of individuals who could act as a temporary replacement in case the role is ever vacated.
If Mr McCarthy were voted out, this list would be made public and the person at the top of it would be named Speaker pro tempore until elections were held in the chamber for a new leader of the majority party in the chamber.
It would take a simple majority of the House to remove the Speaker in a floor vote - 218 votes, when no seats are vacant.
Republicans control the chamber by a narrow 221-212 majority. But only a handful of hardline Republicans have indicated they are willing to remove Mr McCarthy.
Democrats must now decide if they will step in and vote to help the Speaker keep his job.
Democrats are unhappy with Mr McCarthy after he recently approved the launch of a congressional inquiry to see if there is enough evidence to impeach President Joe Biden.
But left-wing New York lawmaker Alexandria Ocasio-Cortez told CNN on Sunday her fellow Democrats might be interested in politically bailing out Mr McCarthy if they can extract concessions from him.
The rare procedural tool to remove a Speaker has only been used twice in the past century and never successfully.
It was last used in 2015 against Speaker John Boehner.
The motion to remove him failed but it built enough pressure on Mr Boehner that, unable to unite his caucus, he announced his resignation two months later.
Before then it was last used in 1910.
DISCLAIMER: The Views, Comments, Opinions, Contributions and Statements made by Readers and Contributors on this platform do not necessarily represent the views or policy of Multimedia Group Limited.