Embattled FIFA President Sepp Blatter deserves a Nobel Prize for his work leading world soccer's governing body, according to Russian leader Vladimir Putin.
Russia's President made the comments in an interview with Swiss broadcaster RTS that was released Monday, two days after he and Blatter had gathered on stage in St. Petersburg for the preliminary draw for the 2018 World Cup in Russia.
"I believe that people like Mr. Blatter, the heads of major international sports federations, deserve special attention and gratitude from public organizations," Putin said. "If anyone should be awarded Nobel Prizes, it is these people."
Putin didn't specify which of the Nobel Prizes he was talking about. But the Russian leader's glowing words may raise a few eyebrows in light of the large corruption scandal currently engulfing FIFA, which Blatter has headed for the past 17 years.
Putin: I don't believe Blatter was involved in corruption
Blatter, who has denied any wrongdoing, announced last month that he would step down from the top job. An election for his replacement is due to take place in February.
Over his career, Blatter has accumulated a dizzying array of awards. The FIFA website lists more than 70 honors from around the globe that he has received, from the French Legion of Honor to the Golden Pin of the Football Association of Serbia.
Putin has defended Blatter previously, and he kept up his support in his comments to the Swiss broadcaster.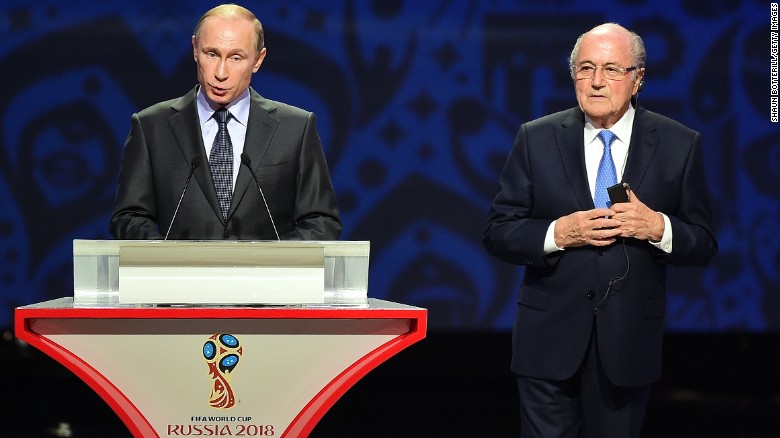 "We all know the situation that has developed around Mr. Blatter," he said. "I would not like to go into detail, though I do not believe a single word about corruption regarding him personally."
The pressure on FIFA includes separate corruption investigations by authorities in the United States and Switzerland. The Swiss inquiry is focused on the bidding to host the 2018 and 2022 World Cups.
–
Follow Joy Sports on Twitter: @Joy997FM. Our hashtag is #JoySports