The Nkusukum Traditional Council has denied foreknowledge of Davis Mac Iyalla as a gay activist before installing him as the Amankorahen of Yamoransa.
They have, therefore, apologised to the Regional and National Houses of Chiefs.
According to the Council, the information only got to the chiefs in the middle of the coronation, for which reason they ended the traditional process abruptly.
The Paramount Chief of Nkusukum Traditional Area, Nana Okesse Essandoh III, explained that even though it began the installation processes, the chieftaincy title was not conferred on Mr Iyalla.
The Nkusukum Traditional Area has been a subject of heavy public backlash following a viral media report that they had installed a gay activist who claimed to practice what he preached, as chief.
Speaking at a presser on Tuesday, Nana Essandoh said that he got to know Mr Iyalla as Nana Kweku Adu through some friends who introduced him as a philanthropist interested in advancing the development of Yamoransa.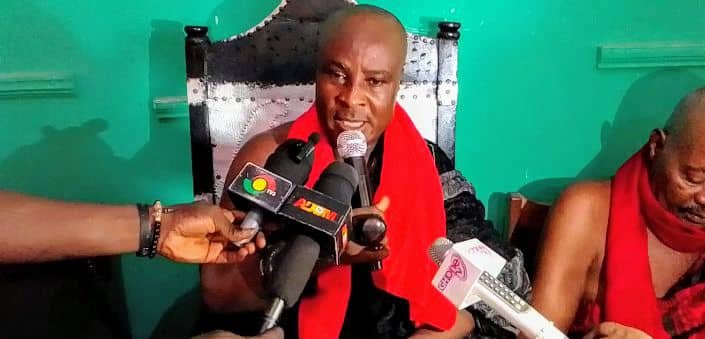 He said he proceeded to inform the 'Abusuapanyinfo' of Yamoransa who agreed they should honour him with the Amankorahen, a development chief.
As part of the package, it became Mr Iylla's responsibility to organise African American natives in the Diaspora for developmental projects in Yamoransa, he indicated.
"In fact, Mr Iyalla had already shown dedication and commitment to developmental issues in the town. His broader vision to lure investors from America and Europe, particularly, the United Kingdom to boost economic activities was great," he said.
Nana Essandoh further explained that the chiefs did background checks to ascertain his eligibility for the title but there was no hint of his association with LGBTQ until the day of his coronation.
However, they found that he [Mr Davis Mac Iyalla] was a human rights activist and saw pictures and videos of him preaching in some churches in the US which gave them the assurance that he was God-fearing.
"We make it emphatically clear that no rites were performed to confer the intended ceremonial title on him," he stressed.
"I wish to inform the National House of Chiefs, the Central Regional House of Chiefs and the General Chieftaincy Community in Ghana that the Nkusukum Traditional Council would not allow its name to be used as a platform to champion LGBTQ+ activities".
The Paramount Chief of Nkusukum Traditional Area further stated, "any embarrassment following the aborted installation of Mr Mac Iyalla and its related issues are deeply regretted".
DISCLAIMER: The Views, Comments, Opinions, Contributions and Statements made by Readers and Contributors on this platform do not necessarily represent the views or policy of Multimedia Group Limited.