The Programmes Manager of Joy FM, Edem Knight-Tay, has called on women to be empowered to make a change in society.
Hosting the 5th anniversary of the International Women's Summit at the Grand Arena in Accra on March 8, 2023, Edem shared some nuggets as she opened the programme.
She quoted Malala Yousafzai, a Pakistani female education activist and the 2014 Nobel Peace Prize laureate, who once said "we cannot all succeed when half of us are held back. We call upon our sisters around the world to be brave – to embrace the strength within themselves and realize their full potential."
Awarded when she was 17, Malala is the world's youngest Nobel Prize laureate.
For Edem, this is one of the very essence of celebrating International Women's Day.
"A good number of us cannot be seated on fence and just look on. We all must rise up, tell our stories, respond to the clarion call, work hard, and break the stereotypes in order that we can attain gender equality," she intimated .
She noted that what makes it even more joyous for her is the inspiration and the can-do spirit that these stories plant in young girls and young women and how they are spurred on to dare, take up spaces and believe they are able.
This year's International Women's Day (IWD) was observed under the theme: "DIGITALL: Innovation and technology for gender equality" – A clarion call for women in all fields of endeavour to be intentional in attaining digital skills in order top be inclusive in the on-going digital transformation of businesses, the way we live and society as a whole.
Touching on the theme for the summit, Edem, also the host of Home Affairs on Joy 99.7 FM, said despite the scourge that COVID brought on people, one of the blessings it came with was a new way of living; it spurred on innovation and technology.
"Things we knew we could do but never did. The possibilities we never gave a chance to thrive. Think about it. Schools were migrated online, churches were held online and till date.
Weddings and funerals are joined remotely by family, friends and loved one the work environments has changed totally with remote working, earning a living through content creation is on the ascendency, digital sales and marketing is fast becoming the most effective way of doing business," she further stated.
She mentioned that digital is the new world and the world keeps waking us everyday to new breakthroughs and innovations.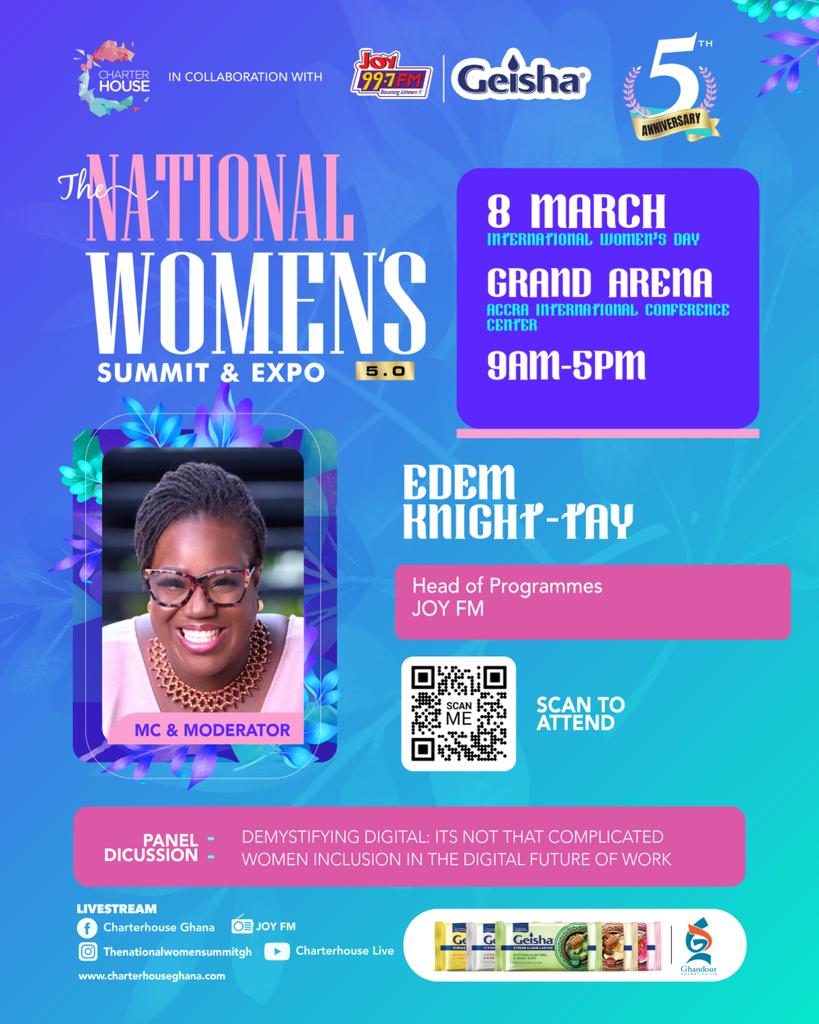 "From the school child, to the stay at home mum, you the home care provider, the market woman, shop owners, or the business executive. There is a form of technological innovation that supports what you are doing to help improve your quality of life and in the long run, attain gender equality. Peter Drucker says 'INNOVATE OR DIE," Edem said.
Some of the speakers that spoke at the programme are:
• Regina Honu – CEO & Founder of Soronko Academy
• Mariam Agyeman-Buahin – Group Head, Digital Marketing, Letsogo Holdings
• Thelma Quaye – Chief Digital Infrastructure, Skills & Empowerment Officer, Smart Africa Secretariat (Rwanda).
• Akosua Annobil – Creator of Tech in Ghana & Founder of Ab2020places
• Naa Korkoi Essah – Head of Communication – Ministry of Communication and Digitalisation
• Tara Fela Durotoye – CEO Tara Cosmetics (Nigeria)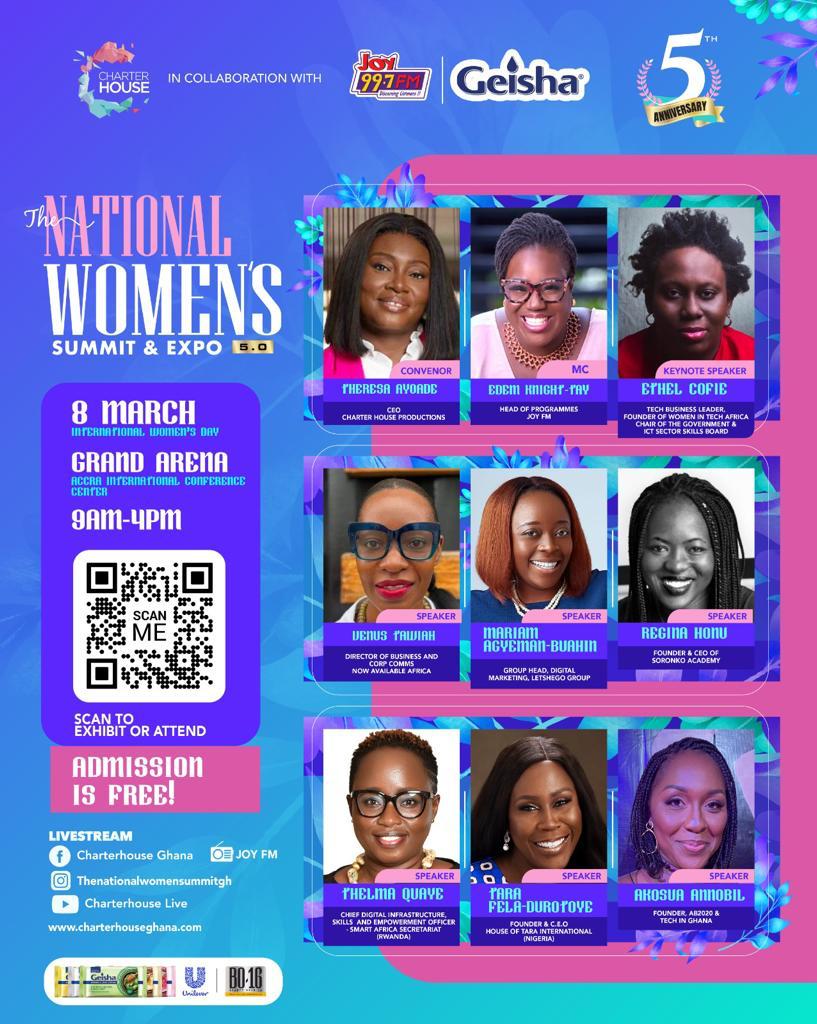 The 5th National Women's Summit and Expo was sponsored By Geisha Black Soap and New Geisha Moringa Soap, produced by Charterhouse in collaboration with JOY FM.
The summit was also set to have digital skills workshops and an exhibition of female led tech, e-businesses and businesses targeted at women.
DISCLAIMER: The Views, Comments, Opinions, Contributions and Statements made by Readers and Contributors on this platform do not necessarily represent the views or policy of Multimedia Group Limited.