Minister for Public Enterprises, Joseph Cudjoe has pleaded with the public to avoid criticising the quantum of remuneration of CEOs of State-Owned Enterprises (SOEs).
His comment follows recent agitations from a section of the public against the seemingly "fat salaries and allowances" of Management of some State-Owned Enterprises (SOEs) in Ghana.
Speaking on Newsnite on Joy FM Mr. Cudjoe said the open condemnation will discourage qualified individuals from taking up public sector jobs.
"I want to beg everybody, that we shouldn't overly attack remuneration and discourage people from serving the country. It is my personal plea. But we should exact performance from them," he stressed.
Meanwhile, the CEO of Dalex Finance, Ken Thompson, has said that it is 'hard' for CEOs of State-Owned Enterprises to 'perform' because they are appointed in return for favours done for the appointing authority.
He explained that most of the CEOs helped the governing party in one way or the other before political power was won, hence the position serves as a reward for work done politically, not necessarily based on competence.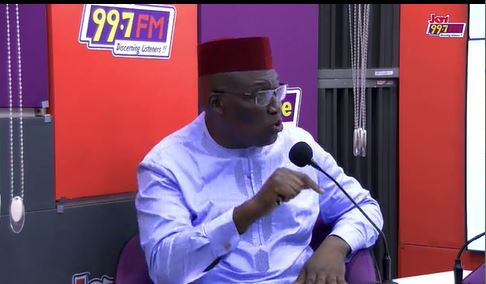 According to him, the situation is compounded by the fact that their performance is not tied to any benchmarks.
Reacting to this, Mr Cudjoe said that he is an advocate for the payment of fat salaries to public sector workers so long as they perform and meet expectations.
At a press briefing in Accra on Wednesday, Joseph Cudjoe explained, however, that payment of fat salaries becomes an issue when the worker fails to perform his or her duties to reflect the good salary being paid.
"Maybe you are talking to the wrong person on salaries when it is fat. I openly declare anywhere that I am an advocate for a good salary and if this is bad tell me this is bad…If the person is performing and being paid good salary, I would clap for the person. If the person is not performing and taking that good salary, you exact performance from the person because you are paying the person. So I am a lover of fat salary. You can't use me to pay people bad, I always speak for people who are not paid well," he said.
The Minister justified his position by indicating that what makes a country wealthy, "is for people to be paid good salaries".
The Minister also dispelled suggestions for the sacking of non-performing CEOs of State-Owned Enterprises stressing the fault may not be entirely theirs.