A professor of finance and economics at the University of Ghana, Professor Godfred Alufar Bokpin, has questioned the impact of government's flagship Planting for Food and Jobs initiative, amidst the current economic challenges in the country.
Speaking on Newsfile, on Saturday, he asked, "where is the food and where are the jobs?".
According to him, the relevance of government policies can best be measured in moments of economic hardship.
"Planting for food and jobs. Where's the food and where are the jobs? It is factors and drivers like these that reveal the resilience of your policy and your economy. Macro global level, the impact is pervasive. We are not here to deny that, but the resilience of your economy is shown in times likes these. And that's why you'll see variations in the level of exposure and price development between Ghana, Cote D'Ivoire, Nigeria, Kenya and other countries.
You'll see it. When it happens that way, then you'll realise how global level development is actually meeting local reality and magnifies the vulnerabilities that we have used words to explain. But now [it's] your words against the reality.
Now it's no longer a multiple choice so that people choose what they like. Because the reality is in front of everyone regardless of your political affiliation", he explained.
Professor Bokpin's comments were in connection with the widespread public sentiments about the increasing cost of living.
In recent times, Ghanaians have been lamenting the hike in fuel prices as well as the rising inflation and the general hardship affecting the masses.
For example on Thursday, June 16 2022, it was predicted that fuel prices were going to go up despite previous increments.
This was based on data secured by Joy Business from the Bulk Oil Distribution Companies.
According to the data, a litre of diesel was expected to go up by 11.14%, while petrol was to sell at 13%.
Reacting to these developments, Professor Bokpin said the hardship will not end anytime soon.
"We have austerity staring at our faces and fiscal consolidation, either we do it under an IMF programme or the measures we impose on ourselves tell us that the fiscal consolidation we are implementing requires some adjustment costs that will be borne by the citizenry, often times unevenly distributed…and this should tell you that we are not getting out of this anytime soon," he said.
Meanwhile, Ghana's inflation jumped to 27.6% from the 23.6% recorded in April, 2022, according to recent figures from the Ghana Statistical Service (GSS).
The GSS blamed this on the increase in transport fares and food prices.
According to the Government Statistician, Professor Kobina Annim, the rate of inflations for transport (39.0%), household equipment and maintenance (33.8%), housing, water, gas and electricity (32.3%) and food and non-alcoholic beverages (30.1.6%) were higher than the national average (27.6%).
In May, 2022, 12 of the 13 divisions recorded inflation rates higher than the rolling average from June, 2021 to May, 2022.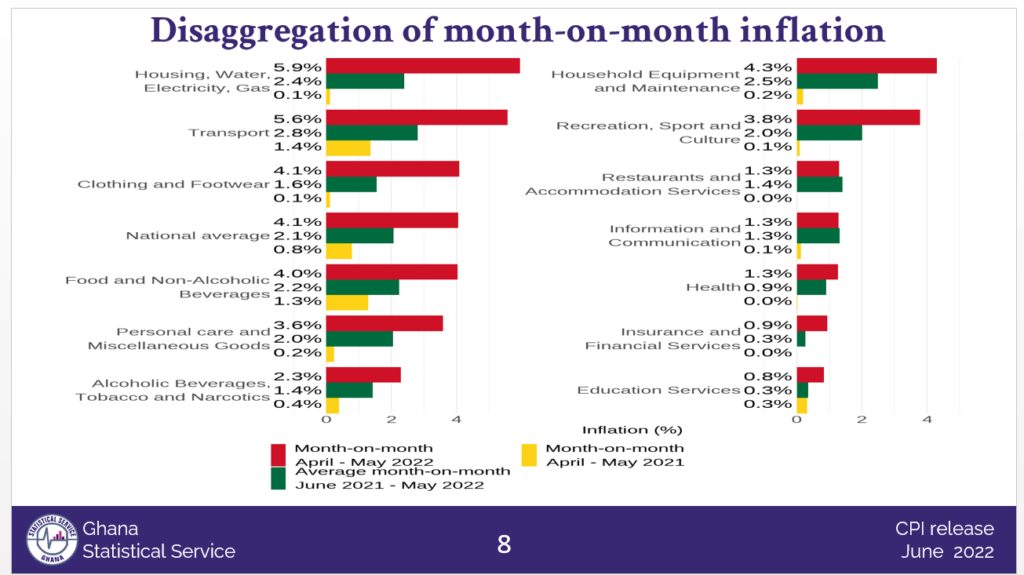 Also, the major drivers based on the year-on-year figures show that grapes, which is imported, saw a 100.8% inflation followed by diesel, 81.1%, also imported.
Firewood also saw 73.7% year-on-year inflation.
Below is the full list of the top 15 drivers of inflation in Ghana: